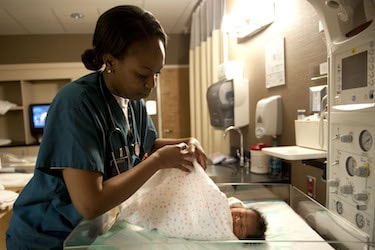 A nurse is a nurse is a nurse…right?
Wrong.
Nursing is a highly complex career field that involves numerous levels of education and responsibilities. From entry-level nursing careers to advanced nursing positions that require a master's degree, this is a field with multiple layers and various titles.
If you're going to enter into the nursing field, understanding the different types of nurses and the most common educational paths is an important first step.

---
What Does is Take to Succeed in Nursing?
Before entering into a nursing program, you have to know if nursing is right for you. Ask anyone in the healthcare field and you'll discover that nursing is rarely as simple as it looks.
Few careers demand the broad range of skills and knowledge that are required from nursing specialties. While there are official educational requirements, there are also certain traits that are important no matter what the nursing job.
First of all, you need compassion. Nurses are required to care for people who are sick and in pain, and having a natural disposition for caring and compassion is essential.
You'll also need patience. The career can be frustrating, emotionally-draining, and often thankless, so an attitude of calm patience is beneficial.
An attitude of teamwork is also important. Nursing involves many different parties, such as doctors, care-givers, patients, family, and other nurses. Having the ability to balance many different parties while maintaining excellent care will put you at the forefront of the nursing profession.

---
Understanding the Different Types of Nurses
There are many different types of nursing professions, as well as different educational paths you can take. Understanding the most common nurse titles and nursing degrees will help you choose the right degree for your future.

TYPES OF NURSES
Required Education
Length of Program
Average Cost
Licensing / Certification?
Salary
Expected Growth
CNA
Training program @ community colleges, online, hospitals, or the Red Cross
6 months – 1 year
$2,000
Yes, Multiple choice and manual skills exams
$26,590
17%
LPN LVN
Diploma or certificate @ community, vocational, techincal colleges or online

1 year
$12,500
Yes, NCLEX-PN
$44,000
16%
RN

Associate's Degree (ADN or LPN to RN) or Bachelor's Degree (BSN)

2 – 4 years
$20,000 (ADN / LPN TO RN)
$44,211 (BSN)
Yes, NCLEX-RN
$68,450
17%
RN with BSN
Bachelor's Degree (BSN or RN to BSN)
2 – 4 years
$44,211
—
$74,450
—
RN with MSN
Master's Degree (MSN or RN to MSN; specialities include nurse educator, nurse administrator, nurse practitioner etc.)
1 – 3 years
$22,130
Depends on speciality
$75,030 – $107,460
—
---
Certified Nursing Assistant: A Great First Step
Certified nursing assistants, or "CNAs," are the foundation of healthcare and nursing services. While they are lower on the pay scale and educational level when compared to most other types of nurses, they play a vital role in the care of patients. They help with well-being tasks like bathing, bathroom visits, and walks, and assist the nurses with many of the menial yet important tasks, ensuring more efficient and effective care.

Pros and Cons: Should I Earn My CNA?
There are a few benefits to becoming a CNA. First of all, it is a career that you can move into very quickly. With less than a year of schooling, you can become certified and work as a CNA. Because the education is quick, the cost of becoming trained and certified is also less. CNAs are in high demand as well, as many hospitals are looking for CNAs to enhance their care services.
However, the pay is low for CNAs. While many hospitals need CNAs, the position remains one of the lowest-paying healthcare careers in the industry. Some of the tasks can also be a drawback for CNAs. In this nursing career, you'll have to deal with bodily fluids, moving heavy patients, and staying on your feet almost nonstop. This can make the position very unattractive to many people.

CNA Courses
Becoming a CNA usually requires about one year of education. The courses, which cover numerous topics such as medical terminology, biology, and sanitary procedures, are often taught at local or online community colleges, although some hospitals, The Red Cross, and clinics also provide CNA training. It is also possible to find online institutions that offer CNA education, although completion of the courses will require clinical studies, which are obtained via in-person experience at a hospital or clinic. Most online programs will help you arrange in-person clinical work.
All CNAs are required to have certification through the state. To become certified, a student must complete two specific test components. The first part is usually a multiple-choice test that reviews your general knowledge of the medical field, while the second part is a manual skills test that reviews your working abilities, such as bathing a patient or repositioning a patient.
#TRENDING: Online CNA course from GetEducated.

Career Outlook for Certified Nursing Assistants
The career outlook for CNAs is a bit of a mixed bag. While the career is expected to be in high demand, with plenty of available opportunities, the pay is low, which pushes many people into different medical careers.
According to the Bureau of Labor Statistics, "Nursing Assistants and Orderlies" make an average income of $26,590, which is over $10,000 less than the national average, which sits around $37,000. While the top earners in the field can pull in roughly $40,000, the bottom 10% earn only $19,590 a year.
Job outlook, however, is solid. Available positions are expected to grow by 17% between 2014 and 2024, well above the national average of 7%. This growth will be fueled by the aging population, although reliance on government funding makes available jobs somewhat unpredictable.
California and New York have the highest numbers of CNAs, but this is largely due to population size. The highest concentrations of CNAs are found in Rhode Island, Kansas, and North Dakota.
For the most part, CNA is viewed as a great stepping stone to a nursing career. While it doesn't pay the best, as a CNA, you can move into the field quickly and with minimal education costs, making it a common first job for nurses and medical staff.
Learn more about becoming a CNA with online education.

---
Licensed Practical Nurse: More Pay, More Responsibility
Licensed practical nurse (LPN), which in some areas is called licensed vocational nurse (LVN), is a position that provides basic medical care to a wide range of patients. Like a CNA, the duties can be broad, but for the most part LPNs play a more direct role in the medical care of the patient, as opposed to a supportive role. LPNs may monitor health conditions, administer patient care, insert catheters, change bandages, and report a patient's status, among other duties.

Should I Become an LPN? Pros & Cons
Becoming an LPN has many unique benefits over other positions, and in general it gives medical professionals a good balance between low educational requirements, good pay, and excellent demand. The pay is well above the national average for incomes, so this remains a strong positive for the position. It also has a strong expected job growth, even if it lags behind other healthcare positions. It is also a position that is hired by many different facilities, including hospitals, clinics, home health rehab centers, and private homes. The versatility of work location makes the job even more desirable.
Like all jobs, there are obvious disadvantages. For the most part, there will be a high emotional and physical demand for the job. The position also requires you to perform many of the same tasks as a Registered Nurse, although you will not earn as much income, which can become frustrating.

LPN Classes & Licensing
To become an LPN, you must complete an accredited program (diploma or certificate) and pass all licensing and certification testing. The education of an LPN usually takes about one year to complete, but it may take longer depending on the specific institution and how rapidly you can complete the courses. Programs are offered in colleges, technical schools, and some universities, and many online institutions also offer LPN education.
Like all positions that work with medical patients, certification through the state is required. For this type of nursing degree, certification is administered with the National Council Licensure Examination. This testing process is a multiple-choice program that tests healthcare knowledge.

Career Outlooks for LPNs
The career for an LPN or LVN appears to be very positive. The position earns a much stronger income than CNA, with an average annual salary of $44,000. Although the bottom 10% only earn $32,000, the top portion earns an average of over $60,000. Not bad for a job that requires one year of schooling!
Expected job growth is also high. Between 2014 and 2024, the demand for LPNs could grow about 16%, better than twice the national average.
The highest concentration of LPN positions appears to be in the southeastern portion of the United States. Louisiana, Arkansas, West Virginia, Tennessee, and Mississippi are the top five states for per-capita LPN positions.
With a short and affordable educational path, as well as a strong annual income and excellent job growth, an LPN has one of the best nursing careers in the country.

---
Registered Nurse: The Next Step in Your Career
When people hear the word "nurse," they often think of registered nurses. This position, which is one of the most common types of nurses, helps to provide and coordinate care with both doctors and patients, and takes an active role in treatment. Duties may include recording medical histories, administering care, setting up patient plans, consulting with doctors, and many other medical-related tasks.

Pros & Cons of Being a Registered Nurse
A registered nurse holds a very fulfilling and rewarding career that directly helps people become healthier. This fulfillment is one of the top reasons for becoming an RN, but the pay and demand is also substantial. It is also very flexible, with many choices for both location and specific responsibilities.
The role of a registered nurse, however, can be frustrating and, at times, saddening. You'll have to deal with sick and potentially dying patients, and leaving the emotional toll at the office can be challenging. Like many nursing jobs, you may have to work irregular hours, including nights, weekends, and holidays.

RN Degree: The Right Choice
Generally speaking, there are three educational paths to the RN designation. If you already have your LPN or LVN, LPN to RN bridge programs are very popular and quickly allow LPNs to become registered nurses.
#TRENDING: LPN to RN at Allegeny College of Maryland
The most common path, however, is an associate degree, which usually takes about two to three years, or a bachelor's degree, which requires four years of education. While the associate degree is faster and usually cheaper, anyone who wants a leadership or management role will likely want to choose a bachelor's degree. Many online RN programs exist and most will require in-person clinical work.
#TRENDING: ADN at Excelsior College & RN to BSN at University of Southern Indiana.

Licensing for Registered Nurses
To work as a registered nurse, you must graduate from an approved nursing program and pass the National Council Licensure Examination (NCLEX). There may even be added requirements depending on the state where you live. There is also certification for specialized nurses, such as pediatrics, ambulatory care, and/or elderly care.

Career Outlook for Registered Nurses
The career outlook for registered nurses is very high. The position earns an average of $68,450, with the top 10% earning over $100,000. Even the bottom 10% earns an average of $47,120. The expected career growth is also high, with a 17% increase between 2014 and 2024.
West Virginia has the highest concentration of registered nurses, with South Dakota, Delaware, Mississippi, and Rhode Island rounding out the top five.
Find out more about becoming an RN with online education.

---
BSN Degree: A Path to Registered Nursing and Beyond
As we discussed above, one of the ways to become a registered nurse is to earn your Bachelor of Science in Nursing degree, often referred to as a BSN. While this educational path takes a bit longer than an associate degree, it can set you up for one of the best nursing careers possible. Many registered nurses will opt for an RN to BSN program.
#TRENDING: RN to BSN at Western Governors University.
Career changers sometimes begin their nursing career with an accelerated BSN. If your first degree is not in nursing, Thomas Edison State College is one of the only online schools to offer a bachelor's for non-nurses that leads to the NCLEX and the RN designation. The program is 12 months long and combines online and in-person coursework.

Admission Requirements of a BSN Degree
Each program will have different requirements for admission into the bachelor's degree. However, you can generally expect to see a few broad requirements. First of all, you will need your high school diploma or equivalency. For many programs, there is a GPA requirement, which will usually range from 2.75 to 3.0. If you want to use your college GPA for entry, there is often a minimum amount of collegiate hours, usually around 25 to 30.

Completing the BSN
A bachelor's in science degree usually takes four years to complete, depending on the amount of classes you have already taken, transferrable classes, and schedule. RN to BSN programs, however, take your previous coursework into account and allow you to complete your BSN much faster. The classes are often taught in person at colleges and major universities, but you can find many online programs that offer a stellar nursing education. If you take the 100% online option, be aware that in-person clinical work will be required before you can officially graduate from the program. This can be set up with your education institution and local hospitals and clinics.

Advantages of BSN over ADN
A BSN is only one path to becoming an RN. The other is an Associate Degree in Nursing, or ADN.
Generally, the starting wage for an RN with a bachelor's degree is more or less the same as an RN with an associate degree. However, as the careers progress, the holder of a bachelor degree has a better chance at long-term advancement. Positions with words like "manager," "director," and "coordinator" will be more available if you have a bachelor's degree.
RNs with a bachelor's degree earn roughly $6,000 more a year than RNs with associate degrees. Over the course of a nursing career, this can be will worth the higher investment in time and money, and the potential for advancement could widen the gap even further.
However, it will take more time and cost more money to complete. In the long run, however, you will likely be more fulfilled with a BSN over an ADN.

---
MSN: The Next Advancement in Your Nursing Education
If you want to advance your nursing degree even further, you can get your MSN, or master's of Science in nursing. This degree expands your skills, knowledge, and abilities in the profession and unlocks more levels of nursing to expand your career.

Admission Requirements for an MSN Program
The admission requirements of MSN programs will require that you have completed a BSN program from an accredited school. In many cases, there will also be a GPA requirement similar to the BSN programs. The GPA will usually be pulled from recent college studies, often the last 60 credit hours.
At some schools, it is possible to enter into the MSN program as an RN (holding a diploma or associate's degree). RN to MSN degrees combine BSN and MSN education into one program.
#TRENDING: RN to MSN at Capella University.

Types of MSN Degrees
If you already hold a bachelor's you can move on to a regular MSN program. You will find that there are many different types of MSN programs with a wide variety of specialties. For example, you can enroll in classes that teach you how to be a nurse administrator, which provide leadership and organization to nursing teams.
There are also programs that relate to nursing education. In this case, you learn how to teach the next generation of nurses. This can be a very rewarding career for anyone interested in both education and the medical field.
#TRENDING: MSN in Patient Quality & Safety at Southern New Hampshire University.
There is also the option to become a nurse practitioner, which is a well-paying, in-demand nursing position that is becoming more popular among hospitals and clinics.

Career Outlook
Because nursing professionals with master's degrees work in so many different fields, it can be hard to pinpoint specific average salaries. However, we can look at a few of the most common positions to get a clear idea of how much you can earn with an MSN.

Nurse Practitioners: $107,460
Medical & Health Services Managers: $96,540
Nursing Instructors: $75,030
Having your MSN is a great step for career expansion in the nursing profession. Whether you are just starting as a CNA or have worked for decades as a registered nurse, you should always consider a master's degree as a possible step in your nursing career.
Learn more about choosing an online MSN program.

---
The Perfect Nursing Degree is Waiting for You
Online nursing degrees allow you to continue working while beginning a new career as a nurse or advancing your skill level. Plus, we pre-screen every degree in our database for proper accreditation so you have one less thing to worry about. Start today, your future is waiting!
Related Resources
18 Most Affordable Online BSN Programs
26 Most Affordable Online MSN Programs
Online Nursing Programs Teach Real-World Skills