Earn an online bachelor's degree in business and you'll never have to worry about shuffling along in the unemployment line.
Well, maybe.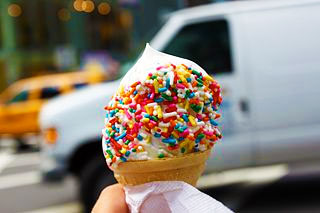 Adding a concentration in IT or finance is a great way to differentiate yourself from more generic, "vanilla" business degrees.
(Alison Fayre/Flickr)
Career counselors have always plugged "vanilla" business degrees as safe investments. But surveys say a generic business bachelor's is not the way to get the best business jobs and starting salaries. The best business jobs—and salaries—go to professionals who specialize in one of three majors: accounting, finance or IT and information systems. Earn an online bachelor's degree in business with one of these three concentrations and watch your career prospects—and salary level—soar.

"People in this kind of job market have their eyes open to skill sets, not just theoretical skills, but accounting, software … things that have high value [to potential employers]," says Michael Jaeger, dean of the colleges of business and education at Eastern Oregon University. Jaeger oversees the online bachelor's degree in business program at EOU.
Concentrations to Study for the Best Business Jobs

PayScale.com reports that business school grads start with salaries of about $41,100. At mid-career, these same business pros can expect to be banking about $70,600.
But these numbers are for "vanilla" general business majors (bachelor of science in business, etc).
Earn an online bachelor's degree in business stamped with a specialized concentration—namely accounting, finance or computers and IT—and you'll fare better in terms of both starting salary and wage growth.
PayScale.com reports finance majors secure an average starting salary of $47,500, with a mid-career wage of $91,500. Professionals who earned accounting degrees start at $44,600. By mid-career accountants can make $77,500 a year. Clearly, accounting and finance are among the best business jobs for recent grads and mid-career professionals in terms of pay.

Marketing and advertising jobs paid less lucre, initially. Starting salaries for marketers hovered around $38,000. However, both these concentrations paid better by mid-career, with workers reporting average earnings of about $75,000.

Robin Reshwan, founder of Collegial Staffing in Alamo, Calif., says a general online bachelor's in business is "a good marketable degree. However, if you can be a little more targeted, you just have a better chance"—especially in today's competitive job market.

Reshwan, like many experts, suggests embellishing your business degree with at least a few courses in high-demand career areas. By high demand, she means accounting, finance or IT.

Marketing majors, however, are "tougher" to rely on in the work world, says Reshwan. It's a simple matter of supply and demand. Marketing majors are very popular with students, so competition is stiff.

If you must declare a marketing major, Reshwan suggests that you "maximize that by adding technology skills, such as knowledge in e-strategies or social media marketing strategies."
"Vanilla" Online Bachelors Degree in Business — Still an OK Option
Elizabeth Freedman, career/workplace expert and author, does not necessarily recommend the "become an accountant" method of choosing an online business major.

Any bachelor's in business "provides a great foundation" that will help graduates be "competitive in the marketplace," says Freedman.

According to Freedman, people who earn an online bachelor's degree in business are well suited for many lucrative careers, including "customer-facing or sales-driven" positions, such as pharmaceutical sales.

Graduates of the University of Wyoming's online bachelor degree in business program hold down a slew of solid jobs. Wyoming's online students work as small business owners, business consultants, real estate brokers, project managers, sports marketers, healthcare managers, bank presidents, stockbrokers, and IT manager and insurance agents, says Jackson.

In areas hit the hardest by the recession, such as eastern Oregon, business students have become more strategic in course selection in order to be more competitive in the job market, says Jaeger.

Jaeger notes that students are "jamming as much as they can in" and taking "every applied course they can get."

"People in this kind of job market have their eyes open to skill sets, not just theoretical skills, but accounting, software … things that have high value [to potential employers]," says Jaeger.

Many students enrolled in the online business degree program with Eastern Oregon University are already employed. Most of the online students Jaeger sees are in the pre-middle-management phase of their careers; they are earning business bachelor's as a mandatory step toward promotion.

They have work experience and are already on a career path. What they lack is a degree—and for promotional reasons, a vanilla business bachelor's will suffice.
Kendra Kirkpatrick, 56, earned her online business bachelor's degree from EOU in March 2010 while employed as the assistant controller at a community bank in Joseph, Ore.

She hasn't received a promotion yet, but believes "in the future my degree will bring me some benefit from this corporation."

About 35 to 45 percent of jobs in eastern Oregon are in the public sector, says Jaeger, so many of the business graduates wind up there, using their business administration skills in nonprofits or government agencies.

Business bachelor's degree graduates "know numbers, they know communication, they know managerial, they know human resources, they know how to plan and strategize to make things happen," says Jaeger.

An online bachelor's degree in business, he points out, "is a good general degree for just about anything."
Related Resources
Masters in Project Management Online: Why Earn One?
Which Online Bachelors Degree in Business Leads to the Best Jobs?
Online Accounting Degrees: Online CPA Degree


---

Lorna Collier has been a writer and editor for more than 20 years, with specialties in education, technology, business and health.