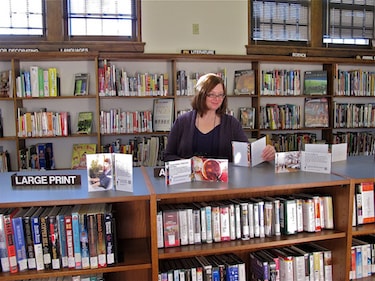 So, you think you want to become a librarian…did you know that in the 21st century being a librarian does not necessarily mean working in a big library full of books?
In fact, many professionals in the library and information sciences field do not work in physical libraries—they work at virtual libraries.
Then there are librarians who do not work in libraries at all. They may work as an archivist or a curator for a museum or the government. You could be a school librarian or work in a private library for law firms or other companies. There are even prison librarians!
Depending on where you work, the BLS reports the average librarian salary is:
Colleges and university librarians: $59,700
Elementary and secondary school librarians: $57,820
Local government librarians: $50,990

Almost all librarian positions require a master's in library science (MLS) and your education can be completed entirely online.
---
Am I a Librarian at Heart?
People who want to become librarians or work in a library often share similar ideals. Do these statements sound like you?
I love information and sharing the information I've learned with others.
I really want to work with children by developing fun programs to get them excited about books and learning.
I like answering people's questions and being helpful.
I consider it important for all people to have equal access to books and information.
I believe in helping others learn.
I love the saying, "A place for everything and everything in its place."
I enjoy reading more than most.
Sometimes I get so obsessed with a topic that I spend hours researching it online.
I think the way that technology is changing the way we read and find information is really cool.
I like the idea of organizing information to make it easier to find.

---
What Does a Librarian Do?
Librarians acquire, classify, and manage books and other sources of information—including digital media such as audiobooks, CDs, and DVDs; digital libraries; and online databases. They may manage special collections of historical and governmental documents or other materials. They know how to perform research using public and private databases.
Those who work in traditional libraries help students or other library patrons find information. Some librarians perform administrative and supervisory tasks to help run the library; others specialize in technical or user services.
There are actually a few different types of traditional librarians:
Children's librarians work with children. They create programs to help nurture the love of reading and learning in kids. They also choose what books and other materials to put in the children's section of the library.
School librarians are very similar to children's librarians but they work specifically in schools and often collaborate with teachers to meet the needs of students.
Young adult librarians serve youth between the age of 12 and 18. They cater to the needs of teens and are in charge of planning engaging activities like gaming tournaments or summer reading programs.
Reference librarians help people to find information resources for specific needs. For instance, a reference librarian at a college may help students find the resources they need for writing research papers about specific topics.
Outreach librarians work with communities that may not have access to libraries or may not realize how many programs and services libraries provide. They create programs and policies that help underserved populations and often work outside of the actual library. Instead, they spend their time out in the community assessing how the library can better serve the people.

There are also many non-traditional librarian positions. Some work for corporations as business librarians where duties may include gathering competitive intelligence. Some work for hospitals or pharmaceutical companies as medical librarians. Some work for nonprofit organizations gathering detailed information about potential donors (these information professionals are sometimes called prospect researchers or donor researchers).
In 2013, 57 percent of librarians worked in academic libraries, 30 percent worked in public libraries and the rest worked in special libraries (in law firms or non-profit organizations, for example).
---
How to Become a Librarian
There are three key steps to becoming a librarian:
Decide which type of librarian job you'd like;
Enroll in an accredited MLS (or similar master's) program;
Obtain state certification if you want to work in school or local libraries.

---
Librarian Education Requirements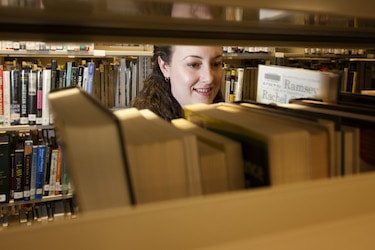 Librarians are almost always required to hold a
Master of Library Science (MLS) degree
, especially those who wish to work in school or local libraries. School librarians may also need to meet state teaching license standards. Many colleges and universities offer library science programs, but employers often prefer graduates of
schools accredited by the American Library Association
. Smaller libraries or more rural libraries may hire those who have a lesser degree.
Librarians who wish to work in a special library, such as a law, medical or corporate library, often add degrees in subject areas, such as law, business, engineering, sciences or medicine.
Types of Librarian Degrees
There are three general categories of library science programs—library science, information science, and a combination of the two. There are also programs geared towards those that want to become school librarians. Each can satisfy state requirements to become a librarian but check your state's librarian requirements before enrolling. Choose your library science degree based on your interests and where you'd like to work.
Library Science is the most traditional education route whereby students learn the fundamentals of library systems—how books and media are organized "on the shelf", so to speak, and made accessible for public use. The master's of library science (MLS) is the best bet for someone who wishes to become a librarian, but make sure your program is accredited by the American Library Association for the most job opportunities.
Information Science focuses more heavily on the technological processing and management of electronic information. Students go beyond the Dewey Decimal System and card catalogs to learn tech-rich networking and database skills. For those who really want to focus on the technology side of library science, this master's degree is the best option. Students commonly study things like database design and human computer interaction. Look for this degree offered with a specialization in library science for the most job options.
Library & Information Science links both skill sets together. To put it simply, you could say that library science is the foundation of information science, but as the use of technology and computers has become integral to society the two became more and more linked. For instance, many libraries are online now and the catalogs in physical libraries are run by databases. Therefore, a librarian must have an understanding of all systems. This degree broadens the scope of learning to include more information science based coursework. Some programs include courses on metadata and information management, or even information architecture and database design.
Education & Library Science is the best combination if you want to become a school librarian. In addition to learning the fundamentals of librarianship, you'll learn how to apply those skills in a school environment. For example, you will learn how how to teach grade school children to use the library and work with teachers to develop library programs.
A graduate level online library science degree can cost as much as $50,535 or as little as $8,658. Consult GetEducated's rankings of the
most affordable online MLIS
options for twelve great options all for under $22,000.
---
Do I Need Librarian Certification?
Librarians in public schools and local libraries are usually required to be certified, depending upon the state. Fourteen states require school librarians to hold either an MLS or a master's in education with a specialization in library media. About half of states require school librarians to be certified as teachers, though not all require teaching experience. Some states require exams; some states have certification standards for local libraries. Some states offer permanent certification whereas other states' certifications need to be reapplied for within certain time frames.
North Carolina, for example, requires that all public librarians are certified. The application process includes college transcripts and results in a permanent certification. However, in Ohio, certification is voluntary and the certificate has to be renewed every five years.
---
Entry-Level Library Careers
Other library positions such as library technician or library assistant usually only require an associate's degree and may be a great way to see if working in a library is right for you.
A
library technical assistant degree program
focuses on library technology and is a great choice for people who want to start working in a library in a support role. You will get a basic librarian education including using technology to catalog, order, and process materials.
Some states require certification for library technicians or assistants. The state of
Kentucky
, for instance, requires at least a Library Experience Certificate for "all other full-time employees who provide library information service."
Library technicians make a median hourly salary of about $15 according to the BLS.

---
Librarian Jobs: Career Outlook
The number of new jobs for what might be called traditional librarians—those who work for school libraries or local community libraries—is expected to grow 8 percent between 2008 and 2018, which is an average rate of growth. However, due to the aging population of current librarians (two out of three are 45 or older), many retirements are expected to provide jobs in the coming years.
Jobs for librarians outside traditional settings are expected to grow the fastest, as the expanding amount of information available continues to require professionals who can find, sort and process it. As a result, librarians increasingly are working for private corporations, nonprofit organizations and consulting firms.
---
How Much Do Librarians Make?
Librarian salaries vary widely, depending on experience and responsibilities. Median annual earnings of librarians in May 2008 were $52,530. The middle 50 percent earned between $42,240 and $65,300, while the lowest 10 percent earned less than $33,190, and the highest 10 percent earned more than $81,130.
Salaries of librarians in nontraditional settings may be higher. Members of the Special Librarian Association, which includes librarians who work in places such as corporations, hospitals, law offices, and other nontraditional settings, averaged salaries of $71,812.
---
Related Jobs with a Library Science Degree
If you decide not to become a librarian, there are still lots of career options for people who have studied library and information sciences. Many of these positions actually pay more than librarian jobs.
Information Brokers go into business for themselves to provide information, research, and consulting services for a fee to corporations, nonprofits and individuals. Some schools that offer MLS degrees also provide concentrations or seminars in information entrepreneurship and information marketing for those who may wish to become information brokers. Usually, information brokers or information entrepreneurs do best if they develop subject niches, such as in healthcare or technology; skill niches, such as genealogical research, patent research, database design or indexing; or work within defined geographic regions. Information broker earnings are difficult to quantify. Amelia Kissel, a veteran information professional who writes about the industry, estimates information brokers gross from $40,000 to $200,000 annually. Net revenues vary widely, depending upon a broker's expenses, experience and enterprise.
Document Management Specialists help companies manage their data and documents electronically. According O*Net, their median wage for 2014 was $83,410 annually.
Archivists
keep records for companies and organizations. An archivist may also develop systems to help easily find the records. Archivists can expect a yearly wage of around $49,000.
Business Intelligence Analysts
research business trends and analyze the data then create reports. These reports help businesses to figure out their next move. The average yearly salary for business intelligence analysts is around $83,000.
Database or Information Architects create databases that organize data/information that help people find information.The BLS lists the average yearly income for database architects at around $83,000.
Market Research Analysts perform tasks similar to those performed by business intelligence analysts.The difference is that they gather information about consumer trends and help businesses figure out what products to sell or create marketing plans. Labor statistics from O*net set the median annual salary for market research analysts at approximately $61,000.
As you can see, there are many options if you want to work in a library, become a librarian, or work as an information science professional. One of the best ways to learn first-hand which of these library jobs is for you is to volunteer at a library or just speak with a librarian.
Ready to become a librarian? Begin by exploring online master's of library science today!