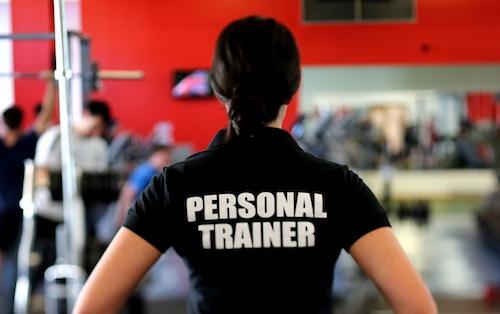 Personal trainers get to see clients meet their goals and achieve things that they might not have thought possible. Seeing a client's confidence rise and watching them become healthier is often a top reason for becoming a personal trainer.
Becoming an athletic trainer is now even easier with the boom in personal trainer degrees, available in person and online. Become a personal trainer in four steps:
Earn a certificate or associate's degree;
Choose a personal training certification;
Pass your certification exam;
Define your speciality;
Open your own business or seek employment at a gym.
---
What Does it Take to Become a Great Personal Trainer?
Personal training is undoubtably a challenging and difficult career, so it takes a person with a certain mindset and personality. How can you be sure if a career as a personal trainer would be right for you?
First of all, you should have a passion for fitness, both on a personal level and as a belief that overall fitness is beneficial to other people. If you deeply believe in the benefits of fitness and health, you have a solid foundation for becoming a great personal trainer. But that's not all you need…
You should also be a kind, compassionate, and caring person. You have to have a passion for helping people and faith that what you're doing will make them stronger, both physically and mentally. Empathy is also a great quality, as you'll have to work with people who may be injured, over weight, or simply lack the drive to fight through the discomforts of a training regimen. The best personal trainers are more positive motivators than rigid drill sergeants.
Your communication skills should be excellent and you should always be patient with people. Finally, you should be a teacher. As a personal trainer, you can't just say "do this the because I say so." You have to give your clients a reason; you have to teach them why.
Personal Trainers Need to Understand Sales
While you don't have to be a sales guru, you do need to understand the basics of selling and use these techniques to generate more clients. In most cases, personal trainers need clients to make money. You may have a facility that helps you find clients, but in many gyms you are responsible for drumming up your own business. You need to talk to people and convince them (with honesty, of course) that purchasing a personal training session is a smart choice.
During your career in personal training, it will be wise to dive into sales seminars, books, and even take a class or two on selling techniques. You may only be interested in helping people get in shape, but if you want to last as a personal trainer you need the spirit of a sales rep.
Personal Trainer Career Challenges
The career field of a personal trainer is undoubtably rewarding, but there are challenges and drawbacks. In most cases, you'll have to work around the schedule of clients, meaning you'll have to work weekends, evening, and early mornings. Basically you'll work around the client's nine-to-five job.
Other disadvantages involve unrealistic expectations or low commitment from clients. You may have a client who wants to loose a significant amount of weight but is unwilling to do the work. You'll do your best to help people, but the most effective workout routines will have your clients working very hard physically. Many people can't handle it and may loose motivation. (Of course, it's your job to keep them motivated!)
---
Types of Personal Training Jobs
While there are likely variations and overlaps through the industry, most personal trainers work under two very different categories. The first type of trainers are employed by gyms and fitness centers, while the second type are self-employed. They might share the same goals and fight for the same clients, but these two career paths are vastly different.
Working for a Gym


When you start your career as a personal trainer, you will likely work for a gym. This is a wonderful opportunity to gain experience from an established fitness organization. It also allows you to take advantage of the gym's workout equipment and facilities, which are quite expensive. You could also be covered by the company's liability insurance and could be handed clients by your managers and other trainers.

Self-Employed


As a self-employed trainer, you are essentially an entrepreneur. This means that while you are completely responsible for every penny you earn, you also have the chance to work independently and be your own boss. Your income is unlimited, but you may discover that you are working more that you would if you were an employee. After all, as the owner of the business, you are not just responsible for training clients; you also need to worry about accounting, taxes, financing, business plans, facilities, equipment repair, and so much more.
---
How to Become a Personal Trainer
It is possible to become a personal trainer with only a high school diploma. However, if you want to have long-term success, find hundreds of clients, and make a considerable income, you need post secondary education and personal training certification. While the final say is up to the employer, many fitness centers and gyms require at least a two-year degree in a related field before they will hire you as a personal trainer. Most of these educations will focus on the broad issues of personal training and some will have specializations.
Some specializations in personal training include:
Personal fitness
Group instruction
Sport-specific training
Flexibility
Nutrition
Weight loss
Women's fitness
Men's fitness
Youth fitness
Elderly fitness
Conditioning
After becoming educated in personal training, you'll need a personal trainer certification. Unlike fields that are more heavily overseen by state and federal government (for example, the medical field has federally-mandated tests), personal training is certification is done by a group of private organizations. Certification is offered by many different institutions, including the International Sports Sciences Administration, the National Council of Strength and Fitness, and the National Academy of Sports Training.
Once you become certified, you can become a personal trainer and work for a gym or go off to create your own business. The education isn't over, however. As you progress through your career, you'll want to stay current on industry trends and innovations to make sure your clients are getting the best possible personal training.
---
Personal Trainer Education
Low let's take a deeper look how to become a personal trainer, starting with the education. While there are no hard and fast rules, in many cases, a two-year associates degree will be enough to land someone a job in the field. If you have additional experience in a related career, a certificate may also be enough. However, a four-year bachelor's in a related field will be very beneficial, enhancing not only your job opportunities, but also your potential salary. All of the personal training degrees featured below can be completed 100% online.
Personal Training Certificates
Certificates are a great way to become acquainted with a new career fast. If you're already working in a related industry, adding a certificate onto your resume can open new doors and show prospective employers you are serious about your new career direction.
Two-Year Personal Trainer Degrees
In many cases, someone who calls herself a personal trainer will have at least a two-year degree. There are a few different programs, but most of them will be educated in exercise science or fitness and health. These classes will cover a wide range of subjects, including weight training, athletic training, aerobics, and fitness. Many classes will also cover hard sciences like anatomy and physiology.
Bachelor's Degree for a Personal Trainer
Anyone who wants to improve their skills as a personal trainer and gain a deeper understanding of the human body and overall fitness should enroll in a bachelor's degree program. There are many four-year programs that give students a deeper knowledge on specific topics.
Common bachelor's degrees for personal trainers include:
Weight management
Human anatomy
Sports and fitness nutrition
Fitness training
Some colleges even offer bachelor's degrees specifically in personal training. While enrolled in these programs, a student will study many of the same issues covered in the associate's degree, only they will dig deeper into the details and specific of the topic. They may also take classes that enhance someone's training skills, such as motivation techniques, communication, and marketing,
After completing a bachelor's degree in personal training or a related field, a student is ready to work as a personal trainer, as well as a gym manager, club director, or performance coach.
Master's Degree in Personal Training
Although a master's degree in personal training is rare, it's not out of the question. These programs will give someone advanced knowledge in detailed topics such as human movements, functional anatomy, and applied kinesiology. Classes will obviously become more difficult but students will leave these programs with an expert knowledge in designing fitness programs and evaluating the health needs of clients.
---
Personal Training Certification
Now that you have completed your personal training education, it's time to get certified. Certification in personal training is not a legal requirement, but it is highly recommended, as trainers who are certified by the top institutions are more likely to get hired and obtain clients. There are numerous organizations that offer certifications, and many of them offer specialty certifications as well.  To ensure that a certifying organization is reputable, make sure it is accredited by the National Commission for Certifying Agencies.
These are some of the organizations that offer personal training certifications:
National Academy of Sports Medicine
American Council on Exercise
International Sports Sciences Association
American Fitness Professionals and Associates
American College of Sports Medicine
National Strength and Conditioning Association
Taking personal trainer certification courses and tests is not free, but it's certainly not a massive expense. In most cases, it will cost about $100 to as much as $300.
Many of these organizations also offer specialized personal training certification. For example, the American Council on Exercise offers certifications in Fitness Nutrition, Behavior Change, Sports Conditioning, Senior Fitness, and more.
---
How to Build a Long, Successful Career
Once you graduate and become certified, you are ready for a rewarding career in one of the many personal trainer jobs. However, there are still some steps you need to take to increase your chances of a long, fulfilling career.
Continuing Education
There are numerous continuing education opportunities offered by many of the leading fitness organizations. Continuing education allows you to stay sharp with your skills and develop new techniques for making your clients healthier and happier. For example, the American Council on Exercise offers continuing education classes on senior fitness, weight management, and fitness math. These classes and other programs make you more appealing to both clients looking for a trainer and fitness centers looking for employees.
Courses, Seminars, and Industry Gatherings
There are also numerous conferences and conventions that bring together the leading minds in fitness and personal training. These events allow you to learn from experts while sharing ideas and thoughts with your peers.
Related Career Fields
During your career as a personal trainer, you may discover a passion or basic proficiency with a certain type of training. For example, you may find that you love working with significantly overweight individuals who want to change their bodies and their lives. In this case, you could become an expert in weight loss. Other career paths include athletics, youth, or elderly personal training.
There are many ways that you can apply your education and personal training experience to other careers. Many personal trainers move into positions that include athletic trainers, strength and conditioning coaches, injury rehab specialists, occupational therapist, and more. Many of these positions will require their own educational paths, but personal training experience will give you a strong foundation for these and other fields.
---
Personal Trainer Salary
Personal training may not be the most profitable career for most people, but as the stats show, the best personal trainers actually earn a substantial income. According to the Bureau of Labor Statistics, "fitness trainers and instructors" earn roughly $36,000 a year. This is right around the average for all occupations, which is at $36,200 annually. However, the BLS says that the highest 10% earn more than $70,000 a year. This shows that if you are good at what you do, have solid selling skills, and can maintain repeat clients, there is a strong potential for outstanding income.
It's believed that the field of personal training will grow by 8% from 2014 to 2024, which is right around the national average. This is actually lower than the expected growth for the category of "personal care and service occupations," which includes personal care aides, recreation workers, and manicurists, as well as personal trainers. The BLS believes that the ongoing fight against obesity and the continual emphasis on healthy living will fuel the sustained growth for personal training opportunities. Certain types of exercise, especially low-impact yoga and Pilates, is expected to increase as the overall population becomes older.
So while the career won't see hand-over-fist growth, it's reasonable to say that there will be jobs for anyone with a fitness education and personal training certification over the next ten years.
---
Start Your Journey to Become a Personal Trainer Today
GetEducated maintains one of the largest online degree databases in the country. Every degree you see on our site has been pre-screened for proper accreditation so you don't have to do any extra research. If you are interested in a rewarding career as a personal trainer, start today by finding the right personal training degree.
Related Resources
Best Online Schools that Offer Credit for Life Experience
No GRE Required Graduate Schools