On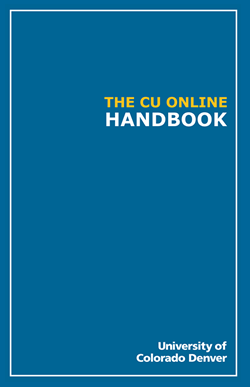 line college teachers can find learning tips and strategies for teaching online courses in a new, free e-book, produced by the University of Colorado at Denver.
The CU Online Handbook explores trends and issues with online learning, including how to make use of new technology. Articles cover topics such as:
• How teachers can transition from face-to-face to distance education
• How to use e-College
• How to use web 2.0 and informal learning techniques
• Using blogs for educational purposes
• Instructional uses of Twitter
The book can be downloaded as one PDF file, or you can pick and choose chapters to download individually.
Related Resources
GetEducated.com's Motivating & Retaining Adult Learners Online: A Journal of Research Articles and Practitioner's Tips
Top 10 Free Training Courses for Online Teachers
Online Teaching Careers: Become an Online Instructor
Online Education and Online Instructor Jobs: Teachers Available
Most Affordable Online Masters Degrees in Education and Library Science