The Get Educated consumer reporting team has uncovered some shocking news about the cost of a master's degree.
Many public and state universities have begun offering the same master's degrees online as they've offered for decades on-campus. But buyer beware—a few are charging up to two times more for the convenience of online course delivery.

Why Compare the Cost of a Master's Degree?
Increasingly, if you are considering an online graduate degree, the very same program may be available as a traditional residential degree and in an online learning format.
Many public and state universities, suffering from declining tax support, have begun charging higher tuition and fees for the convenience of online education.
If your state university is offering online masters or doctorate degrees, compare tuition and fee schedules before you enroll. Doing so could save you thousands on your graduate school education.
Case in Point
Indiana University
Kelley Direct – Online MBA Degree Program
Is the convenience of online education worth an additional $28,000?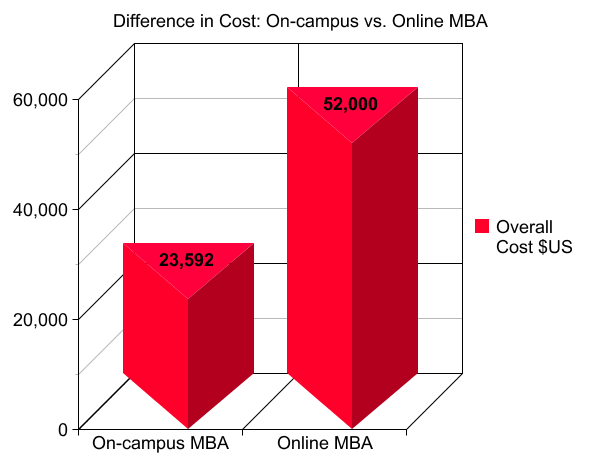 Indiana University, Kelley Graduate School of Business, is a top ranked business school.
The online division of this elite brick and mortar graduate school, Kelley Direct, charges about $52,000 in tuition and fees for its online MBA.

But Indiana residents will pay only $23,592 for this very same degree if they stay off their PCs and choose to attend face-to-face lectures and seminars at the university's Bloomington, Indiana campus.
That's right. The very same MBA degree—same courses, same faculty—costs $28,000 less if you're an Indiana resident and choose to toss your laptop and study on-campus, the old-fashioned way.
Non-Residents Get a Good Deal Online…
…but still pay $10,000 more.
Like most public universities, IU charges higher tuition and fees for out of state applicants. Applicants who are not residents of Indiana will pay about $42,592 to attend Kelley's graduate residential degree program in Bloomington.
These same students will pay a $10,000 premium ($42,592 on-campus vs. $52,000 online) for the distance learning version of this top ranked MBA.
Is Online Education Worth a Higher Cost?
IU is not alone in playing a shell game with online master's degree costs.
A 2009 college costs survey by WCET and the Campus Computing Project found that among accredited colleges which offer the same courses online as on-campus about half charge more for online courses.
Only 20% reported that they charge less for online courses.
IU's steep price difference is unusual, however. According to GetEducated.com's online education cost surveys the difference in sticker price between a traditional masters degree and an online option is usually no greater than 10%.
Regis University, a private Jesuit University in Colorado, has offered traditional campus degrees for 130 years. In 1997, the university's College of Professional Studies began offering many of their graduate degrees online.
At Regis, a traditional MBA costs $770 per credit. The online tuition for this same degree is $825 per credit.
A 30-credit MBA earned online at Regis University costs $24,750 vs. $23,100 on campus. Regis charges 7% more for the convenience of getting a degree online.
Most online students can expect modest cost increases of 5-10% for the privilege of getting a master's degree online.
Weighing Cost vs. Convenience
Compare traditional and online master's degree options carefully. Increasingly, grad schools are offering the very same master's degrees and doctorate degrees online as on-campus.
Three instances when paying more for graduate school online may be worth the elevated asking price …
1. Your schedule doesn't allow you to attend a classroom every week on a fixed day, at a fixed time
Example: Your career requires you to travel frequently or your work schedule is unpredictable. Online courses usually require you to log on weekly, but few require you to log on the same day / same time every week.
2. Physical classrooms aren't commute convenient
Example: You live in Queens and work in Manhattan and the nearest classroom is in Brooklyn. Close—but definitely not on your commute route between work and home.
3. The price difference is minor and the benefits you receive are great in terms of overall savings and convenience
Example: You have sole custody of three children, all in grade school. The cost of childcare if you were required to sit in a classroom lecture hall is much higher than the 10% in extra fees charged for online courses.
Never assume an online master's degree will be cheaper—or that it will cost you more. Both scenarios exist when it comes to online education.
And there is no rationale as to why one university may charge more—or less—for its online masters degree programs than it charges for its traditional degrees.
It's up to you —the consumer—to take the initiative to compare your online education options.
It's okay to pay more for online education if the convenience of learning online is truly worth the extra expense.
Related Resources
Non-traditional Students, Women Excel at Online Classes