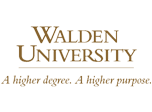 Post-Master's Certificate in Early Childhood Leadership
Program Details
Coloring inside the lines isn't just about creating art. Play is an essential part of learning. Studying the early childhood field allows you to bring together families, professionals, programs, and agencies that influence every aspect of children's lives from prenatal development through age 8.
Throughout the program, professional educators analyze topics including child development, family partnerships, content knowledge, and leadership. Education professionals examine the quality of early childhood programs and policies, research and present strategies to promote positive outcomes for young children, and evaluate the leadership characteristics necessary to be an advocate in the field.
Requirements
An official transcript of a master's degree
A minimum grade point average (GPA) of 3.0 on a 4.0 scale in post-bachelor's degree coursework
Special Accreditation
Walden University is accredited by the National Council for Accreditation of Teacher Education (NCATE) for a period of 7 years, from 2012 to 2019. In 2013, NCATE merged with the Teacher Education Accreditation Council to form the Council for the Accreditation of Educator Preparation (CAEP). Walden University is eligible for and will seek accreditation based on CAEP standards beginning in fall 2018.
School Accreditation Statement
The Higher Learning Commission