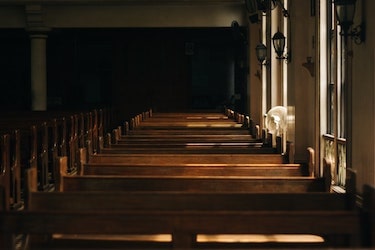 Leadership is a wonderful quality for anyone to have. It applies to virtually all industries and markets, including religion, and can be used in sectors that include private companies and government organizations. While leadership comes naturally to some, most people need to develop their leadership skill through education and training. Even if you are a natural leader, understanding established principles of leadership is crucial to your career. The online leadership or administration degree opens up several career options for devout professionals who wish to teach or train others, usually within a religious setting. Christian schools often hire graduates of this program, but other opportunities exist. Churches may also employ a leadership graduate to assist the pastor in developing educational and social outreach programs. These programs may be internal to the church—such as Sunday School—but they may also be larger community outreach efforts, such as peer counseling for troubled youth or after-school tutoring.
Religious leadership degrees online are similar to an leadership degrees in that both prepare students for administrative and leadership duties. However, a religious leadership degree online also requires theological study and study of a specific religious text or texts. Most universities have an association with a specific church denomination. All coursework generally reflects the denomination's beliefs, but this is generally more apparent in faith-focused degrees. While leadership isn't as theological in nature as a religion major, religious studies will still be a major part of the program.
There are countless career opportunities for people who study leadership. This academic focus is all about guiding people to reach specific goals, giving students the skills they need to create high-functioning teams in business, non-profit, or government. With a leadership degree, you can work as a project manager, organizational trainer, management consultant, or organizational specialist.

Degrees that focus on administration are just as fruitful. These jobs allow you to work in management, such as sales managers or human resources managers, but they also create opportunities for working in organizational roles, such as college administration.

When you complete a leadership and administration degree, you will see many different benefits, but two in particular rise to the top: varied opportunities and excellent pay. Next, you'll have the chance to earn a wonderful income. There are many jobs in leadership and administration that bring median salaries well over $80,000 a year. You can reasonably expect to be well paid when you complete your degree, although you'll likely have to gain real-world experience before reaching leadership and management roles, which tend to have higher pay.

To better understand the applications of a degree in religious leadership and administration, let's take a look at two potential career choices outside of the tradition path within the church or another religious organization:

Human Resources Manager—In this profession, you would be responsible for the organization and selection process of employees, as well as training and evaluations. You would generally oversee a human-resources staff that would do most of the recruiting and hiring, although you would be responsible for the results. This career has an excellent salary and the top 10% can expect to earn over $197,000. It only requires a bachelor's degree, although an education in human resources, as well as work experience, will be required.

College Administrator—The daily operations of a major university can be extremely complicated. Not only is there the need for student services and academic excellence, there are also research facilities that need to be staffed, maintained, and monitored. All of this oversight largely comes down to college administrators, whose jobs basically boil down to the management of colleges and universities. This career is complex and calls for a nimble, well-trained mind. For that reason, administrators make a median income of $92,360 and the top 10% in the field command salaries over $182,150. Although a master's degree is usually required, college administrators have an expected job growth of 10%, outpacing the national average of 7%.
WHO IS THE IDEAL CANDIDATE?
Leadership and administration is a rewarding and fruitful career, but quite frankly it's not for everyone. To excel, it helps to have some specific characteristics. For example, you need to have strong communication skills, or at the very least be willing to improve your communication. A desire to build relationships, and a belief that relationships matter in business, will also help your career. You should have good listening skills, because leadership is not all about telling people what to do, but also listening to people's suggestions, and you should have a general appreciation for organization and processes.
There are many excellent online leadership and administration programs available, so you need to be patient and look at each option thoroughly. The first item you should look at is whether or not the program can be completed 100% online. If there are in-person classes or requirements, it may conflict with your schedule, but a completely online program will provide the convenience you need, especially if you are a parent or have a full time job.

You should also check the coursework to make sure the classes are ideal for your future goals, and you should verify that the program is accredited, as this will be important when you graduate. Accreditation not only ensures a great education, it also gives your degree greater respect from employers.
Want more information on online religious leadership and administration degrees? Click on a program below to view tuition, accreditation, and admission requirements. Compare costs and accreditation carefully. Not all religious programs are properly accredited. Take comfort, though, as we have verified each and every accreditation of the programs listed below. No degree mills here!
Found
0
Accredited Online Religion & Philosophy Post Graduate Certificate Degree Programs
"Oops! No results here. Try a broader search!"