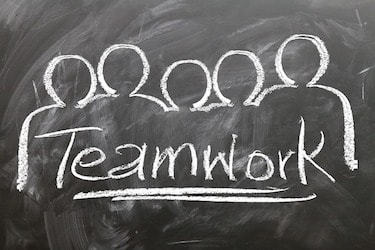 If you're interested in an online human resources degree, you probably think a company is only as effective and productive as the people who power it. Look into this degree if you want to interview, recruit and hire qualified people to work for a business or organization. Human resources (often called HR) is a career that allows you to create positive relationships and morale for employees and management alike and is a great major for those who enjoy interacting with many different personalities.
Career opportunities in HR are numerous. Recruiters, trainers, labor relations and benefits analysts are in high demand across all industries. Median salaries range from $43,880 to $107,280 because of the diversity of jobs and industries. Earning a human resources degree online will help you stand out. With higher-than-average job growth, this field should offer decent career security.
HR is a field that can cover a variety of responsibilities that are related to the human experience in the workplace for administration, employees, and clientele. Nearly every industry requires a small group of professionals—or an entire department—dedicated to maintaining positive human interactions within the organization. For developing professionals who are interested in HR careers, it may be possible to specialize in a particular area of interest within the field. There are two primary careers in HR:
HR Specialist – Specialists are professionals who may be responsible for any direct activities that fall under the umbrella of HR. Specialists handle a broad collection of responsibilities therefore the workload can be divided into a few different positions depending on the size of the company. HR Specialists can expect a steady growth rate around 5% and an income that is about half as much as those in management positions, around $50,000, on average.

Recruiting/Staffing Managers – The role of managers in HR is typically to oversee the planning, directing, and coordinating of HR department activities and staff. They serve as the link between management and employees, and may be the person who delegates activities related to employment, labor relations, and training. Responsible for hiring and recruiting employees, employment strategies, and maintaining a competitive employment program As the importance of human relationships and morale in workplace productivity gains recognition, human resources professionals will continue to gain a presence in various industries. The Bureau of Labor Statistics reiterates the reliability as well as rewarding outcome of careers in HR. The BLS predicts that careers in HR Management will continue to grow by almost 10% in the coming years. They also list an average salary of more than $100,000 for these management professionals.
WHO IS THE IDEAL CANDIDATE?
Careers in human resources are not for the meek or introverts by any means; it's important to remember when considering a career in this field, that professionals are required to have the interpersonal skills that are necessary to connect with people from various backgrounds and perspectives. HR professionals must have a higher level of integrity and concern for others than is expected of others in most business models. This career is for unique professionals who can combine their compassion and active listening skills with profitable business models and strategies.
HR representatives come from an array of educational backgrounds. Most HR Managers begin their career as specialists in order to acquire that level of experience in addition to their education. To get started, consider an online human resources associate's degree. You can then pursue an online bachelor's degree to advance in the field. The Bureau of Labor Statistics reports that those who hold bachelor's with certifications will experience the best advancement opportunities. If you're already established, a graduate certificate in HR or a specialty area, such as benefits or training, can ramp up your paycheck.
For advancement, it's good to know what you need—are you a department head who loves the nuts-and-bolts of benefits analysis, or do you want to advance in a leadership role, training and coaching work forces? An online human resources degree at the master's level is the most popular executive degree for those in HR. If you're solidly interested in the softer side of business, earning a master's in leadership or business administration may provide a solid step up on the management ladder.
Expect a human resources degree online program to provide a solid business backing with a focus on people. Your courses should teach you management techniques to get the best out of your employees. Improve your own leadership skills through interpersonal relations, and study organizational communication for effective strategies to disseminate information.
Balance your people skills with benefits analysis. Learn how pay structure and promotions work. Courses in collective bargaining and labor relations could also prove useful, depending on your field. Take a business law class to learn what is—and isn't—acceptable on the job. Some colleges even offer information technology courses so you can learn new software for easier data management.
Consider programs that hold accreditation from the Association to Advance Collegiate Schools of Business (AACSB), the Accreditation Council for Business Schools & Programs (ACBSP), or the International Assembly for Collegiate Business Education (IACBE). Graduates may also choose to validate their competitive expertise and knowledge through certifications that are offered by organizations like the Society for Human Resources Management (SHRM), the Human Resources Certification Institute (HRCI), and the International Foundation of Employee Benefit Plans (IFEBP).
Our rankings reveal that the average cost for an online master's in HR is $23,533 but the most affordable programs will cost less than $15,000. The amount of financial and time investment that a professional may choose to spend on education will ultimately depend on the extent of your professional goals, your background experience, and your interests. When you look into potential programs, make sure to take all of these things into consideration and choose the best program for you.
Found
0
Accredited Online Business Post Graduate Certificate Degree Programs
"Oops! No results here. Try a broader search!"