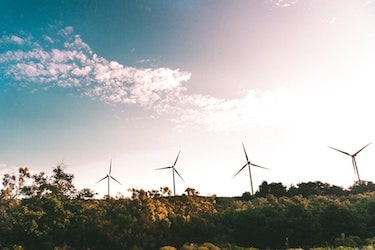 If you are looking for an excellent career that helps your community, improves the environment, and creates a brighter future, then perhaps you should consider an online sustainability degree. Combining scientific and environmental principles with business practices, this degree helps enhance responsible practices by companies, organizations, and governments. The online sustainability degree is a relatively new environmental science major that covers a very timely topic. "Sustainability" refers to the study of how society can build better, cleaner, systems of agriculture, energy and housing. The sustainability movement's main goal is to preserve and protect natural resources—such as air, water, forests, minerals and land—for future generations. An online sustainability degree is a great choice for any professional who wants to learn how to protect the ecosystem while allowing for global growth and advancement. Career opportunities exist in fields as diverse as agriculture, law, science writing, construction, community planning, research and environmental education.
Having a degree in sustainability might seem like a narrow career path, but you can do more than simply work for a conservation or environmental office. In fact, with this type of degree, you can work in the private sector, assist non-profits in their efforts, or go to work for an important government institution. You could become a sustainability specialist, an energy consultant, or even a risk management consultant.
The wide variety of careers is one of the many advantages that you have when you enroll in a sustainability program. With the sheer variety of opportunities, you can take your degree into many different areas and work for a wide variety of industries. This benefit largely comes from the fact that sustainability combines responsible use of resources and disposal of waste, but also focuses on business practices. It doesn't neglect the fact that businesses need to be profitable and organizations need to be efficient, but rather seeks to combine the two principles of profits and responsibility (which are sometimes, but not always, opposed) to create useful professionals that can be employed in almost any industry.
Most of all, when you work in this career, you get to wake up every day knowing what you do matter, and that is often the most important part of any lifelong career! Let's take a closer look at two of the specific jobs you can hold with a sustainability degree…

Environmental Scientist—Protecting the environment and human health is an important issue, and environmental scientists are leading the way with research, investigations, and surveys. They collect information on the environment, which can include air, water, or soil samples, and they analyze information to identify threats and control potential problems. With a median income of $69,400, this career has a high-quality salary that allows you to live a comfortable life, but if you work your way into the top 10%, you can expect a salary over $122,000 a year. The expected ten-year growth of 11% also suggest that there should be plenty of opportunities available.

Protection Technician—Someone has to be at the forefront of the environment, collecting information and investigating sources of pollution. Protection technicians inspect establishments for environmental hazards, set up and maintain equipment, and collect samples from a wide variety of sources. They may also verify compliance or prepare charts and reports for leading decision-markers. With only an associate's degree, which usually takes two or three years to complete, you can move into this career and enjoy a field that has a median salary over $45,000. The top 10% can earn over $77,000, which makes it a top job for people with an online sustainability degree. It also has an expected growth of 12%, meaning it should have plenty of opportunities available.
WHO IS THE IDEAL CANDIDATE?
There are many characteristics that make for an ideal student of sustainability. First, you have to have a belief that sustainability matters and what we do with the resources we have is essential, but you also need an appreciation for business practices, efficiency, and affordability. Believing that you can have both effective operations and clean practices is a must. Understanding that both business and the environment can, and should, be treated equally is essential to a fruitful career in sustainability. Good communication, a desire for problem solving, and enjoying the process of research are all essential as well. Of course, you'll also need a general aptitude for science and math, which are essential skills in the field of sustainability.
Several related degrees exist, each focused on a particular part of the ecosystem. A sustainable agriculture degree online explores how farmers can produce better food without the use of commercial pesticides and by using methods that enlist less polluting energy sources. Crop rotation, mixed-plant farming and organic farming are common courses taught in sustainable degree online programs and professional certificates. Some online sustainability degree graduates even educate farmers in developing nations.
A similar related major—the sustainable forestry degree—maps out how foresters can conserve and protect the use of green space. This degree major also teaches professionals how to tackle problems such as the deforestation of rainforests and the devastating effects of greenhouse gases.
Click on a program below to view tuition, accreditation, and admission requirements. Compare costs carefully—the average cost of an online bachelor's degree in between $30,000 and $50,000, but more affordable programs exist!
Found
0
Accredited Online Math & Science Doctorate Degree Programs
"Oops! No results here. Try a broader search!"