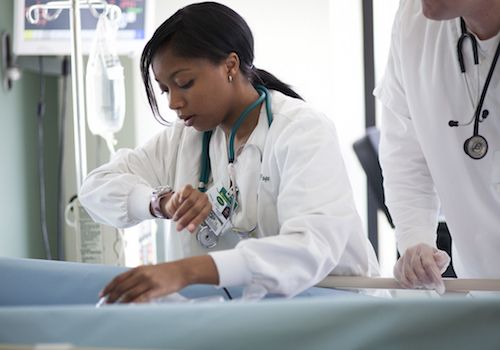 For those outside the nursing profession, it may seem as if nurses all fit into the same role. In some ways, that is true. Nurses all work in the healthcare sector and focus on the care and quality of life of individuals, families, and communities. Those who work in the field know that care can take many different shapes and forms. In fact, throughout the 1900s the American Nursing Association (ANA) began to develop professional standards that have since expanded to include nursing professions on a broad scale.
Just recently, the emphasis on health and wellbeing has gained popularity in society—with schools, workplaces, and government entities recognizing the benefits of healthy students, employees, and citizens. As more institutions begin to include nurses on their staff, and healthcare services become more available to the public, the nursing industry is expected to see even more growth in the coming years, making it the perfect time to pursue, or expand, your career in nursing.
Many professionals are intrigued by the variety of ways that they can use their nursing degrees. Some are intrigued by the ability to advance their education and career at any point in their life that is most convenient for them. For others, the accessibility to online programs and the ability to jump into the work arena from the get-go are what convinces them to become nurses. Some seek out nursing for the job security—careers in nursing are expected to grow by 16% or greater—much faster than the national average.
The responsibilities of different nursing positions can vary greatly, influenced by the education and experience required to be competitive for those positions. Entry-level nursing positions that require less education typically involve less diagnostic work and focus more on increasing the comfort and quality of life of patients such as those in nursing homes. More advanced nursing positions may involve assessing the medical history and symptoms of patients to diagnose illnesses and prescribe the appropriate treatments.
Nursing positions cover such a range that some nurses may enter the field without any college education, while others are required to obtain an advanced degree and licensure in order to practice in their field of choice. Nurses can increase their competitiveness by getting certifications in the area or areas that they desire to work. In order to qualify for a licensing or certification exam, nurses must receive their degree or diploma from a properly accredited nursing program. Accreditation is administered by national associations such as the Accreditation Commission for Education in Nursing (ACEN) or the Commission on Collegiate Nursing Education (CCNE).
In order to be classified as a Registered Nurse, nurses must first pass the National Council Licensure Examination, also called the NCLEX-RN. There are additional certifications available for Advanced Practice RNs, for specialty careers in areas such as oncology or pediatrics, as well as many others.
WHO IS THE IDEAL CANDIDATE?
Of course, all professional nurses must undoubtedly be able to communicate well with others and understand the basic anatomy and physiology of the clients that they serve. Regardless of their specialization, these professionals must be detail-oriented and compassionate.
Because careers in nursing can be so vastly different, though, your nursing education can be tailored to your unique strengths, interests, and professional goals. If your passion is working with individuals and helping them through a healthy recovery from addiction, for example, then you could get an online BSN degree with a concentration in addictions. If you are inspired by educating and engaging the newest generation of incoming nurses, then perhaps you could work through an education to get a post-graduate nurse educator degree. If you specifically want to be able to educate individuals about maintaining their own health and treating illnesses, then you might want to get a nurse practitioner degree.
No matter why you love nursing or what you want to do with your education, online nursing degrees make building a career that you love easier than ever before.
The wide availability of jobs in nursing is only anticipated to grow in the coming years, so there is great opportunity to find a nursing career that you are truly passionate about. Here are some popular nursing jobs:
Certified Registered Nurse Anesthetist (CRNA):
CRNAs help to make surgeries and procedures pain-free by administering anesthesia to patients. These days, nurse anesthetists are especially important in rural facilities and the military. To become a CRNA, nurses must be prepared to get a graduate-level education in nurse anesthesia from an accredited program and a specialized certification to authenticate their skills to potential employers. The United States Department of Labor lists this as the highest paying nursing profession at an average salary of $160,000. It is also one of the fastest growing, alongside of nurse practitioners and nurse midwives, at a whopping 31% job growth increase by 2024.

Nurse Practitioner (NP):
Becoming an NP authorizes nurses to take their skills one step further by diagnosing and treating acute, chronic, or episodic illnesses or discomfort. At the NP level, nurses can begin to order, perform, and assess diagnostic tests as well as prescribe medications or therapies. According to the American Association of Nurse Practitioners (AANP), NPs can specialize in areas such as family health, psychiatric/mental health, women's health, oncology, and many more. NPs join CRNAs as one of the fastest growing nursing careers, with demand anticipated to increase by 31% in the coming years. Also similar to careers as CRNAs, becoming an NP requires dedication to knowledge of the practice—the appropriate graduate degree and certification are required. NPs make an average of just over $100,000 each year.
Nursing Administrator:
Nursing administrators run the operation behind the scenes of healthcare to provide patients with the best possible services. Their responsibilities may vary depending on the type of agency that they work for, but they typically handle communication between staff and higher management, stay up to date with and contribute to health regulations and policies, and understand the financial and business aspects of nursing. Specialized graduate-level degrees for nursing administrators are required alongside of a certification in management or administration. Nursing administrators get paid about $80,000 on average each year, and qualified nursing administrators are in high demand—22% growth in the industry is anticipated by the year 2022.

Nurse Educators:
These professionals are the ones who prepare the incoming generation of nurses to enter the field. Nursing educators are critical to creating a sustainable healthcare system. It is for this reason that nurse educators must be the most prepared and experienced of almost all the nursing careers. Depending at what level they hope to teach, nurses may be required to hold a post-graduate degree before they can qualify for a certification to become an educator. It is a heavily rewarding program, to know that you are passing your knowledge of medicine down, as well as financially. The average salary for nurse educators is about $67,000. The anticipated growth will parallel the growth of the nursing industry, and in the coming years that is at about 14%.
Programs related to nursing are customizable for students who are interested in a certain specialty or concentration, but the core classes are very consistent. Nursing is held to a very high standard, because of its level of intimacy and impact on community health, and programs must meet those standards in order to receive accreditation from ACEN or CNEA.
Nursing courses are designed to prepare nurses with an in-depth understanding of nursing practices, professional and ethical standards, and the most up-to-date medical knowledge for their particular career path. Some of the core courses that are seen in nursing programs include:
Chemistry and Biology
Health Assessment
Nursing Research
Community Health
Adult Nursing
Pharmacology
Advanced and specialized programs will include more specifically targeted coursework such as:
Leadership and Management in Healthcare
Family-Centered Advanced Practice
Curriculum Development in Nursing
Principles of Anesthesia
Nursing careers can begin at any level of your education, with any level of experience—as long as you are passionate and hardworking. For this reason, your nursing education can be as extensive or expensive as you feel inclined for it to be. An online associate program will be the cheapest and most direct route to becoming a registered nurse. Once licensed, many RNs will return to school to pursue an online bachelor's in nursing (BSN). An online BSN degree can cost anywhere between $44,000 and $95,000.
Because all regionally accredited programs must offer the same quality education, nurses should research the resources that schools will provide for them to enhance their education. Clinical practice opportunities that may lead to employment are a great bonus. Some nurses may need to seek out a program that is more flexible to suit their schedule. Some nurses may want something accelerated that gets them through school as quickly as possible.
Found
0
Accredited Online Nursing Diploma Degree Programs
"Oops! No results here. Try a broader search!"