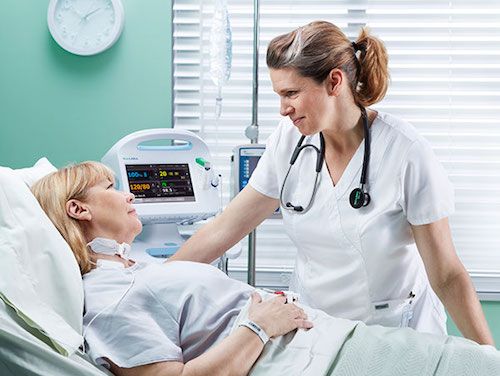 Nurse practitioners are the backbone of our current healthcare system—they teach us how to prevent diseases, manage our health, and treat our illnesses. Online nurse practitioner programs offer working nurses and allied healthcare professionals the chance to pursue advanced education. Skyrocketing demand and great pay are fueling interest in the the nurse practitioner (NP) field, especially in rural areas. As an NP, you'll work with patients all day long. You'll assess their health statuses, develop a treatment plan for unwell patients, and follow up to ensure the treatment is working. You may work with other medical professionals if your patient's treatment requires it.
Most healthcare careers are projected to grow at least 20% and nursing is no different, according to the Bureau of Labor Statistics. The NP field shows exceptionally strong growth and salary potential. According to Salary.com, nurse practitioners make over $100,000 a year, on average. The opportunity to work set hours is another bonus.
Nurse practitioners perform tasks such as:
Analyzing and interpreting patient histories, symptoms, physical findings, and diagnostic information to develop appropriate diagnoses
Educate patients about self-management of acute and chronic illnesses, tailoring instructions to personal circumstances
Prescribing medication, treatments, and therapies to clients
Training patients, their family members, and caregivers in techniques for managing disabilities and/or illnesses
Nurse practitioners are considered Advanced Practice Registered Nurses (APRNs) because they require an advanced clinical education, knowledge, skills, and scope of practice. In order to validate these advanced skills and knowledge to employers, a master's degree is the minimum requirement before students pursue their specialized certifications.
After completing a bachelor's degree, you may have to work as a nurse in a hospital or doctor's office for a year or two before entering a formal online nurse practitioner master's program. You may also need a specialty online certificate at the graduate level if you wish to work in a certain field, like pediatrics or geriatrics.
In some states, nurse practitioners do not have to work under the supervision of a doctor, as a physician assistant would have to do. As such, you could work in a hospital or in an outpatient setting, doing many of the same tasks that a doctor would. You could work for a doctor's office or perform home visits in a rural community. You could also work for a school, nursing home, or care facility.
To practice as an NP, you will need to be licensed. Once you've graduated from your nurse practitioner program, you can pursue licensing. Each state has its own certification requirements, but an exam is typically required, along with documentation of supervised clinical practice hours. The American Academy of Nurse Practitioners and American Nurse Credentialing Center both provide certifications in the field. The Pediatric Nursing Certification Board also offers an exam if you're interested in specializing in this field.
An online certificate program may also provide the specialty certification needed. Online degree and certificate programs include specialty majors in geriatrics, pediatrics, women's health and neonatal care, among others. Make sure the nurse practitioner programs you explore are designed to meet all medical licensing regulations for your state.
WHO IS THE IDEAL CANDIDATE?
Careers in nurse practitioning are for individuals who are passionate about building reciprocal, beneficial relationships with patients and their support groups. It is the perfect career for those who want to advance their knowledge and practice of nursing to administer diagnoses, perform medical research, and influence community health.
Students considering careers as nurse practitioners should be dedicated to providing direct health services and health education to a variety of clients. As long as they have a passion for creating healthier communities, nurse practitioners can apply their skills in any setting that most interests them. There are specializations in every medical category from pediatric and child care to gerontology.

The most important trait of the best nurse practitioners is that they are skilled at communicating with their patients as well as other healthcare professionals. They are also able to demonstrate compassion when caring for patients experiencing pain or emotional distress.
A variety of professional nursing organizations, such as the National Council of State Boards of Nursing (NCSBN), have been working to standardize the academic requirements for programs that specialize in training nurse practitioners and other APRNs. For this reason, many of the schools with accredited graduate-level programs for nurse practitioners will vary only slightly in the coursework that they offer. Such programs will often include classes such as:
Ethics & Public Policy in Health Care
Advanced Physiology & Pathophysiology
Advanced Health Assessment
Nurse Practitioner Procedure Lab
Some programs will offer specialized degree programs or concentrations in specific populations or types of treatment such as:
Pediatric Nurse Practitioner (PNP)
Neonatal Nurse Practitioner (NNP)
Family Nurse Practitioner (FNP)
Adult-Gerontology Acute Care Nurse Practitioner (AGACNP)
Specialized programs may help to adequately prepare students for the licensing and certification examinations that will be required for applying to certain positions after graduation. Students should investigate which schools may offer the best programs by taking a look at the number of graduates that have passed the national certification exam.
Our rankings reveal that the average cost for an online master's in nursing and related fields is just over $22,000. This estimate does not include the price of undergraduate education, certification or licensing exams, academic or professional materials that might be required, and other potential expenditures. It is best for every student to do a little research before settling on the very best program for them.
Found
0
Accredited Online Nursing Bachelor Degree Programs
"Oops! No results here. Try a broader search!"