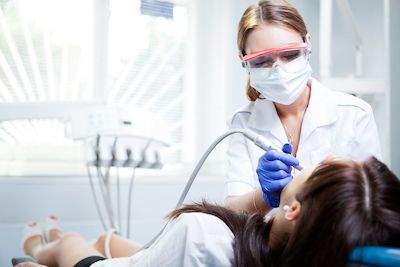 For most people, a dental hygienist is the dental professional that they will come into contact with most frequently in their lives. They are the person in scrubs who makes casual conversation with you as they clean your teeth a couple times each year, who remind you that you aren't flossing enough, and who alert you at the first sign of oral distress.
Dental hygiene is a field that provides a unique opportunity to have a positive impact on every person that they service. Hygienists work alongside of other medical professionals to provide comprehensive oral health care. Dental hygienists engage in a hands-on career that allows them to provide various services in a variety of settings and allows for development through advanced education and earned experience. If you have an eye for detail, people-skills, and an interest for dental science, then an online dental hygiene program is a degree that is worth exploring.
It is required of all dental hygienists to obtain a license before practicing as a professional. The extent of the education that is required is minimal. Most hygienists completed an associate level online dental hygiene program. The path to a career in dental hygiene is easily accessible for students who are dedicated and passionate about developing their skills. Likewise, for professionals who are seeking to advance their career, or change their path, the opportunities in dental hygiene are accessible to everyone.
Although the scope of a dental hygienist's responsibilities and supervision may vary from state to state, the profession typically involves tasks such as:
Providing health and wellness advice to patients, caregivers, and/or communities
Removing tartar, stains, and plaque from teeth
Applying sealants and fluoride to protect teeth
Administering local anesthetics and sedatives to alleviate pain
Taking and developing xrays
The American Dental Hygienist Association (ADHA) lists a variety of career roles that can be pursued and filled by dental hygienists, including:
Clinicians — Assessing, diagnosing, implementing, evaluating, and documenting treatment for prevention, intervention, and control of oral diseases in clinical settings such as private practices, community centers, hospitals, and prison facilities
Corporate — Supporting the oral health industry through the sale of products and services as sales representatives, product researchers, corporate educators, or administrators
Public Health — Providing services to those who otherwise would not have access to dental care in community health programs that are typically funded by government or nonprofit organizations, in settings such as Head Start, local health departments, Indian Health Services, and more
According to the United States Department of Labor, dental hygienists make around $72,000 on average each year—not too shabby for a career that requires minimal education. Not only does the profession pay well, but oral hygiene is only gaining popularity and priority in our society, providing plenty of job security and demand for qualified professionals. The Bureau of Labor Statistics predicts a growth rate that is more than double the national average at 19%.
WHO IS THE IDEAL CANDIDATE?
This specialized health career requires similar skills as other professions in the health industry: compassion for clients who may be in pain or frightened as well as critical thinking and attention to detail that are crucial for assessing the health and treatment of patients. In addition to the standard skills that are necessary, dental hygienists must be physically capable of performing job duties. The tight working space, as well as the small body parts and medical instruments that are involved, demand dexterity and fine motor skills of professionals in this field.
It is most common for students to begin their career by pursuing an associate's degree program in dental hygiene. Most entry-level online dental hygiene programs take two to three years to complete, and will incorporate a blend of clinical, classroom, and laboratory work to prepare students to pass their examinations and qualify for a licensure. Students may choose to extend their education and obtain a bachelor's or master's degree that will allow them to conduct research and expand the scope of their practice.
Coursework will cover topics such as:
Human Anatomy
Techniques and Therapies for Dental Hygiene
Periodontics
Pathology of Oral Tissues
Community Dental Health

In order to qualify for a licensure, students must obtain their degree from a dental hygiene program that has been recognized by the Commission on Dental Accreditation. The ADHA has all the available dental hygiene programs listed on their website, including schools with advanced programs.
The average cost of an associate's degree in dental hygiene around $22,000. The cost of programs may vary depending on the school, and the average price doesn't factor in the cost of books or other expenses in addition to tuition.
Found
0
Accredited Online Healthcare Bachelor Degree Programs
"Oops! No results here. Try a broader search!"