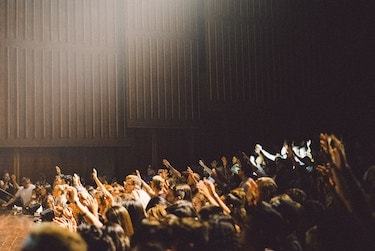 Teachers work hard to give their students the best instruction and education possible, but who shapes the curriculum and learning plan when technological advances are constantly changing? That's where instructional design professionals come in.
Instructional design happens behind-the-scenes and focuses on creating effective curriculum based on research and current policies. Computer use, along with the use of tech tools such as mobile devices and smart classrooms, is booming inside America's classrooms. Earn an online instructional technology degree and kick-up your teaching skills to become an instructional technologist. Instructional technologists study both educational theory and how high-tech systems can be employed to improve educational outcomes. Your career as an instructional technologist will center on designing and implementing better instructional systems using tech tools.
Instructional design professionals seek to research, develop, and implement curriculum changes that lead to positive outcomes for students. The name may mislead some to believe that the career is related to graphic design or computer programming, although those skills are useful in producing effective curriculum and materials, they aren't necessary for all types of instructional design.
Instructional design professionals can be a resource in any type of education-related programming imaginable, designing materials for teachers and students and utilizing media resources such as online tutorials and pamphlets to enhance the learning environment for students. Instructional designers work closely with teachers to enhance their skills and outcomes in the classroom, however it is rare for instructional designers to perform in a role that directly interacts with students beyond assessment. According to the United States Department of Labor, the two most common types of professionals that are found in the field of instructional design are:
Instructional Designers & Technologists – Professionals that are dedicated to the appropriate, developing use of technology and classroom materials.

Training & Development Specialists – Instructional design professionals in the role of training and development are often responsible for planning, conducting, and implementing programs that train employees and educators to improve their skills and knowledge in the classroom.

The growing emphasis on evidence-based curriculum and instruction strategies and continuing education for professionals means that the demand for qualified instructional designers is expected to increase in the coming years, by around 10% over the next decade. Professionals with a knowledge of instructional design are able to contribute to the overall productivity of academics and are rewarded for their expertise, with an average salary of around $60,000 each year.
WHO IS THE IDEAL CANDIDATE?
Professionals can shape the path of their career in instructional design to suit their lifestyle and professional goals. Some teachers may choose to change their career to dedicate their skills to improving instruction for students and other educators, or some young professionals may choose to start their career in instructional design right away to work with continuing education, professional development, and technological innovations. Either way, professionals who want to be successful in the field of instructional design must have the analytical skills that are needed to evaluate training programs, student outcomes, as well as instructional methods and materials. They must have the communication skills to work with professionals, educators, on students of all different levels and be creative enough to adjust their approaches according to new technology or learning needs.
The type of instructional technology degree you choose online will depend on your career goals. A master's in instructional technology will provide a broad and flexible foundation for many different careers ranging from instructional material design to becoming an educational game designer. If you want to work within the K-12 public school system, look for a program that offers electives geared to specific grades or populations, such as special education or high school students. School librarians may also choose to earn certification in instructional technology.
By earning this degree, you aren't limiting yourself to teaching children in the public schools. Many corporations require their employers to complete continuing education courses on an annual basis. As an instructional technologist, you might teach professionals of all ages how to use new software programs or virtual learning tools. Nonprofits, indeed all types of academic and lifelong learning centers also employ instructional technologists.
No matter which degree you choose, all instructional technology program—at the core—are designed to teach the latest theories and research in educational technology. Online classes will show you how to use Internet and networked technology to teach. They will also teach you how to teach classroom technologies it to others. You might also study online course design, writing computer-assisted instructional modules and the means the methods to measure the efficacy of online and computerized learning.
Expect an online instructional technology degree to include core courses in adult learning theories, instructional design, digital media, multimedia authoring, educational research, statistics, measurement, graphic design, virtual reality and IT. Popular electives might include social media, computer programming, educational gaming and applications development. Closely related online degree majors include the educational technology degree and the teaching online degree (for instructors who want to master applied online teaching techniques).
Besides the standard regional accreditation, some programs will also hold accreditation from the National Council for Accreditation of Teacher Education (NCATE). These degrees usually cost more, on average, but may be considered extra presigious by employers. Additionally, instructional designers are often required to have a certificate or licensure that is issued on a state-by-state basis. Many training and development specialists may benefit from a certificate that's offered by the Association for Talent Development (ATD). Quality programs will prepare their students for the examinations and experience that is required for certifications.
Expect to spend between $30,000 and $50,000 for an online bachelor's in instructional design or technology. A master's will cost a bit less—around $25,000. Click on a degree program below to view tuition estimates, accreditation, student reviews, and admission requirements.
Found
0
Accredited Online Education Bachelor Degree Programs
"Oops! No results here. Try a broader search!"