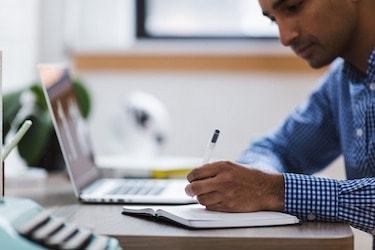 Schools need leaders. It takes much more than just good teachers to lead to successful student outcomes—there is careful planning behind the curriculum, educational materials, classroom settings, and efficient service providing of every educational institution. If you're willing to step up and guide students toward a compelling future, consider an online education administration degree. Education administration degree programs help teachers and other experts achieve executive roles inside both private and public school systems. This online degree program is particularly well suited to educators who have years of academic experience, typically through teaching or in lower-level administrative positions. Earning an online education administration degree can help instructors move up through the ranks in higher education also. This degree major is well suited to any college instructor who hopes to someday secure a position as a department head, dean or provost.
Education administrators are the professionals that offer leadership for their schools; they direct teachers and provide managerial support as well as giving guidance and oversight for smooth operations. One of the many benefits of a career in education administration is that professionals can often choose the path that they take with their career. There are many different types of roles that can be performed by education administrators, including the most popular school principals, described by the United States Department of Labor:
Principals – Found in elementary, middle, and high schools, these professionals usually find their way into administration after years of service in education. They are responsible for coordinating an entire school's operations—including their goals, curriculum, activities, teachers and staff. Their top priority is offering a safe and productive learning environment for the students they serve. Principals are generally required to have at least a master's degree in addition to years of experience in the field of education. Unlike teachers, principals serve their school all year long, working to secure funding, update curriculum, and train educators to best prepare them to serve their students. In general, the hard work that leads to becoming a principal pays off in the long run. Principals have the opportunity to maximize their impact in the life and growth of students, and make on average more than $90,000 each year. Like other fields in education, the growing enrollment rate means that the demand for qualified school principals is likely to increase in the next decade.

Preschool and Childcare Center Directors – Early childhood education (ECE) professionals tend to the next generation before they begin their public (or private) school experience. Directors of childcare centers usually develop their career for many years in ECE. Like principals, they are responsible for the entire operations of a child care center's programming. Directors of these programs are generally required to have at least a bachelor's degree. The average professional makes more than $45,000 each year, but competitive professionals can seek a master's degree to ensure that they serve their staff and students to the best of their ability. The demand for qualified professionals is expected to increase by 11% in the next decade, offering a steady and rewarding career for aspiring professionals.

Postsecondary Education Administrators – These professionals work on the opposite end of the development spectrum from childhood administrators — they oversee the adult learning experience that happens after a middle or high school education. Postsecondary administration jobs can vary depending on the type of department or institution that is worked in. There are three primary categories of administrative professionals in higher education—Admissions, Registrar's Office, and Student Affairs. Working in the administrative side of postsecondary education usually requires a master's degree, although more or less education and experience may be necessary to qualify for various positions within administration. Postsecondary education administrators can look forward to a great payout for the work that they put into their career: on average, administrators make more than $90,000 annually.

As the demand for educated professionals increases, the demand for administrators in higher education is also expected to increase by at least 10% in the next few years.
WHO IS THE IDEAL CANDIDATE?
When you think about education administration, chances are you imagine a voice coming over the intercom, calling students to the principal's office. The truth is that education administrators do much more than keep students in line. They make sure that schools, students, and teachers have everything that they need to meet their classroom goals and lead successful lives outside of the classroom. Between the student services, extracurriculars, and support for educators, there's a lot that goes into creating an effective academic environment.
This profession requires a combination of both business-savvy skills for managing operations and educational knowledge to coordinate the best learning experience for your students. The career demands a dedicated passion to the successful outcome of the next generation, and the organized problem-solving skills that it takes to make smart decisions with limited resources. If you are patient, empathetic, and can communicate in a way that a range of students and educators can understand, then the academic world needs you to consider taking your career to the next level—or getting started on your journey—to education administration.
Almost all programs in this field require a prior history of teaching or instruction. For this reason, most online education administration degree programs are at the master's level. Popular areas of focus include principal certification, K-12 administration, higher education administration, leadership in early childhood education, Christian school administration, and human resources or corporate training.
Common core courses include school law, community relations, federal compliance law and educational management. Practical courses may focus on how to build teams, write grants, create budgets, reach community consensus and comply with complex, state and federal laws and regulations. If your career goal is to become a principal or superintendent, online courses are available to help prep you for the certificate in school administration for principals.
Already working in the field and ready to advance? Education is a career field where the more you learn, the more you earn. Some top-level education administrators hold a doctoral degree. Most hold at least a master's degree. Administration degrees help educators climb to the pinnacle of their profession. By earning an advanced education administration degree online, you could boost your career as well as your pay grade. If you want to be involved in research, public policy or publication, you may need a doctorate degree. Both doctor of education (EdD) and doctor of philosophy (PhD) degree programs are popular online.
Consider programs that hold programmatic accreditation from the National Council for Accreditation of Teacher Education (NCATE). These programs tend to be slightly more expensive but offer an additional seal of approval and prestige. Our rankings reveal that the average cost for an online master's in education administration is just over $18,000. However, it pays to do your research—programs can cost as little as $8,000 or as much as $50,000!
Found
0
Accredited Online Education Bachelor Degree Programs
"Oops! No results here. Try a broader search!"