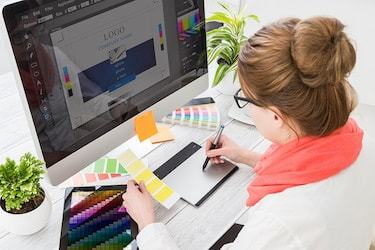 In a world that is increasingly based on technology, graphic design is becoming a more technical skill than ever before. Blending the fields of art and tech, graphic design professionals are called upon in every field. They are the masterminds behind the advertisements we see, the websites we visit, the magazines we read, and anything else that brings art into our everyday lives. Graphic design allows professionals to shape a career in which they can communicate through their art in the digital realm. An online graphic design degree is perfect for anyone whose career goal is to create visually exciting designs for any item ranging from an automobile to a mobile phone. Graphic designers impact our world daily, making it more beautiful and functional. Communicating with the world visually can be both exciting and satisfying. But consider yourself warned: graphic design is an ultra-competitive field. This online degree may not be the smoothest track to a fat paycheck unless your skills are finely honed. You'll need an outstanding portfolio and loads of creativity to stand out and snag a steady design gig.
Getting started in a graphic design career doesn't have to be confusing or consuming. Developing professionals can choose to shape their path with certifications, or associate's or bachelor's degrees. Individuals can apply their graphic design skills across any field from entertainment to retail to healthcare. According to the United States Bureau of Labor Statistics (BLS), graphic designers bring visual concepts to life through the use of fine arts and computer software. Graphic designers typically specialize in a particular category or industry, such as book covers or webpage designs. No matter what their specialization, they are usually responsible for tasks such as:
Designing layouts and selecting the colors, images, and typefaces to use in the design
Creating designs with digital illustration, photo editing software, and layout software
Meeting with clients and art directors to determine the scope of a project and to present design ideas and drafts
Competitive applicants for graphic design positions most frequently have at least a bachelor's level education.

Technical training in graphic design is the perfect compliment to an academic background in alternative subjects. Graphic design can be a highly rewarding field—professionals make around $47,000 annually on average, although it is a highly competitive field and job growth is expected to be slow in the coming decade. Other popular career options for graphic design professionals include:
Desktop publishers can start their career with an associate level education and generally, use computer software to design page layouts for printed and published content like newspapers. Desktop publishers make just slightly less than graphic designers on average, around $42,000 each year. That being said, the field is a rapidly declining one: job positions are expected to decline by 14% by 2026.

Art directors are responsible for the overall design and production of content, putting them higher up on the professional ladder. Graphic designers can become art directors after working in the field for many years—experience is the best teacher, after all. Many professionals can qualify for positions as art directors with a bachelor's degree and many years of experience. The experience pays off, making this one of the best paying gigs for designers. Directors make more than $90,000 each year on average and can expect their job growth to keep up with the pace of jobs for other types of designers that need to be managed or supervised.
WHO IS THE IDEAL CANDIDATE?
Perhaps one of the most important traits of successful graphic design professionals is their overall creative vision. Combined with their artistic ability, the best graphic designers bring products to life through their work. In addition to the creative talent, professionals must have the analytical skills to think critically about their work from the perspective of consumers, as well as the communication skills to communicate beyond their artistic products, with colleagues and clients alike. Most positions in graphic design require hands-on technical production skills for the use of computer software. If you're prepared to combine the worlds of technology and art, then consider starting your path in graphic design today.
If you're already designing, consider formalizing your skills with an online graphic design degree. Certificates and associate degrees are great if you are just starting out and need to master the basics of design. Certificates teach design standards and software design systems without requiring the long-term commitment of a bachelor's degree program. You'll want to earn a graphic design degree online for higher-paying contracts and to gain credibility with employers. You may also need a few years of experience to gain the skills necessary for career advancement. Animators and web designers—who hold at least a bachelor's degree—have the best shot at commercial success.
Once you're established as a graphic designer, keep your eye on continuing your education. Styles change quickly, especially in design. Certifications and open-mindedness will keep you fresh in this field. An eye-popping portfolio of work along with an online design degree may be the fastest way to leap ahead in this field. You could work for a company or be your own boss. Nearly a third of online graphic design graduates are freelancers, which allows them to take on many different projects and telecommute to work from remote locations. An online master's degree is most useful if your goal is to tighten your scope or learn new skills, such as specific design software or project management. A graduate degree may also be essential if you want to move up and coordinate the efforts of a design team. If you're interested in academics, a master's degree or graduate certificate could enable you to teach graphic design at the college level.
Consider programs accredited by the National Association of Schools of Art and Design (NASAD) which adds an additional level of prestige beyond standard regional accreditation. Certifications are also available from software vendors and professional associations to validate the competency of professionals in their specializations of choice.
The average cost of an online graphic design degree at the undergraduate level is between $30,000 and $50,000. It's critical for students to consider programs that suit their professional needs by offering coursework, hands-on experiences, and other valuable opportunities to prepare them for the job market.
Found
0
Accredited Online Art & Liberal Arts Bachelor Degree Programs
"Oops! No results here. Try a broader search!"