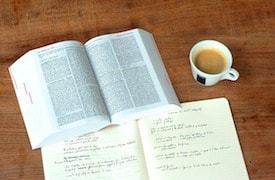 An online paralegal degree may be a better investment than a traditional law degree. America has a glut of lawyers today. In contrast, there is growing demand for trained paralegals who hold associate's or bachelor's degrees. More corporations are choosing to negotiate disputes rather than undertake the expense of a court trial. As a result paralegals, who charge less than attorneys for their legal work, are witnessing solid demand for their services. Careers in paralegal offer an accessible, stable, and rewarding option for professionals that are interested in the field of law but aren't sure about committing 7+ years to higher education. Plus, the demand for graduates who earn an online paralegal degree or certificate is expected to rise steadily. Paralegals should see about a 25% rise in the need for their services in the coming decade.
The primary difference between an attorney and a paralegal is that, unlike a lawyer, a paralegal cannot present cases in court, offer legal advice, or set legal fees. Instead, paralegals, also known as legal assistants, do much of the research, drafting and preparation of legal documents, such as wills, contracts, deeds, trusts, and articles of incorporation. Graduates of paralegal degree online programs do much of the same administrative work as lawyers, but they cannot represent clients at trial, give advice to clients, or set fees. Solid research, analysis and writing skills are essential to succeeding as a paralegal.
Like lawyers, paralegals may choose to specialize their knowledge to pursue careers such as:
Corporate Paralegal – These law professionals help lawyers prepare legal documents like employee contracts, shareholder agreements, financial reports and maintain compliance with government regulations.

Defense Paralegal – Focusing on criminal law and helping lawyers with legal research and forms, defense paralegals navigate penal codes and prepare for procedures related to the criminal system.

Environmental Paralegal – Choose this type of paralegal if you'd like to help lawyers that work in corporations, nonprofits, government agencies, and more deal with policies and regulations related to the environment.

Family Paralegal – Family paralegals help lawyers and families navigate the legal procedures related to marriage, divorce, child custody, powers of attorney and all topics concerned with family matters.

Paralegals make an average salary of nearly $50,000 each year, and it is a great time to look into this accessible career. The demand for paralegals is expected to grow by 15% in the next few years, as organizations and individuals look for cheaper alternatives to solve their legal needs and resolve their disputes. Regardless of how much experience you are starting with, or what your long-term professional goals are, there are options and accessible means to get started on a rewarding career as a paralegal.
WHO IS THE IDEAL CANDIDATE?
If you are passionate about the legal process and the idea of preserving justice in environments that truly appeal to you, then there is likely a path for you to develop your career as a paralegal. Since most paralegals spend the majority of their time working with clients and other professionals, it's imperative for paralegals to be able to build trusting relationships with interpersonal skills and strong communication. Successful paralegals are able to clearly document and present their research findings and information to attorneys and other professionals.
Many paralegals work with computers, conducting legal research, and organizing important documents, so professionals that are interested in this career must be at least somewhat tech-savvy. They are often responsible for many cases at once, and so they must be organized enough to quickly adapt to changing circumstances and deadlines.
Paralegals, who may enter and practice in the profession with only a paralegal or legal assistant's certificate, work under the supervision of licensed lawyers. Many paralegals complete an internship in a law firm as a part of preparing for private certification as a paralegal. The best paralegals often choose to earn a bachelor's degree. This popular e-learning major is also sometimes known as the online legal studies degree.
Expect any paralegal degree to include core courses in legal research, legal writing, business law, civil litigation, wills and estates, bankruptcy, property law, and family and tort law. Grads of paralegal degrees online can specialize in one area of law through advanced certificate programs.
Make sure to check state requirements before choosing an online program. Only a minority of online paralegal degrees are ABA accredited. But not all law firms or employers (corporations and the court system) require paralegals to graduate from ABA accredited programs. Before enrolling in a degree, check with your state licensing agency and the ABA. Make sure you understand the many types of private certifications that impact your ability to practice and advance as a paralegal or legal assistant.
On online master's in law can cost as little as $20,000 or as much as $50,000. Compare tuition costs carefully to make sure you're getting what you need without overpaying. Keep in mind that certifications for paralegals can cost anywhere from $75-$200. It's critical to look into programs that offer a high quality educational experience along with other learning opportunities that meet your professional goals and interests.
Found
0
Accredited Online Criminal Justice, Safety & Law Bachelor Completion Degree Programs
"Oops! No results here. Try a broader search!"