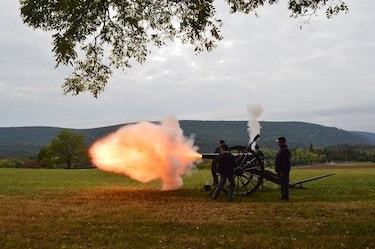 In the words of George Santayana, "those who do not learn history are doomed to repeat it." There is so much history to be examined and learned from—from the beginning of human civilization to the unique history of each of the world's societies. Therefore, it makes sense that history is one of the most popular liberal arts majors.
In an online history degree program, you'll examine past events and analyze their impact on contemporary society and culture. You'll also learn how to read, research, and write with a critical mindset—skills that are valued in nearly every profession. Armed with this degree, you could find work as a historian, but also as a teacher, museum guide, naturalist, international policy analyst, archivist, corporate librarian, antique appraiser, curator, future studies analyst, market researcher, or writer. These careers all offer a chance to connect with the past in a modern setting.
Whether it is with a bachelor, master, or doctoral level of education, professionals who study history work in a variety of fields to identify and preserve the documentation of historical events. Developing professionals may be passionate about history from the beginning, or may be inspired to develop their career after they started in a different field. The United States Bureau of Labor Statistics (BLS) talks about some of the most popular positions for history experts:
Historians – Perhaps the most obvious career choice, as well as one of the most esteemed and competitive. Professional historians are often required to have at least a master's or doctoral degree. Historians most commonly conduct research and analysis for governments, businesses, nonprofits, and other types of organizations. They often trace the history of a particular person, area, idea, organization, or event, and present their findings through articles, books, reports, exhibits, and educational programs. Contrary to popular belief, having a history degree doesn't mean poor pay. Most historians work inside government or the military as policy analysts, archivists and recordkeepers. Mean wages are about $60,000. Historians who work inside corporate, scientific and technical sectors or within the federal government pocket top dollar, averaging about $78,000. The job growth for historians is expected to be on par with the national average.

Museum Technicians – One of the most accessible career options in the field of history, museum technicians are commonly referred to as registrars or collections specialists and can get started with a bachelor's degree. Their primary focus is the care and safeguarding of historical artifacts in museum collections. Museum technicians make around $40,000 annually on average and are expected to be in high demand with the rising public interest in art and history. Job growth for museum technicians is expected to happen at a rate of 12% in the coming decade.

Archivists – The professionals responsible for preserving historically significant documents and records. Many archivists specialize in a particular era of history—such as Appalachia in the 19th century, or Egypt in the ancient years—so that they have a strong understanding of records from that era. Otherwise, they may work with specific forms of records—like manuscripts or photographs. Professionals that aspire to be archivists must have at least a master's degree to qualify for most positions and can prepare to make more than $50,000 each year on average. They can also expect substantial job security since archivists are projected to experience the most job growth of all the history careers—14%—in the next few years.
WHO IS THE IDEAL CANDIDATE?
The field of history makes up a unique profession, filled with individuals using their passion for studying and informing our understanding of ourselves and one another. Learning from history requires much more than just watching the latest documentaries, but it requires intensive reading, writing, and collaborating. Careers in history require immense passion and dedication to the subject at hand. Professionals that work in these careers must be critical thinkers that love to read and write and pay thorough attention to the most minute of details. Across the board, careers in history involve heavy research and unmatched organizational skills. It isn't always easy, but for those who see a path forward in understanding the path that lies behind us, it is always worth it.
Like history itself, an online history program can cover many specialties. You could study European history or world civilization. Or you may prefer to focus on specific eras, such as the 18th century. You'll likely take numerous survey classes that will give you broad knowledge about world history. You may be able to then narrow your focus to a specific time or region. Other classes should include science, writing, research and even political science.
If you are interested in a history degree online, you may also want to review the online military history degree. This program is focused on the battles and wars that have shaped history. If you are interested in joining the Armed Forces after college, the military history degree could be a good program for you.
If you've already earned a bachelor's degree, consider a master's in history or a closely related field. It will bolster your research and writing skills. Plus, it could lead to a teaching position or government job. However, a doctorate may be necessary to teach at the college level or for some research positions. There may be certifications available for specific positions or specializations, such as Certified Archivist credential that is offered by the Academy of Certified Archivists.
With the average cost of an online history degree between $30,000 and $50,000, make sure you are choosing a quality program that will prepare you to enter the professional arena. Click on any program below to view accreditation, tuition, and admission information.
Found
3
Accredited Online Art & Liberal Arts Bachelor Completion Degree Programs
The online BA in History degree completion program from Westfield State University allows students to transfer in up to 76 credits from any college or…