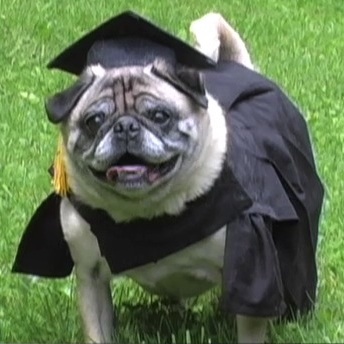 Over the past decade, diploma mills in the U.S. and around the world have allowed con artists and criminals to purchase instant degrees and transcripts fast and on-the-cheap. Armed with these fake paper pedigrees, criminals have committed felony fraud—and in some cases, even murder.
Hundreds of degree mills allow criminals to buy fake degrees online fast and cheap. No tests required! Just submit your resume for a work experience evaluation and get an instant degree.
The only graduation requirement: a valid credit card.
Diploma mill degree recipients abound. Many were caught trying to cheat their way to a better career. A few, sadly, have committed criminal acts with their fake degrees that have led to a felony indictment or the loss of innocent lives.
Below, we list the top notorious 10 degree mill scams.
Most Notorious Instant Degree Scams
1. Dog Gets Online MBA
In June 2009, Diploma Mill Police mascot Chester Ludlow, a pug dog, was awarded his online MBA from Rochville University for his "work and life experience." The dog received his degree via express mail from the United Arab Emirates one week after paying the "university" $499 (had he paid $100 more, he could have graduated with honors). For more information, read the full article or see the video.
Thankfully, Chester has committed no crimes with his degree mill credentials. Instead, he uses his fake MBA to help consumers get educated before they get scammed.
2. Saint Regis Scams
Dixie and Steven Randock were charged with selling thousands of fake online degrees from 121 distance learning universities—most notably Saint Regis University, of Liberia—and for creating fake diplomas from countless real universities. Customers came from 131 countries and included professionals in education, medicine and nuclear engineering. Authorities estimated the fraud ring took in $6 million by selling fake academic products to 9,000 people. In 2008, the Randocks were sentenced to three years in prison on federal fraud charges.
3. Fake Doctor Tragedy
An 8-year-old diabetic child died after a North Carolina "doctor" advised the little girl's mother to take her off insulin. The "doctor," Laurence Perry, claimed to be a specialist with credentials from several online schools. These were later found to have been purchased from diploma mills. Perry was eventually sentenced to 15 months in jail for manslaughter and practicing medicine without a license.
4. Accreditation Official Caught
You'd expect an organization that accredits colleges to know what it takes to earn a legitimate college degree. Apparently, a member of the Accrediting Council for Independent Colleges and Schools didn't get the memo. In 2004, Michael Davis, a member of the council, claimed a doctorate from the aforementioned Saint Regis University. Saint Regis is a nonaccredited school, says the Accrediting Council for Independent Colleges and Schools…and any other recognized accrediting agency. Davis has since been kicked off the council.
5. U.S. Government Sting
In 2003, Laura Callahan, the U.S. Department of Homeland Security's deputy chief information officer, claimed impressive education credentials—a bachelor's, master's and a PhD from Hamilton University. Hamilton was found to be an online college that is not accredited by any recognized agency. During the 10-month investigation, Callahan was put on leave, but continued to collect her government salary of between $128,000 and $175,000 annually. She was forced to resign in March 2004.
After the Callahan case, the Government Accounting Office ran a check of eight federal agencies. The check uncovered 463 employees who claimed online degrees from fake schools aka diploma mills. At least 28 of those caught in the sting were senior-level employees, including three unnamed managers with security clearances working at the National Nuclear Security Administration.
6. National Security Threat?
In 2005, the U.S. Secret Service investigated diploma mills, fearing they could be used by terrorists to gain access to sensitive jobs in the U.S. The Secret Service bought a fake online degree for a fictional person—"Mohammed Syed," a Syrian Army expert looking for U.S. employment. "Syed" received three advanced degrees in engineering and chemistry for a total of $1,277 from James Monroe University.
7. U.S. Military Uncovered
U.S. military personnel, both military and civilian, were found to be using fake degrees from nonaccredited schools by an Alabama TV station in 2009. One of the civilian employees named by WHNT-19 was the director of readiness at the U.S. Army's Aviation and Missile Command (AMCOM) in Huntsville, Ala. Chris Oleyte "earned" a bachelor's in human resource management from Trinity College & University (an unaccredited institution).
8. State Troopers Busted
In 2008, 10 Washington State Patrol officers used fake credentials from degree mills to earn $50,000 in raises. No charges were filed against the officers, but they were forced to return the raises.
9. New Jersey Educators Flunk
New Jersey administrators earned raises based on fraudulent educational credentials and also charged the school district $10,750 for their "education." Freehold Regional High School District Superintendent H. James Wasser called himself "doctor" after claiming a PhD from Breyer State University (a reputed diploma mill).
Wasser was forced to return his pay raise in 2008, but kept his $210,000 job through the 2009-10 school year—at which point he is set to start a new job created for him by the district, also at $210,000 per year (though he will be required to give up his district-provided SUV and won't be allowed to claim any further educational expenses).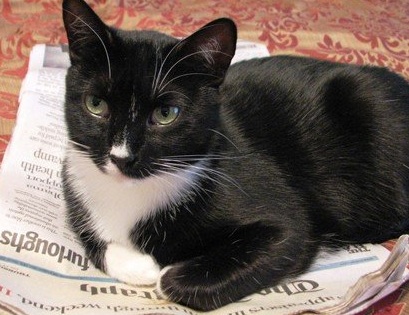 10. Cat Gets Online GED
This last case shows that degree mills don't restrict themselves to college degrees—they also target those seeking high school diplomas. Oreo, a rescue cat, received a GED (General Equivalency Diploma) from Jefferson High School Online, earning mostly A's. The cat paid $200 for her high school online diploma.
The Better Business Bureau sponsored the Georgia cat's application in 2009 as a way to draw attention to the growing problem.
Learn the signs of a diploma mill scam in Get Educated TV's video "How to Identify Fake Online College Scams."
You can help stop diploma mills, a crime that's spreading worldwide. Become a Diploma Mill Police deputy with one click.
Link your Facebook, Twitter or blog to the Diploma Mill Police and help stop degree mills.
Related Resources
Cat Earns College Work Experience Degree Online
List of Fake College Degree Accreditation Agencies
Diploma Mills in the United States: Top 10 States
---
Lorna Collier has been a writer and editor for more than 20 years, with specialties in education, technology, business and health.