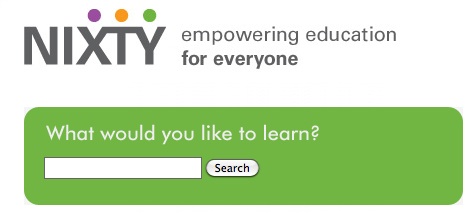 A new website is offering free distance education courses, plus tools for users to create and sell online courses.
Nixty.com is an open courseware site that lets users take more than 200 non-credit college courses free online from about 10 universities, including MIT (Massachusetts Institute of Technology), Harvard University, Yale and others.
However, it goes beyond other open courseware aggregation websites in several ways.
• Online instructors can use the site's user-friendly "drag and drop" software to create their own online courses, which can be set up as collaborative wikis that other users can add to. These distance education classes can be offered free to the public.
• Or, users can create private online courses for which they charge fees. Such courses might include continuing education distance classes offered by colleges and universities through the Nixty site. Payment mechanisms are expected be added to the site before the end of the summer.
• Online students can communicate with each other or instructors through the site's blog, discussion board and wiki features (part of its free online course management system).
* Users can upload and store work in the site's e-portfolio section, which could be used by job-seekers as a way to display work samples.
Nixty.com is a Virginia-based company, founded last year. It officially launched its free distance education courses and online course creation site in July 2010.
Online Learning News & Research
Free Online Classes to Expand With Gates Foundation Grants
Ten Free Online Classes to Help You Get Ahead on the Job
Top Ten Free Online Training Courses For Distance Educators