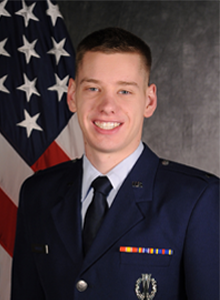 Travis Rogers
Travis Rogers may just be the poster child for why online learning exists.
Lives in a rural area? Check.
Irregular work hours? Check.
Highly motivated? Check.
Good time management skills? Check.
Travis, a 23-year-old member of the U.S. Air Force, is the latest $1,000 Get Educated online college scholarship winner. He is using his award money to continue pursuing his online Master of Science in Aerospace Engineering at North Carolina State University.
Military Life and Online Learning
Travis' unique career provides him with the time and motivation he needs to earn his master's. He serves as an intercontinental ballistic missile combat crew member in Minot, N.D., a position that is viewed as a "miniature deploy," he says.
"I get deployed to the field every day, but my field just happens to be in North Dakota," he explains. "Basically, when I go to work, I'm in control of 10 nuclear weapons."
This intense job is spent in shifts of 36 hours — 36 hours on, 36 hours off. Of his 36 hours on duty, 24 of those are spent underground with another crew member.
With the weighty duty of keeping watch over America's missiles also comes much free time. Although the crew does have busy days with maintenance and other tasks, many shifts are spent just monitoring the weapons' status. Travis chooses to take advantage of those slow hours.
"About 70 to 80 percent of my schoolwork is done at work," he says. "We're not allowed to have our own things in the 'castle' as we call it, but we are provided with internet."
This internet access has enabled him to do many different school-related tasks, from watching online video lectures to participating in forums to doing homework. Although he completes and uploads his homework at home, Travis gives his unique schedule the credit for allowing him to earn his degree so quickly.
The Search for an Online Degree
Online learning was a natural choice as Travis hopes to apply to the Air Force's Test Pilot School to be an Experimental Flight Test Engineer, but needed more education to make himself competitive for the position.
"Without my master's degree, I will not be selected to attend," he says.
Travis first searched for a nearby school, but Minot's remote location means only a few universities are within driving distance and none of them offered the engineering degree that he needed. He started searching online for a school that offered a reputable master's in aerospace engineering program at a reasonable price in addition to being military-friendly.
During his search, he came across North Carolina State University. The graduate engineering program was well-established and had good rankings, but it was also rated as a top school for active duty service members and veterans. All these factors combined made NC State Travis' top choice.
Now in his second year at NC State, Travis knows he made the right decision.
"It's been a really good fit. I just finished my third semester. I have no complaints," he says.
Classes are all asynchronous, which is perfect for his unique work schedule. Video lectures are either pre-recorded from an earlier year or uploaded "15 minutes after they were done on campus." He's also found the administrative staff to be helpful and responsive, which has made his overall experience even better.
Learning How to Study for an Online Degree
Earning an online degree requires self-motivation and excellent time management skills. Travis had the motivation—Test Pilot School—but got a crash course in time management.
Many of his classes had all the lectures available on day one of the semester. He had to create a schedule for himself to ensure that he watched all the videos in a timely manner instead of cramming at the last minute.
"In my days on alert, I've studied advanced thermodynamics, theory of fluid mechanics, and properties of combustion and propulsion."
But it's easier to dive into classes when you see how what you're learning translates practically. Travis says he's particularly enjoyed how applicable to real life his master's degree studies have been as compared to his undergraduate degree in applied mathematics.
"I'm glad I picked NC State," he says. "I've had a really great experience working with both the professors and the staff."
In fact, it was actually NC State's VA office that introduced Travis to the Get Educated $1,000 online college scholarship.
Undergrad and the Air Force
This isn't the first time that the military has helped Travis' academic career, however.
In 2008, Travis' family was hit hard by the economic downturn. His family owned a plumbing business in a small town south of Atlanta. They were hit hard by the economic downturn and had to declare bankruptcy, which left them with little money to help Travis fund his undergraduate degree.
"I was in a very interesting spot," he says. "I was ineligible for any sort of financial aid because the tax year that I applied on was a good one for our family."
He ended up applying for an Air Force scholarship that paid for him to attend Georgia Tech. By joining the Reserve Officers' Training Corps (ROTC), Travis was able to pay for his bachelor's degree in applied mathematics.
"The scholarship came with a housing allowance," he said. "I only had to get an extra job."
Travis will serve four years in active duty service and four years in active reserves in return for the Air Force paying for the degree. His longest station has been in Minot, where he anticipates he will remain for the time being.
Future Plans
"My biggest opportunity is coming up here at the end of the summer, when I'll apply to test pilot school," Travis says. "I'm an eligible candidate but I won't be a competitive candidate unless I have this master's degree under my belt. That's my big hope, my big driving reason [for earning this degree.]"
His ultimate aim is to become a Flight Test Engineer. He plans to stay in the Air Force indefinitely and wants to "lead [it] into the next generation." Once he has his master's degree in hand, he hopes to rise to the challenge of pilot school and fulfill that goal.

---
Don't miss the next deadline for the GetEducated Online Learning Scholarship!