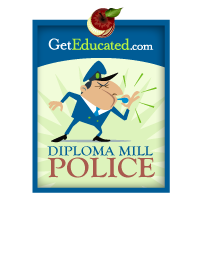 A Florida police chief has resigned his position after admitting he bought two fake online degrees from Youngsfield University, a reputed college diploma mill.
Mark Isom, former Chief of Police in Fruitland Park, Florida, signed an agreement last week with the Attorney's General's office forfeiting his certification to work in law enforcement. Youngsfield University, which maintains a mailing address in the United Kingdom and New York, awards degrees based on life experience credit. The school is not accredited to award degrees by any agency in the USA or abroad.
In a pre-trail agreement drafted by the Attorney General's office, Isom admitted he never took actual courses from the degree mill, and that he knew the online school, which awarded him two degrees in criminal justice, was not accredited by any recognized agency.
The South Lake Press online reported that Isom paid a total of $1,100 for two degree packets. The packets included course transcripts, diplomas, and letters of reference from professors associated with Youngsfield University.
Isom received more than $70,000 a year in salary, including about 80 dollars a month incentive pay in recognition of his advanced education. His university transcripts attested that he studied criminal justice along with the requisite liberal arts courses such as calculus. His grades included As and Bs.
Isom originally contended he did not realize Youngsfield University was a bogus online university, and that he had labored over his online degree courses for years. In February 2010, Isom told the Orlando Sentinel "I'm a victim here. I was scammed."
E-mail evidence uncovered by Florida's AG office in late 2010 suggested otherwise. The evidence suggested Isom knew he was being sold packets of documents rather than an education. Isom signed a pre-trial agreement with the AG that bans him from working in Florida in any future municipal capacity.
Isom, who is now 47, had worked in the criminal justice field in Florida for 20 years.

Diploma Mill News
University of Newcastle Fake Diploma Mill Scam
Hamilton University Online Cited as Degree Mill in New York Counselor Fraud Case
Diploma Mill or Real Online Degree? 10 Ways to Spot the Fake
Buy a Degree Online: Global Scam Exposed
What is a Diploma or Degree Mill?
Diploma Mill Police (SM)