TV station WWLTV is reporting that Columbus University online of Louisiana, a non accredited online school, is the target of an FBI investigation for diploma mill fraud and the selling of fake diplomas online.

The FBI alleges the school is being run from prison by former state Senator of Louisiana, Michael O'Keefe Sr., 78, who served in office for 24 years before being sentenced to federal prison for stealing from an insurance company, according to WWLTV.The T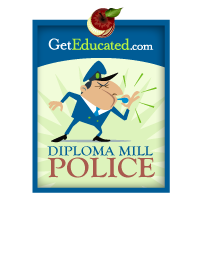 V station reported that online Columbus University of Louisiana is selling fake diplomas via its website for prices ranging from $3,000 for a bachelors degree to $3,600 for a masters degree to $4,200 for a doctorate online, and that the website is available in French and Arabic as well as in English.
GetEducated.com's Diploma Mill Police service includes Columbus University in its diploma mills list and database. Consumer warnings have been issued about the school in several states. If you would like more information about Columbus University—or about other possible diploma mill frauds—visit the Diploma Mill Police for a free report.
Click here to watch WWLTV's report on the FBI investigation into Columbus University of Louisiana.

Diploma Mill News
University of Newcastle Fake Diploma Mill Scam
Warren National Students Sue and Claim Diploma Mill Scam
Unaccredited Online College Warren National University Closes
Hamilton University Online Cited as Degree Mill in New York Counselor Fraud Case