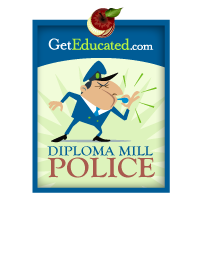 Sixty-seven former students of Warren National University have filed a lawsuit in the Laramie County District Court in Wyoming claiming they were misled by the online university, reports the Associated Press.

Many are now calling the online nonaccredited college a diploma or degree mill.
Warren National, which was headquartered in Cheyenne, shuttered its virtual doors this spring after failing to achieve regional accreditation and having its license revoked by the state of Wyoming. As a result, former online students have been left holding worthless pieces of paper, questionable diplomas rather than the online degrees for which they paid thousands of dollars. The lawsuit states online students paid average annual tuition of $6,000 to $12,000, while Warren National University's owners took in $25 million to $30 million in tuition revenue each year.
The former students claim they were misled by the online university into thinking that either the school was properly accredited or soon would be, and that their online degrees would be recognized retroactively after accreditation was achieved. Some claim they were told that college accreditation simply did not matter in the state of Wyoming.
Warren National University was previously known as Kennedy-National University. It changed its name in 2007 after being spotlit in a government sting operation targeting suspected college degree mills and diploma mills. The online university was cited in the government report for accepting tax dollars and issuing online college degrees by mail to unqualified government employees.
Wyoming is one of several states that once allowed distance learning "colleges" to operate without accreditation. The state used to have a licensure system in place that allowed educational entities to operate legally as "licensed" online schools. GetEducated.com founder and CEO Vicky Phillips had termed the state of Wyoming a "degree mill ghetto."
However, in 2006, Wyoming changed its laws. It currently no longer allows unaccredited colleges to operate.
Consumers searching for online education providers should consider this case a cautionary tale—and question whether a "licensed" distance learning university, as opposed to a legitimately accredited one, is a safe bet, says Phillips. As for the disgruntled graduates of Warren National University who have fallen victim, all they will have to show for their money is a fake online degree and message of caution.