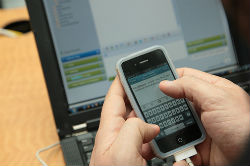 Ah, the life of an online teacher. Just because you're going on a family or work trip doesn't mean you get to take a recess from class. In fact, it's just the opposite: wherever you go, you have to make sure you can teach online. It's not just about uploading your assignments and updating gradebooks, either. When you're an online teacher, you have to remain available to answer questions about coursework for ALL your students. I discovered this first-hand over Labor Day weekend, when my wife, daughter and I spent a five-day trip in New Mexico visiting family. We enjoyed traveling, but there was one nagging detail…we were staying in a place with no Internet (gasp!). What to do? Thankfully, while we weren't near a conventional Internet connection, I had my smartphone with me. When loaded with the right mobile apps, the device proved to be very smart indeed. If you're teaching (or even taking) an online course, here are five of the best mobile apps that will help keep you connected while on the road.
5 Best Mobile Apps That Let You Teach Online Wherever, Whenever
1. FoxFi (Free Limited Mode / $7.95 Unlimited)
Can't find a Wi-Fi hotspot? Make your own. If your only connection to the web is an Android smartphone, then FoxFi will be your new best friend. Thanks to a stack of assignments to grade during my trip, this mobile app became my BFF. FoxFi's coolest feature is that it can easily turn many Android phones (depending on the manufacturer) into a Wi-Fi hotspot, letting your other devices (e.g., laptop, tablet, etc.) piggyback or "tether" off of it. It also allows you to connect via Bluetooth or directly to the phone with a USB cable. In less than five minutes of installing the FoxFi app, I was online, signing into my course from my laptop. One caveat: as awesome as the instant "hotspot" feature is, it is a major drain on the battery. I've run FoxFi in hotspot mode with my phone plugged into the charger, and it still gradually drained the phone until the device shut down. If you need to be online for more than 30 minutes, use FoxFi's USB connection option instead. Connecting to your phone with a USB cable means you can only connect your laptop to the Internet (not all of your other mobile devices), but it keeps your Android charged and lets you stay productive for as long as you need…or until you exceed your phone's data plan, whichever comes first.
2. Audioboo (Free three-minute recordings; $11.29/month for 30 minutes)
Want to broadcast announcements to your students quickly? The Audioboo service lets you record three-minute podcasts, which can be published instantly from your smartphone (either iPhone or Android). It also automatically posts to social media sites like Twitter or Facebook. If three minutes doesn't seem like much, well, you'd be astonished how many announcements you can cover in that amount of time. Granted, you can't give an entire audio lecture, but due date reminders and hints/tips for upcoming assignments can easily be covered. Audioboo made reaching out to my students a snap while I was on the road or waiting for my next connecting flight.
3. Evernote (Free)
On the move, with no time to sit and take notes? Here's where Evernote can help. Prior to the trip, I'd only used Evernote to maintain personal "to-do" lists. One feature I've really learned to like is the "dictate" option. During the trip, I found I could use the dictate option to turn my musings into text, and then review them later on my laptop (using FoxFi, of course). It's a great way to get a jump-start on constructing your next lesson before you start typing a single word!
4. Google Hangout (Free)
If I didn't know better, I'd think Google Hangouts were invented for online instructors. It not only lets you create free videoconferences for up to 10 people, but also records the session via YouTube and turn the conversation into an archived presentation for other students and later viewings. I'd already started to use Hangout in my classes for office hours so multiple students could "drop by" and talk with me via videoconference whenever they had questions. Being able to chat by using the "Hangout" mobile app helped me keep my office open for students no matter where I went.
5. Tether ($29.95/year)
Tether is a service that, like FoxFi, allows you to connect your phone to your computer. The app "tethers" your phone's connection to jump online. While I didn't use Tether on this trip, it's still certainly worth a mention, as it has been lauded as one of the few services that allows you to connect not only via Blackberry or Android, but also from an iPhone, without worrying about voiding the Apple device's warranty by "jailbreaking" it or paying additional fees to your service provider. It does cost more than an app like FoxFi, and has no free/trial version, but $29/year ($2.49/mo) is still a great deal for teachers carrying an iPhone who need a backup option to stay connected to the Internet. Remember to watch out for your data usage, so you don't get hit with unexpected charges at the end of the month for going over your limit. When you teach online, staying connected throughout the semester is an absolute must. By using these five best mobile apps, you can stay connected with online students and on top of grading their assignments. If you're going to teach online and you have a smartphone, make as much use of it as you can, because sometimes it may be all you have!
About the Author: In addition to pursuing and writing about higher education, David Handlos works as a Lead Software Performance Engineer at Fiserv. He has also worked for Kansas State University as the webmaster, managing both the College of Engineering and Engineering Extension web sites. Handlos holds a Bachelors of Science in Computer Engineering from Kansas State University and a Masters in Information Systems which he earned online from Dakota State University.
Image Credit: World Bank Photo Collection/Flickr