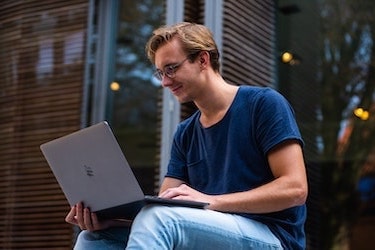 A graduate certificate—or a graduate diploma as it is sometimes called—is the shortest course of study. It is also the least expensive type of academic credential. Certificates consist of courses that help you develop career competency in a single subject. A certificate typically consists of from three to twelve courses, all commonly completed within a year or a year-and-a-half of study.
To qualify for a graduate level certificate you usually must already hold a terminal undergraduate degree (a bachelor's degree). Some advanced or graduate level certificates will accept students who do not hold bachelor's degrees.

---
Quick Facts About Graduate Certificates
Why earn a graduate certificate?
Graduate certificates can update skills, launch a new career, or help students obtain licensure in a profession. Certificates are the fastest-growing credential in higher education, and can be a quick and cheap way to add skills to your resume.
How long does it take?
A certificate typically consists of three to twelve courses, all commonly completed within a year or a year-and-a-half of study.
How much does it cost?
Anywhere from a couple thousand dollars to over $20k. Graduate credits cost more than undergraduate credits, so expect to pay a bit more than you did for undergraduate courses.
Is It worth It?
Workers with a certificate earned more than their peers without a certificate. Certificates can enhance skills in the most sought-after specialties. However, the variability of programs means you need to do your homework to make sure the program you choose will be advantageous to your career.
What types of graduate certificates are there?
The fields covered by graduate certificates are practically endless, including health sciences, education, computing, business, counseling, theology, science, and communications. Some certificates are more general to the field, while other focus on a very specific skill, such as Agile process management.
How do I choose the right graduate certificate program?
Consider your goals, schedule, and budget, and then compare, compare, compare. Costs and curriculum vary between programs with the exact same name, so check out the options thoroughly.
Why earn a graduate certificate?
Getting a college degree is expensive these days. More education usually means higher earnings, but with the cost and effort of getting a master's degree, a more career-focused certificate can be a better option to upgrade your skills for the modern work landscape.
The fastest growing credential in post-secondary education is the certificate. Graduate certificates are a quicker and easier way to get a specific skill set than going for a master's degree. They can also be a way to test out a field before you commit to a whole master's degree program, and sometimes allow you to transfer your credits into the master's degree program in that field.
Often geared towards a particular sub-specialty or skill, certificates are sometimes required for licensure in a profession. In other cases, they can help someone qualify for a job in a new industry. Certificates are offered in a wide variety of subjects, but some of the most notable are to train people in skills that have recently become more urgently needed. Cybersecurity, informatics, online teaching, emerging technologies, and project management are some of the competencies that are needed in the workforce, with not enough trained workers to fill the openings. There are also many business, health, communications, and other certificates to enhance workforce skills and boost the wages of those who complete them.
To qualify for a graduate level certificate you usually must already hold a terminal undergraduate degree (a bachelor's degree). Some advanced or graduate level certificates will accept students who do not hold bachelor's degrees. Graduate certificates are different from other types of certificate programs geared towards undergraduates for career training. Meant to build on the skills and knowledge that one acquires while obtaining a bachelor's degree, graduate certificates are more advanced.

---
When to Seek a Graduate Certificate
When you …
Need to acquire skills quickly to launch a new career
Already hold a bachelor's degree but seek to launch a new career not related to that degree
Need to meet state or national licensing requirements

If any of the above criteria mirror your circumstances a certificate will be your quickest—and least expensive—course of study. A certificate will help you get educated—and get on with your life.

---
Reason #1: Launch a New Career—Fast
Most enroll in certificate programs in hopes of quickly changing careers. For example, you might be employed as a counselor but want to qualify for a new job as a project manager. You want to qualify to work as a project manager as quickly as possible—ideally within a year. In this case, you'd be wise to focus your studies on a certificate in project management.

---
Reason #2: Update Your Degree—Re-Tool
If you already hold a bachelor's degree but want to expand or update your skills you might also enroll in a certificate program.

Perhaps you hold a bachelor's degree in counseling. You earned that degree a decade ago. You've been working at a youth home but want to specialize in working with a new, better-paying population. You've heard there are lots of job openings for counselors who specialize in drug addiction.
Enrolling in a graduate-level certificate in addiction counseling would be a cost-effective and fairly rapid way to re-focus your career. Focusing on the certificate would also allow you to "try out" this new skill area without the hassle or additional paperwork of formally applying to a master's degree program.
Also, certificate programs often offer open admissions, letting you bypass the need and wait of gathering and submitting old transcripts or taking admission exams.
TIP: You could also consider earning a second bachelor's degree, but unless a second degree is absolutely required for some sort of state licensing requirement, you'll achieve your career change quicker and more cost effectively if you limit your studies to a certificate program.

---
Reason #3: Use a Graduate Certificate to Meet Licensing Requirements
Some careers are regulated by state licensing boards. Counseling is one such career area. In some states, such as New York, you can qualify to enter one of America's fastest growing career niches—drug and addiction counseling—by taking a handful of courses related to counseling and addiction along with working as a supervised counseling intern for a short period of time.
A graduate certificate in addiction counseling would be an idea educational program in the above situation.
TIP: In many cases, the credits earned while completing a graduate certificate online can be transferred later toward a master's degree (this is not always the case, so check carefully if you want to use your certificate as the foundation for a master's degree in the near future).

---
How Long Does it Take to Earn a Graduate Certificate?
There is no set length for graduate certificates, but most can be completed in nine months to two years. Most certificate programs are designed to be taken part time, as students are usually working at the same time, but some may require full time attendance to get the full immersion experience.
While some certificate programs are flexible on how long you take to finish the program, some will work on the cohort model, where a group of students progress through the courses together. The cohort model can be great for building professional relationships and camaraderie, but it is less flexible if your scheduling needs change.
The actual number of graduate courses involved in a certificate program can vary. Some programs are fairly short, and may consist of just three courses and nine credits. Longer programs are often 15-18 credits, comprising five to seven courses. In addition, certificate programs may require supervised work experience or capstone projects for completion.

---
How Much Does a Graduate Certificate Cost?
Graduate certificates usually cost more than undergraduate certificates. There is no real reason for this other than the tradition that professors who teach at the graduate level may themselves be better educated and command higher salaries to develop and teach courses. This pattern is the same for undergraduate degree programs versus graduate degree programs: graduate tuition is almost always a higher price per credit than undergraduate education.
While some certificates at public institutions may be quite affordable, costing closer to a couple thousand dollars, other programs will cost closer to $20k. If you choose a particular subject for your graduate certificate, be sure to compare the programs carefully, as there is no standard curriculum for certificate programs. You may find that a more expensive program is also giving your much more training.
Financial aid may be available for your certificate program, but not every program qualifies for federal student aid. Some employers have programs to help employees gather more skills and education, so check on the benefits available to you. If you plan to stay with the company and the skills you will gain will benefit you in your current job, ask your employer if they will help pay, even if they do not have a program for education assistance. Often, students will pay out of pocket for certificate that will help them switch careers, but this is more manageable because of the lower overall cost of certificates.

---
Is a Graduate Certificate Worth It?
In today's intricate labor market, there are many specialized jobs and layers of different educational credentials that can qualify workers. More students are getting some form of college education, but it often hard to connect that education to actual careers. Increasingly, connecting specific skill sets with jobs is going to yield more competent workers, more job opportunities for people with skills, and higher pay for those with the skills to get the job done.
Statistics from the Bureau of Labor Statistics found that workers with a certificate or a license out-earned their peers in all categories. Interestingly, in many careers, those with a certificate but no license earned more than those with a license. The value of a certificate in the labor market is becoming clear, and the skills that workers can acquire in a short amount of time can be worth extra dollars in their paychecks, especially if the focus is on in-demand job skills.
Graduate certificates, in particular, extend the basics of a bachelor's degree education by adding on the specific skills for jobs that already exist. The rapid changes happening in our educational and job markets mean that new skill sets are being added to the mix all the time. The trend is towards more education equaling higher pay, matching training to employer needs, and an employment market where learning new throughout your career is becoming more necessary.
Prospective students should carefully check whether the certificate they choose will lead to advancement or increased salary before undertaking a certificate program. The good thing is that there is less invested—both in time and money—so if you decide you don't want to pursue this specialty, there is less to lose.
On the flip side, since many graduate certificate courses can be transferred to a master's degree program at a later date, a certificate program can be a terrific way to test the waters. If a student decides to pursue the master's degree, then there will be no time (or money) wasted if the courses can count towards the master's degree.
Though graduate certificates can help you get higher wages or switch fields, they don't get as much recognition as degrees. Employers would rather hire someone with a master's degree than with just a certificate. Plus, since certificate programs vary so widely, employers may not know what you have actually learned.

---
What Types of Graduate Certificates are There?
The types of certificate programs offered for bachelor's degree holders are almost endless. There are too many to list. Since this is one of the fastest growing types of educational credential, there are new certificate programs popping up all the time. Practically any skill set or specialty that requires a foundation of a bachelor's degree may have a graduate certificate program available for students. Let's look at some major categories of certificate programs.
Project management is a popular subject for workers in many industries, from software development to manufacturing. There are specific methodologies that may be taught, like the Six Sigma method of process improvement, or Agile project management method, which aims to streamline processes. There are also more generalized certificate programs that teach other skills within project management.
Business topics can run the gamut of different concentrations in graduate certificate programs. Just like a student in an MBA program may be able to choose a concentration like accounting, analytics, supply chain, non-profit management, risk management, or any number of specific topics within business specialties, most of these topics are available as certificate programs. In fact, many master's degree programs will also offer their "tracks" as certificate programs for businesspeople who want to add to their credentials, either before or after they enroll in a master's degree program.
In the health sciences, there are many certificates to add on to professional credentials. For nurses, there are certificates to add skills in leadership, informatics, education, policy, mental health, and many other topics. For other healthcare workers, from administrators to physicians, there are certificates in topics like administration, cancer biology and therapeutics, patient safety, informatics, education, and gerontology, to name just a few. Many healthcare professions are required to take continuing education to maintain their licenses, and a certificate program can fulfill those requirements while also adding a new credential.
There are numerous technology and computer certificates available, which dovetails nicely with our job market's needs for people trained in new technologies. Some of these are directed at furthering skills for particular industries, like healthcare informatics or instructional technology, while others can take students in a whole new direction, like cybersecurity or graphical information systems.
In science and engineering, there are certificates in subjects like hydrology, biotechnology, or engineering management. There are climate science and sustainability certificates for those who want to learn the latest in research related to the environment. Scientific advancement continues apace, so professionals often need to get education to keep up with new developments, and a certificate is a perfect way to do this without investing in another degree.
Teaching certificates can help educators specialize in one area, such a mathematics teaching, special education, early childhood, teaching English as a second language, eLearning, and many other areas. There are theology certifications for those involved in religion. Counseling specialties, like addiction and recovery treatment or trauma studies can be added for those in mental health professions.
The list of subjects and areas could go on for a long time, but suffice it to say that the options are wide open for all fields of study. Some certificate programs are geared towards people continuing to practice their professions, like teaching or nursing, while others can help people shift into another career area. For an IT worker who would like to move into a management role, a certificate that concentrates on information management may help them make the shift. For someone working in an office profession but wishing to transition to another whole field, they may consider a certificate in wilderness management or holistic nutrition. The upshot is that you can use a graduate certificate to further your current career trajectory, or to take off in a whole new direction.

---
How Do I Choose the Right Graduate Certificate Program?
As with any education, the rule of thumb is buyer beware. Not all programs are equal, and since certification programs often don't have accreditation standards, they can differ quite a bit. Here are points to consider:
Will this certificate advance my career, or do I need a master's degree?
Which schools offer comparable certificate programs? Which is best for me?
How will I pay for the certificate? Will my employer help or can I get financial aid? Can I pay for it out-of-pocket?
Can I afford the time to pursue this certificate program? How will it affect my life?
If I decide to pursue a master's degree later, will my credits transfer?

Whatever you decide about earning a graduate certificate, it can pay to get more education. In today's job market, mastering the current skills can grab the attention of employers and help you to get the best jobs our economy has to offer.

---
Show Me an Online Graduate Certificate
Below is a certificate offered by the University of Massachusetts Online in Security Stuides. It is aimed at several types of students: those with a general interest in homeland security, professionals who are currently employed in security-related jobs, and others interested in pursuing careers in security.
UMassOnline Graduate Certificate in Security Studies
Curriculum
Required Courses:
Overview of Homeland Security
Terrorism/Counter-Terrorism
Elective Courses (Choose 2):
Crisis and Emergency Management
Domestic Terrorism and Hate Crimes
Threat Assessment and Risk Management
Crime Analysis and Mapping
Criminal Justice Organizations and National Security
Criminal Justice Intelligence & Information Sharing

Get Educated now about Graduate Certificates
SEARCH the complete GetEducated.com database of online graduate certificate programs.

Find Online Graduate Certificates Here
Related Resources
What is an Undergraduate Certificate or Diploma?
What is a Master's Degree?
What is a Doctorate Degree?