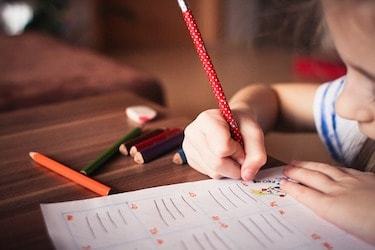 There's something so special about children's curiosity towards the world, their ability to constantly learn and love the world around them. Certain individuals have a keen passion for giving children the best head start in life. If you're interested in teaching young minds, explore an online early childhood education degree.
Early childhood programs focus on creating teachers who are skilled at helping young children master basic concepts, such as reading and math. This online degree major prepares teachers to work with children from birth to third grade. Most states require teachers to earn certification and pass security checks before working as a teacher with children in the public school system or in licensed day care facilities. Make sure any online early childhood education degree you choose meets your state's licensing requirements for working as a teacher, daycare provider or child specialist.
One of the great aspects about ECE—besides the children of course—is the ability to get started at any point in the life of an aspiring professional. Whether you are already working full-time and you're looking to change things up, or whether you're straight out of high school hoping to get started in your career right away, there's a path that's just right for you in ECE. ECE offers many different options for aspiring professionals at different levels of their experience and educational background:
Childcare Workers – This is the type of ECE profession that can often get started right after high school, with as little as a credential in childhood development. The types of childcare workers that first come to mind for most people are nannies, babysitters, and workers who set up a daycare in their living room. Childcare workers can often work in private home settings or in childcare centers; they tend to the basic needs of children such as dressing, bathing, feeding, and overseeing play. Due to entry-level association of childcare workers, their pay is lower than other ECE professionals at just over $21,000 each year.

Preschool Teachers – Unlike childcare workers, preschool teachers typically work in a more structured, classroom-like setting in which they teach children important skills in language, motor, and social functioning before they start kindergarten. Preschool teachers are typically required to have an associate's degree or bachelor's degree in order to qualify for most teaching positions. They are in higher demand than most other occupations, with job growth breaching 10% in the upcoming years. They use their degree to organize activities that target different areas of development and allow children to learn about the world, explore their interests, and develop important skills. They specialization and advanced education pays off at an average salary of $28,790.

Preschool and Childcare Center Directors – After many years of experience or advancing their education, ECE professionals may decide to take their career to the next level by becoming a director. These professionals often utilize business and leadership skills to supervise and direct staff, design program plans that meet guidelines and regulations, and oversee daily activities as well as facility budgets. They are often required to have at least a bachelor's degree, but are expected to increase in demand by 11% in the next decade, and make an average salary of more than $45,000 each year—far more than their other ECE counterparts.
WHO IS THE IDEAL CANDIDATE?
ECE professionals use creative instructional techniques to help children learn and explore from play, problem-solving, interactive learning, and a variety of other educational methods. They understand the importance of the early years of development and creating a healthy learning environment for young children. ECE isn't for everyone, but for those professionals who love the look on a child's face when they learn something new or achieve something good, ECE can offer a path of upward mobility in a rewarding and uplifting career.
Teaching ECE requires a specific type of professional that can be patient, creative, energetic, and flexible. ECE professionals are able to communicate with children from all different backgrounds and learning styles, and are able to creatively plan and organize curriculum to appeal to the needs and development of their students. A career in ECE is worth considering if you have the organizational skills and physical stamina to keep up with the energy and demands of young children. You'll be building relationships with kids that may have the ability to impact them for the rest of their lives; if you're ready for that level of responsibility, then look into your options for ECE careers today.
An early childhood education degree program can qualify you for a variety of entry level education careers. An online certificate in infant or toddler care could land you an entry-level job in daycare. Go for an online early childhood education associate's degree if you want to establish an educational foundation for a career in child care.
All 50 states require aspiring teachers to earn a bachelor's degree. This degree is required to meet state licensure requirements for work as an early childhood education teacher or specialist. Once licensed, you can teach in a public or private school. Other options for work include nonprofits, community programs and private daycare. Many large corporations operate daycare centers on site to accommodate working parents.
Expect online teaching degrees designed for licensure to require up to one year of supervised teaching in a local classroom setting. Many state colleges support blended or hybrid degree programs that "blend" online courses with classroom training to help educate new teachers. These degree programs provide teacher training placements for aspiring educators in rural or impoverished school districts. Check with your state college for blended early childhood education degree programs online that come with local teacher training placements.
If you already work as a teacher or childcare professional, consider beefing up your career with an online master's in education in early childhood education. Many options exist for online graduate study. Several online master's degrees and certificates in early childhood also allow for specialization in administration, curriculum and instruction, reading, literacy or special education. Another reason to consider an advanced education degree: many school districts require a master's degree for pay raises or career advancement.
Many ECE programs are offered online to accommodate for the busy lives of working professionals and young students who want to expand their career opportunities. Online programs allow students to work at their convenience to pursue their career in ECE. The average online bachelor's in early childhood education will cost between $30,000 and $50,000 in the United States. A master's will cost slightly less—around $18,000.
Found
0
Accredited Online Education Certificate Degree Programs
"Oops! No results here. Try a broader search!"