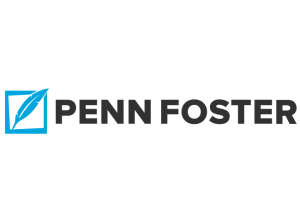 925 Oak Street
,
Scranton
,
PA
18515
School Details
Penn Foster's expertise in distance learning and genuine desire to help students meet their educational aspirations has helped students worldwide for over a century. More than 13,000,000 people have taken Penn Foster programs, and more than 130,000 students are actively enrolled in studies. Penn Foster offers online career-focused and blended learning opportunities completely at a distance, and retains headquarters in Scranton, Pennsylvania and Scottsdale, Arizona.
Penn Foster supports distance education students with:
Open enrollment
Self-paced online courses
24/7 online support
A Penn Foster Study Planner that organizes study plans and due dates
Exams provided through the online Student Portal
Career services
DISTANCE AND ONLINE EDUCATION
Penn Foster offers a broad scope of degrees, careers diplomas, and certificates ranging from high school diplomas to undergraduate certificates to associate and bachelor's degrees. Three schools make up Penn Foster.
Penn Foster College awards associate degrees, bachelor degrees and diploma programs.
Penn Foster Career School provides career diploma and certificate opportunities.
Penn Foster High School gives students the choice to earn a traditional high school diploma, or opt to complete diplomas with career concentrations.
Degree programs offered at Penn Foster College include studies in:
Business Management
Finance
Graphic Design
Medical Assistant
Human Resources Management.
Completion time depends upon the degree program as well as each student's schedule.
Though Penn Foster does not have a physical campus, some courses may blend online learning with more traditional forms of correspondence courses, including textbooks and print materials for study purposes.
Penn Foster upholds a strong, military-friendly relationship and retains a 2016 Military Friendly School® designation by G.I. Jobs. Penn Foster supports the military and veterans with discounts and VA benefits.
Students who are interested in more details on specific programs and requirements should request more information.
Accreditation & Licensing
Penn Foster College Accreditation and Licenses
Penn Foster College is nationally accredited by the Distance Education Accrediting Commission (DEAC) and licensed by the Arizona State Board for Private Postseconday Education.