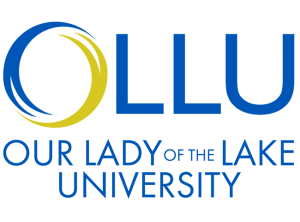 Master of Arts in Counseling / Clinical Rehabilitation Counseling
Our Lady of the Lake University – San Antonio
Program Details
Gain a mastery of the skills needed to take your career to the next level with Our Lady of the Lake University's online Master of Arts in Counseling. The program features a curriculum aligned with the Council for Accreditation of Counseling and Related Educational Programs (CACREP) Standards and offers three career-specific specializations:
· School Counseling
Help students of all ages get the most out of their education by assessing and finding solutions to common behavioral and learning problems, promoting psychological health, and implementing effective career development planning.
· Clinical Mental Health Counseling
Help clients of all ages and cultures overcome their emotional health challenges as a clinical mental health counselor in private practice, inpatient or outpatient agencies, government and non-government facilities, or community organizations.
· Clinical Rehabilitation Counseling
Improve the lives of vulnerable populations such as the elderly, veterans, those suffering from chronic illness and disability, and recovering addicts, and help connect them to new job opportunities and improve their vocational skills.
Prepare for Certification
The School Counseling specialization prepares you to apply for the Texas School Counseling certification as well as school counseling certifications in many other states.*
The Clinical Mental Health Counseling and Clinical Rehabilitation Counseling specializations prepare you to apply as an LPC intern and provides the required 60 credit hours of training and education.*
The Clinical Rehabilitation Counseling specialization also prepares you to apply to become a Certified Rehabilitative Counselor (CRC).
If you have questions about potential certifications or licensures, complete the form on this page to request more information.
*Students outside of Texas are responsible for knowing their specific state requirements for certification and/or LPC licensure.
Requirements
The program does require practicums and internships, but you can complete that in your geographic area at a location you choose, with the approval of your program director.
A baccalaureate degree from a regionally accredited university
A minimum GPA of 2.75 (or 3.0 for the last 60 hours of your undergraduate tenure)
Personal statement
Student acknowledgement form
Student questionnaire
Reference form
Written consent release of test records to certification officer and program faculty
Special Accreditation
Our Lady of the Lake University will be seeking accreditation for the MA in Counseling from the Council for Accreditation of Counseling and Related Educational Programs (CACREP).
School Accreditation Statement
Southern Association of Colleges and Schools, Commission on Colleges