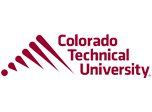 Master of Science in Computer Science / General
Colorado Technical University
Program Details
The Master of Science in Computer Science program centers on a set of core courses which are designed to provide the student with an understanding of operating systems and networking, as well as knowledge of computer system architecture and the software system engineering process. The MSCS program is designed for Computer Science professionals seeking to advance their careers in a broad range of computer fields.
Students with this degree can expect the following program outcomes:
Apply effective leadership strategies and skills
Evaluate the issues that affect the development and modification of complex software systems
Conduct professional, scholarly, applied research
Demonstrate a breadth of knowledge and understanding of the field of computer science
Select analytical and critical thinking skills for effective decision analysis and problem solving in a specific situation
Requirements
Baccalaureate degree earned with a CGPA of 2.0 or higher. Transcripts. A solid foundation in mathematics, computer science, and the student's concentration area is required. Students must have an intermediate level of ability to program in a current object-oriented programming language such as C++ or Java. Interview. Resume. Entrance essay.
School Accreditation Statement
North Central Association of Colleges and Schools, The Higher Learning Commission