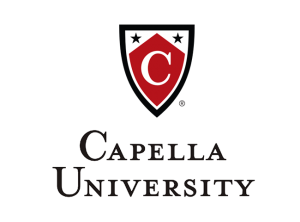 Program Details
Are you ready to make a difference in your community and increase your effectiveness in the field of criminal justice? Capella's online master's program will expand your skills and knowledge of all the facets involved in working with courts, corrections, and policing. Taking the theoretical knowledge gained through the coursework, you can step confidently into applying that knowledge while working with individuals, groups, and communities. Expand your leadership abilities through real-world simulations that require adept critical-thinking and problem-solving skills.
The courses in Capella's online Master's in Criminal Justice, focused on developing leaders, are taught by expert faculty providing evidence-based instruction. Coursework delves into human behavior, the corrections and judicial systems, social change and public policy, ethnic and cultural awareness, intelligence-led policing, and psychopathy and criminal profiling. A majority of the master's courses fold directly into the Capella PhD in Criminal Justice program, saving you time and money if you decide to pursue a Capella PhD in Criminal Justice degree.
With your online Master's in Criminal Justice from Capella, you'll apply professional and personal ethics to make sound and ethical decisions in the field. You'll also hone your critical thinking and writing skills, applying theories and practices to help facilitate social change.
Common jobs with an online Master's in Criminal Justice include: probation/parole officer, forensic investigator, police chief, sheriff, adjunct or part-time faculty, correctional counselor, criminal investigator, private investigator, court officer, drug enforcement officer, law enforcement officer/detective/investigator, probation, parole, and correctional administrator or commissioner, and prison warden. Potential workplaces include correctional facility or prison, federal government agency, law enforcement organization, municipal court system and state government agency.
Requirements
Your program of enrollment determines the admission requirements.
Basic requirements for all programs:
Admission application and non-refundable $50 application fee
Acknowledgement agreement
All applicants must understand, read, speak, and write fluently in English
Official transcript(s) from previous institutions for degree and post-degree coursework, if applicable
Minimum GPA as defined by your program
Minimum level of education required:
Must have a bachelor's degree from an institution accredited by a U.S. Department of Education-recognized accrediting agency or an internationally recognized institution
School Accreditation Statement
Capella University is accredited by the Higher Learning Commission.
Higher Learning Commission: www.hlcommission.org, 800.621.7440
Capella University, Capella Tower, 225 South Sixth Street, Ninth Floor, Minneapolis, MN 55402, 1.888.CAPELLA (227.3552), www.capella.edu