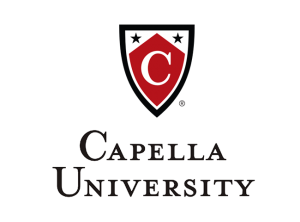 EdS – Teacher Leader in K-12 Studies
Program Details
This program is not designed for teacher certification, licensure or endorsement.
Capella's online education specialist (EdS) degree with a Teacher Leader in K-12 Studies specialization helps you adopt the leadership skills needed to build a culture of effective teaching and learning in your classroom, school, and district. This new specialization focuses on leadership fundamentals within the K-12 environment. Learners in this program can expect to develop a deep understanding of how teaching and learning is evolving and where in the school community a teacher leader can most effectively guide colleagues and students. With no dissertation or capstone experience required for completion, this program is designed to help you quickly develop the practical knowledge, skills, and attitudes you need for educational leadership at the school or district level.
And, if you want to take your learning experience further, Capella's innovative online learning model will support your goals by helping you continue from the EdS to a doctoral program.
This program is designed around the advanced standards set forth by the Council for the Accreditation of Educator Preparation (CAEP).
An EdS degree with a Teacher Leader in K-12 Studies specialization from Capella will provide leadership methodologies for creating professional learning communities among fellow teachers, administrators, and other school leaders. The program also builds expertise in engaging with students from diverse backgrounds, with approaches based on both traditional forms of interaction and digital technology, in order to promote success in reading and literacy as a lifelong value.
Graduates with an online EdS degree with a Teacher Leader in K-12 Studies specialization can look forward to career opportunities in a variety of roles, such as teachers and leaders within school districts, assessment or instructional directors, superintendents, reading and literacy department specialists, department chairs, and staff in local or state education agencies.
For current K-12 professionals interested in extending their education with a graduate degree. Capella University education programs do not lead to initial teacher licensure.
Requirements
Your program of enrollment determines the admission requirements.
Basic requirements for all programs:
Admission application and non-refundable $50 application fee
Acknowledgement agreement
All applicants must understand, read, speak, and write fluently in English
Official transcript(s) from previous institutions for degree and post-degree coursework, if applicable
Minimum GPA as defined by your program
Minimum level of education required:
Master's degree from an institution accredited by a U.S. Department of Education-recognized accrediting agency or internally recognized institution
Grade point average of 3.0 or higher on a 4.0 scale
Special Accreditation
Capella University's Educator Preparation Provider (EPP) is accredited based on the Council for the Accreditation of Educator Preparation (CAEP) Standards through 2024.
School Accreditation Statement
Capella University is accredited by the Higher Learning Commission.
Higher Learning Commission: www.hlcommission.org, 800.621.7440
Capella University, Capella Tower, 225 South Sixth Street, Ninth Floor, Minneapolis, MN 55402, 1.888.CAPELLA (227.3552), www.capella.edu