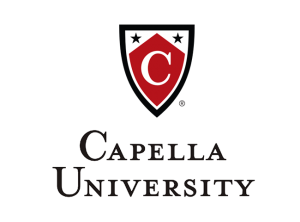 DNP – Doctor of Nursing Practice (CCNE-accredited)
Program Details
Capella's online DNP program prepares you to solve complex health care problems, shape systems of care and educate future generations of nurses. Unlike many online DNP programs, learning at Capella is completely online and flexible. Moreover, whereas PhD programs are research-based and incorporate topics such as advanced nursing theory and concepts, this online DNP program focuses on practical nursing contributions and is not research-based, allowing you to earn your degree faster.
Accreditation is an important credential to consider when embarking on any online DNP programs. Capella's DNP program is not only CCNE accredited but also incorporates the American Association of Colleges of Nursing's (AACN) Essentials of Doctoral Education for Advanced Nursing Practice. Additionally, Capella is a proud partner of the American Nurses Association. ANA has chosen Capella as a partner on the ANA Leadership Institute, providing nurse leadership development in a flexible format for nurses at the bedside or in the boardroom.
No Residency: The online DNP program at Capella does not require your participation in an in-person residency, therefore allowing you to spend more time with family and focus on any work commitments you may have.
Practice Immersion: Knowledge in the classroom is immediately applicable with this flexible practice immersion option. You will be able to use the evidence-based methods you've learned throughout your coursework to solve real healthcare challenges.
Save Time and Money: Maximize your investment and fund your degree through a number of money saving options including employer discounts and military benefits.
Online Learning: Earn your degree 100% online and enjoy the flexibility that Capella's virtual course room provides. You will have 24-hour access to the course room, leaving you in control of your own schedule.
Professionally Aligned: Our competency based education allows you to gain the relevant competencies that the employers of today require.
With your Doctorate in Nursing Practice from Capella, you'll have a science-based theoretical foundation from which to develop and evaluate new practices and approaches to health care delivery. You'll also be able to lead planning and implementation of health care technologies, as well as develop, implement, and advocate for health care policies that meet the needs of specific populations.
Common jobs with an online Doctorate in Nursing Practice include: nursing administrator, education consultant, chief nursing officer, health care director, lobbyist or legislative consultant, and nursing professor. Potential workplaces include: hospital, clinic, medical center, community health agency, community or technical college, land-based or online university, hospital-based school of nursing, government agency, and self-employment.
RN license verification required. Capella University nursing programs are not designed to prepare graduates for entry-level or advanced practice licensure as a nurse.
Requirements
Your program of enrollment determines the admission requirements.
Basic requirements for all programs:
Admission application and non-refundable $50 application fee
Acknowledgement agreement
All applicants must understand, read, speak, and write fluently in English
Official transcript(s) from previous institutions for degree and post-degree coursework, if applicable
Minimum GPA as defined by your program
Minimum level of education required:
Master's degree in nursing from an institution accredited by a U.S Department of Education-recognized accrediting agency or an internationally recognized institution
Grade point average of 3.0 or higher on a 4.0 scale
Current, unrestricted RN license to practice in the United States
One year of licensed RN work experience
Admission to the DNP requires learners to complete and submit the RN License Verification Form
RN license verification required. This program is not designed to prepare graduates for entry-level or advanced practice licensure as a nurse.
Special Accreditation
Commission on Collegiate Nursing Education (CCNE)
School Accreditation Statement
Capella University is accredited by the Higher Learning Commission.
Higher Learning Commission: www.hlcommission.org, 800.621.7440
Capella University, Capella Tower, 225 South Sixth Street, Ninth Floor, Minneapolis, MN 55402, 1.888.CAPELLA (227.3552), www.capella.edu
Additional Information
The BSN, MSN, and DNP programs at Capella University are accredited by the Commission on Collegiate Nursing Education (http://www.ccneaccreditation.org).
Geographic Restrictions
This program is restricted in the following state: North Carolina