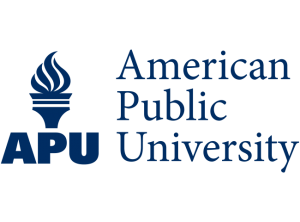 Doctor of Global Security
American Public University System
Program Details
The Doctor of Global Security (DGS) degree explores the complex global security environment, with a focus on the role actors play in the formulation and implementation of international, bilateral, and state policies and norms, and practices of global scope and concern. The program also addresses the impact of global security issues on domestic security and foreign policy.
The multidisciplinary curriculum integrates research and evidence-based solutions to the complex problems you face in your professional practice, and is designed to prepare you for leadership in the field. Strong emphasis is placed on conducting thorough program and policy evaluations that identify and analyze decisions beyond first order impacts, and on further cultivating your applied research skills at an advanced level.
Requirements
This program requires a yearly residency requirement of 3-10 days.
Your master's degree in a closely related discipline with a minimum GPA of 3.0 is required
Official transcripts
You must have 3-5 years work experience in the global security field or closely related field
CV or Resume
Three References
Admission Essay
Photo ID
School Accreditation Statement
Higher Learning Commission