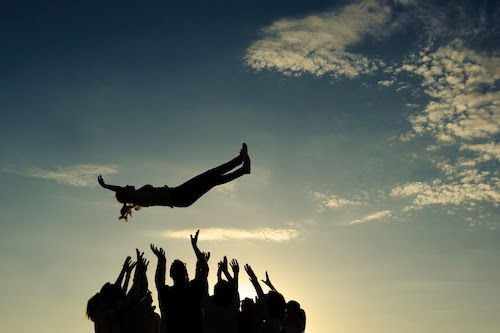 If you are a caring and understanding person who sympathizes and wants to help people in need, an online human services degree can set you up for a fulfilling career.
Many do not realize that the human services industry includes a wide variety of careers but the main thing that links them all together is that they all focus on meeting human needs. This may include servicing specific populations like children in a social worker position or even working with people who have committed crimes as a parole officer. These two professions may seem to have little to do with each other but they both have one thing in common—they are trying to improve the lives of the people with which they interact.
So, how do you get started once you make the decision to enter the human services industry? The first thing you may want to do is narrow down what specific population you want to work with (children, older people, minorities, etc.). You may also want to consider if you want to work within a government agency and think about if you want to be in a management position. Here is some information about a few of the most common human services careers from the U.S. Department of Labor.
Human Service Assistants
Found in the fields of psychology, social work, and public health, of the common duties of these professionals is to help people find community services that may be available to them like Medicaid or food assistance. They often work with social workers at government agencies or non-profit organizations.
Salary: $30,830 annual median wage
Career Outlook: 11% growth in the next ten years

Social Worker
These professionals provide much needed services to people in a variety of settings and in a variety of ways. Some social workers provide counseling to people, some help people find assistance, and others help protect children – and these are only a few examples!
Salary: $45,900 annual median wage
Career Outlook: 12% growth in the next ten years

Probation Officer
Some might not consider probation officers as human service professionals, but they do help people who have committed crimes stay out of trouble. Connecting probationers with community services and aiding them in job searches are just a couple of duties they perform.
Salary: $49,360 yearly median wage
Career Outlook: 4% growth over the next ten years

Rehabilitation Counselor
There are some people with physical, mental, developmental, and emotional disabilities who need help learning to live independently. That is where rehabilitation counselors come in—some aid those who are newly disabled adjust emotionally, while others may work with disabled people in gaining employment.
Salary: $34,390 annual median wage
Career Outlook: 9% growth in the next decade

Social and Community Service Manager
These managers work in administration and the implementation of community programs that serve the population. They also oversee programs to ensure their effectiveness, as well as employ staff which may include social workers and other human services professionals.
Salary: $63,530 yearly median wage
Career Outlook: 10% growth in the next ten years
WHO IS THE IDEAL CANDIDATE?
Those who join the human services are devoted to helping people. Often they help people help themselves, either connecting them with community services or offering aid in employment and emotional development. Because of this, a desire to teach is also quite useful. Also, you must be prepared to witness difficult situations while keeping your emotions in check.
ONLINE HUMAN SERVICES DEGREE
Because you work with people so closely and part of your role often includes some form of counseling or human understanding, most online human services degrees have a large psychology component. Outside of that, human services degrees commonly allow you to focus your education to better prepare you for the career you would like to pursue.
Core psychology courses will include:
Human Development
Communication for Human Services Professionals
Abnormal Psychology
The above courses are mostly those seen in an undergraduate program. Master's level and above programs normally include curriculum that is more managerial in nature.
Some human services careers like social work and counseling require you to be certified or licensed in the state that you practice. Other positions—probation officers and human services assistants for example—may not need any type of certification. Each state has its own set of regulations, so it is important to visit your state's licensing board to know for sure.
Another important thing to keep in mind is college tuition. While it is important to get the right education to pursue the career of your dreams, we all have to think of our pocketbooks. While the average online human services degree costs just over $50,000, there are plenty of affordable schools with great human services programs. An online master's in human services costs around $19,000, on average. Pay attention to in-state versus out-of-state tuition as you compare schools. Also, remember to consider the cost per credit hour and how many credit hours are required to graduate.
Found
0
Accredited Online Psychology & Human Services Post Graduate Certificate Degree Programs
"Oops! No results here. Try a broader search!"