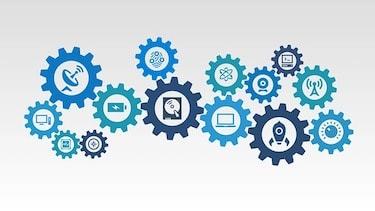 An online MIS degree is one of the most popular and lucrative distance business degree majors. MIS is shorthand for management of information systems. The term information systems refers to all the components that work together to make a computer system operate. Rather than looking at individual computers, as do computer technicians, MIS professionals tackle the system as a whole.
MIS brings technology into the business world in order to accommodate for the changing times. Programming is just a small piece of careers in MIS, which are mostly focused on team-building, business theories and project management. This could involve network administration, website maintenance or information storage, retrieval and protection. Professional opportunities are varied, but revolve around technology in a business setting.
Careers in MIS combine the wonderful worlds of technology and business. The term MIS comes from the computerized information-processing systems that are designed to support the activities of organizational management.
MIS professionals specialize in the understanding of people, technology, and organizations and the relationships that exist between them. These careers carefully balance a primary orientation towards people with an emphasis on service through technology. Degrees in MIS can prepare professionals for a variety of options within the business field in areas like finance, management, and even some IT careers.
MIS responsibilities include:
Hiring, training, and supervising the staff of technology departments
Planning, coordinating, and directing computer-related activities of an organization
Overseeing the financial aspects of the technology department, such as budgeting and goals
Choosing to mesh your interests in computer sciences and business strategies may be a smart decision. As the role of technology in our society and economy continues to grow, the demand for professionals who are adept with the concepts of both fields will also increase throughout the 21st century. The average income of an MIS professional is almost $140,000 each year.
Related careers that you can pursue with a management information systems degree include:
Financial Management – Some MIS professionals use their unique knowledge and skills in order to develop strategic, long-term goals and plans for an organization to maintain financial health; often, they will use MIS programs to compile, analyze, and review financial reports and analyze markets to maximize profits for their organization.

Management Analysis – Management analysts apply their MIS knowledge to analyze the policies, procedures, and goals of an organization. They often recommend new systems, procedures, or organizational changes in order to improve functioning and profit.

Website Development – If a developing professional would like to focus more on the implementation of computer sciences and technical skills, they may work to maintain the online functions of certain businesses, such as their websites. Website developers may work in three different primary areas. Back-End Developers maintain the technical construction and functioning of a website. Front-End Developers maintain the aesthetics of a website. Webmasters maintain and update websites on behalf of organizations for an extended period of time after their initial development.
WHO IS THE IDEAL CANDIDATE?
Careers in MIS are for professionals who are interested in the wide world of technology in addition to learning strategic business concepts and management strategies. MIS goes beyond the realm of traditional business, and requires a knowledge of business that often exceeds what most computer sciences require.
The most successful MIS professionals are able to apply their thorough understanding of programming and software development to their strong communication skills and leadership in order to create successful businesses in a competitive contemporary economy.
A management of information systems degree explores the relationship between people and technology. Most programs are interdisciplinary and focus on social, organizational and economic aspects of information. The MIS degree online is usually offered at the bachelor's or master's level. An undergraduate degree can help you land a steady gig, while an advanced degree can advance you to a management position.
This MIS major offers both computer science and business. Traditional computer science programs focus more on hardware, programming and IT systems, whereas an online MIS program taught through a business school tends to focus on how people use information technologies within commercial settings, often for information storage and retrieval. Look for a program accredited by Accreditation Board for Engineering and Technology (ABET) if you're particularly interested in computing skills.
Most MIS degree online programs are offered by business schools. Expect an online MIS degree offered at the bachelor's level to include core courses in business administration such as accounting, economics, operations and logistics, statistics, business law and project management. Another popular course is web technology, which demonstrates how modern businesses can use information systems.
On top of these courses, expect a cluster of coursework in computer programming, database administration and network operations. Technology-focused coursework should include information management, systems analysis, cataloguing and database development. Courses should demonstrate efficient ways to store, organize and locate information in a business setting.
In order to grasp the fundamentals of the knowledge that is necessary to succeed in MIS careers, developing professionals will often need at least a bachelor's degree. In some situations, a master's degree may be required or may provide applicants with a competitive edge for some desirable positions.
The average cost of an undergraduate online MIS degree is around $24,000, but can be as high as $66,000. It's important for you to explore all of the options in order to get the most bang for your buck when you decide to invest in your MIS career.
Found
50
Accredited Online Business Bachelor Degree Programs
"Oops! No results here. Try a broader search!"