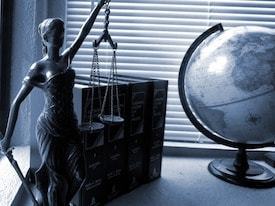 When you think of criminal justice, what do you imagine? Is it a police car, sirens on full blast, racing down the street? Maybe a judge peering over a courtroom full of people? Whatever you imagined, you were probably right. Criminal justice is a broad, expansive field of work that is dedicated to preserving the law of our society and the safety of our communities. Earning a criminal justice degree online may appeal to you for two major reasons. One is if you're already in law enforcement and want a degree to advance your career. The other is if you're seeking to move into criminal justice. Whatever your reason may be, receiving an online criminal justice degree can open up new opportunities for you in civil peacekeeping. Through your studies, you'll learn criminal law, correctional theories and criminology. Program coursework is designed to help you understand, uphold and defend the law. As a criminal justice graduate, you can pursue work as a police officer, security analyst, investigator, safety officer, or private security professional. Many private and public corporations also need security personnel or experts in the field.
Professionals with a variety of interests can find careers in criminal justice that suit their interests and strengths: from getting hands-on investigating crime to patrolling in schools and protecting children. From our local police departments all the way to the FBI, criminal justice professionals bring their knowledge of the law and justice system into our institutions and homes. There are plenty of options for stable, rewarding careers in criminal justice, regardless of your current lifestyle or professional goals.
If you are passionate about the idea of safe communities and healthy people, then you are bound for a journey to your perfect career in criminal justice. It doesn't have to be difficult to get started, and many professionals are able to enter the field immediately out of high school, or make a choice of getting their higher education and gaining more competitive skills.
Each career in criminal justice can be specially tailored to suit the unique interests and strengths of individual professionals, and many criminal justice experts may choose to concentrate in a particular time of crime, law, or environment such as drug violations or schools.
The role of a criminal justice professional may look different between different work environments and expectations. The United States Department of Labor (DOL) describes some of the more common careers for individuals who study criminal justice:
Police Officer or Detective – These law enforcement professionals prevent and investigate crime and protect lives and families from harm. This is a profession that can get started straight out of high school, with job-specific training, and can be tailored to suit your unique interests and skills. Often, the responsibilities of law enforcement officers and detectives will vary between roles, depending on the agency they work in and their job title. Typically, law enforcement officers can start their career directly out of high school, or they can choose to seek higher education. Positions for investigators and wardens are typically reserved for those with bachelor's degrees and other competitive qualifications. The need to maintain public order and safety means that positions for law enforcement officers are consistently available, and although they are dangerous, they are also rewarding. The average police officer makes more than $60,000 each year.

Private Detective or Investigator – These professionals that search for information about legal, financial, and personal matter that can be used to verify personal backgrounds and statements, find missing people, and even investigate crimes. Private investigators do not have the same authority or jurisdiction as police, and so they must understand how to do their work without violating any laws and disqualifying the information they gather from being used in legal processes. Most professionals do not need a college education in order to qualify for positions in private investigating, but they come with experience in the criminal justice field as a law enforcement officer or other type of legal profession, and professional licenses are usually required on a state-by-state basis. On average, private detectives make nearly $50,000 on average, and are expected to be in much higher demand than the national average in the coming years.

Correctional Treatment Specialist – Otherwise known as correction officers, these professionals offer supervision and social services to individuals that are currently in custody of the criminal justice system. They are usually in a role that provides rehabilitative assistance that helps individuals get out of the criminal justice system and become productive members of their community. Many specialists choose to concentrate specifically on either adults or juveniles as a parole officer, correctional counselor, or prison guard. In order to be competitive for positions in correctional treatment, most professionals will need at least a bachelor's degree. These professionals can anticipate making more than $50,000 on average in annual salary. Regardless of how much experience you are starting with, or what your long-term professional goals are, there are options and accessible means to get started on a rewarding career in criminal justice.
WHO IS THE IDEAL CANDIDATE?
Regardless of the type of career that they pursue, most professionals that study criminal justice interact with all different types of people on a regular basis—arrestees, convicted criminals and their families, individuals on probation and parole, judges, courtrooms, attorneys, other professionals, and more—so anyone who goes into this field must be prepared with solid communication skills.
Professionals can also expect to encounter stressful, dangerous, and otherwise upsetting circumstances during their job; successful professionals have the emotional regulation to move through the work effectively, regardless of what comes up. Often, they must have the physical and emotional strength to confront and restrain adults of all sizes that are usually violent and resistant. If that sounds more fun than intimidating to you, then you may want to consider a rewarding career in criminal justice.
Online criminal justice degree programs, whether earned online or on campus, often conjures up the image of cops in black and white squad cars chasing down bad guys. But in today's society, you'll rely less on brute force for crime control and more on technology and mental muscle. No wonder almost all federal and state correctional officers and law enforcement professionals are now required to hold at least one college degree.
Criminal justice does not necessarily mean you must join the police force. The government—both state and federal—has many other positions open for criminal justice graduates. For example, you could work for the U.S. Transportation Security Administration as a specialist or officer. Colleges and universities also need security officers, as do some public schools. Other positions are more administrative and analytical, as opposed to field-based. You can find many different options.
Fortunately for developing professionals, there are many different paths to criminal justice careers. It is absolutely possible to get started in a career straight out of high school, or to make the switch from a different field without excessive training. It's also possible to obtain a higher education for some more competitive positions and work to advance your career beyond entry-level positions. Some employers even offer promotions and pay incentives for criminal justice professionals who choose to hone their skills and qualifications through higher education.
As a criminal justice major, you will learn how and why crime happens, as well as ways to prevent it. Your online courses will give you a broad view of society and how law enforcement can successfully impact public safety. Some programs may even require an internship so you can gain real-life experience. Expect any criminal justice online degree to include core courses in evidence analysis and the law. You should also expect courses in technical areas such as computer forensics, DNA analysis, computer fraud and wireless surveillance. Many programs also include sociology and psychology classes so you can learn how criminals think and act. Classes may also cover common social issues, such as drugs or domestic violence.
Master's degrees in criminal justice are also available. If you're a law enforcement officer who wants to move from street patrol to a desk job, consider an online master's in public administration (online MPA) with a criminal justice or corrections emphasis. Armed with this degree, you could manage city, state or federal correctional agencies.
In the United States, the average cost of an online bachelor's in criminal justice is just under $50,000. However, the most affordable programs cost much less—starting at $18,000. Use these numbers when researching programs. Click on a degree to find out more including tuition, accreditation, and admission information.
Found
0
Accredited Online Criminal Justice, Safety & Law Bachelor Completion Degree Programs
"Oops! No results here. Try a broader search!"