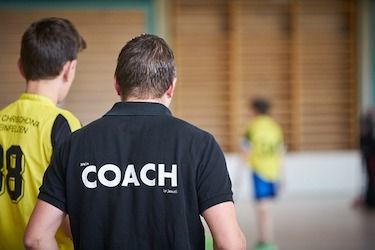 When you think of PE, you probably recall celebrating your chance to get active during the school day, rejoicing in the kickball tournaments and flag football days. Physical educators share their knowledge of preventative health practices and physical well-being while helping children learn the value of team building and sportsmanship. Enrolling in an online physical education degree can help you make a career of coaching, training, and teaching. Through your studies, you'll learn how to effectively mentor students and provide athletic instruction. This degree is most commonly offered at the master's level, making it ideal for teachers who'd like to step into coaching or for non-educators interested in making a career switch. You could also work for a nonprofit, community organization or athletic facility. Other career options include sports scouting, personal training, wellness consulting, and sports medicine. If your goal is to become a physical education (PE) instructor in the public school system, check with your local state education department about licensing before starting any program.
Degrees in PE and coaching provide the knowledge and skills necessary for professionals to empower and inform students and teams their own health choices and habits. Physical educators play an integral role in preventative health for communities by filling a number of different positions. The two most familiar careers that are pursued with these types of degrees are:
PE Teacher – This is probably the first example you thought of when you considered a degree in PE and coaching. PE teachers at the elementary, middle, and high school levels combine their knowledge of health and physical well-being with best teaching practices in a gym and classroom setting. Professionals seeking a career as a PE teacher should be prepared to obtain their bachelor's degree at the very least, followed by a certification or licensure. On average, high school teachers make around $58,000.

Coach/Scout – These educators teach athletes the skills and strategies they need to succeed at their sport. Coaches oftentimes facilitate scouting, which involves searching for new players and evaluating their skills and likelihood for success. Some coaches simultaneously work as teachers in the school system, and can often play the dual role of both sports coach and PE teacher. All coaches are required to have a bachelor's degree and certification through the National Association of State Boards of Education. Coaches make an average of $31,000.
WHO IS THE IDEAL CANDIDATE?
As educators, it is imperative for those who pursue a career in PE to demonstrate good communication with a variety of students and populations. They must have strong leadership skills and be a source of motivation to set the example for many of the groups that they work with. PE and coaching professionals must be resourceful enough to assess and work with the strengths and weaknesses of their students or teammates and to work in diverse settings. If you are enthusiastic about physical health and educating your community, then a career in PE and coaching may be the right path for you.
The most typical online physical education degree offering is at the master's level. However, you should be able to find online bachelor's programs in PE or related fields, such as health education, kinesiology or exercise science. ?Coaches and PE teachers are often required to have at least a bachelor's degree and a particular certification in order to be competitive for their respective specializations. Doctoral degrees are also available, but are geared to researchers and academics.
If you are interested in earning an online physical education degree, make sure you check out similar areas of study, such as the sports management, nutrition and exercise degrees. Hybrid options are also available for some degrees. This means you will take mostly online courses, but must attend campus classes for a period of time, ranging from a weekend to several days each semester. Depending on your PE program, you may also have to do a session of student instruction at a local school.
If your career aspirations include coaching at any level—from elementary to pro—consider specializing in coaching or training. This course of study may help you land a coaching job, whereas a more general degree is geared for public school physical education instruction. Look for a program that offers concentrations in your desired career. Additionally, several master's programs offer training toward certification as a master coach. A master coach, also known as a level five coach, must demonstrate competency in 320 areas, as identified by the National Standards for Athletic Coaches. The U.S. Department of Labor expects demand for coaches to surge 29 percent over the coming decade due to heightened school enrollments and demand for private training and coaching services.
The cost of PE and coaching degrees can vary widely according to different programs, specializations, and schools. Students can expect the price of tuition to increase as they pursue advanced degrees in higher education programs. Expect to pay between $30,000 and $50,000 for an online bachelor's degree and between $20,000 and $40,000 for a master's.
Found
99
Accredited Online Education Degree Programs
"Oops! No results here. Try a broader search!"