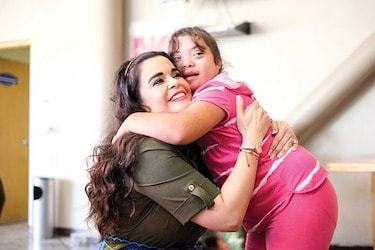 Not all students have the same learning abilities or styles. Each student comes from a unique perspective and background, and not all classrooms are able to accommodate the individual needs of students, especially those who are gifted or require special attention and instruction. Special ed teachers make sure that schools work for everyone.
If you're ready to go above and beyond to be of service to the students who need compassionate instruction, consider teaching in special education or with gifted children. Plus, earning an online special education degree is one of the safest bets you can make if you seek both personal satisfaction and job security in a teaching career. In this degree you'll learn how special needs children think and ways you can help them learn successfully. While post-education licensing is required to work as a special education teacher in all 50 states, but the payoff is good.
Teaching children with special abilities requires special knowledge and skills to shape the learning environment to cater to the needs of individual students. Each student may require a unique approach to their learning plan, and their academics require careful patience, attention, assessment, and flexibility to meet their goals. Special education teachers may find themselves working in various settings of education—they may work with young children, or with adult learners, they may work in solitary classrooms dedicated to special education or they may work alongside of general education providers to maximize the classroom experience for special learners among their peers. Regardless of the setting they work in, gifted and special education professionals must be prepared for tasks on the job that may include:
Assessing the skills and strengths of students to determine their curriculum and classroom needs
Discussing student progress with parents, other teachers, counselors, and school administrators
Developing individualized education programs (IEPs) for students
Planning, organizing, and assigning activities that are appropriate for student abilities and interests
Updating IEPs to reflect the progress of students towards their goals

The day-to-day experience of special education teachers will vary depending on the setting that they work in and the students that they work with. The experience of a teacher that works primarily with students who have physical disabilities (such as abilities that require them to use a wheelchair) will look very different from daily duties of teachers who work with students that have emotional or psychological challenges (such as children who have autism spectrum disorder). Some teachers may need to focus more on teaching students basic life skills that are necessary for living independently, while other teachers may focus more strongly on adapting subjects such as reading, math, and science, to fit the learning style of their students.
Working with students who are gifted or special is a rewarding career in many different ways—from the fulfillment of seeing students reach their goals to the annual pay of more than $55,000 on average. As more students are enrolling in schools and need specialized attention, the Department of Labor reports that the demand for qualified special education professionals is expected to increase more than the national average for other careers in the next decade.
WHO IS THE IDEAL CANDIDATE?
It's important to understand before jumping into a career in special education that this is a field that requires ample patience to work with students who may present with various challenges and expectations. Gifted and special education teachers must be highly skilled at communicating with teachers, counselors, parents, administrators, and students in a way that is accessible and understandable. If you are excited about the idea of building relationships with students that may impact them for a lifetime, and you're ready to be resourceful in order to solve problems that may not be faced by other teachers, then special education may be your calling. You can use your skills in education to help students with all different strengths meet their goals.
There are many sub-areas within online special education degrees. Popular online education specialties include adaptive learning, physical disabilities, gifted and talented, educational administration, autism, assistive technology and research. You may be able to focus on a single age group, such as middle school, high school or early childhood education.
Your concentration may also depend on your degree type. A bachelor's degree will likely be more broad and equip you to work with preschool to high school students. A special education master's degree or certificate is usually more narrow in scope and will allow you to concentrate on your area of interest. If you're interested in academic research, you may want to consider an online doctorate. You'll be able to give years of attention to a specific topic.
Additionally, special education teachers can face a longer training period than many other types of teachers. You'll complete a standard four-year curriculum in educational theory and teaching methods. Then, you may have to complete up to one year of student teaching and additional educational theory specific to the special needs population. Before entering any online special education degree program, confirm the commitments you'll need to fulfill to graduate.
If you are already employed as a licensed teacher, consider an online master's or an advanced online certificate in any special education area. Many school districts—particularly in urban and rural areas—have open special education positions because they simply can't find enough licensed professionals to fill them. In fact, the Bureau of Labor Statistics reports that special education teachers should have little trouble finding employment.
While all programs in our degree directory are properly accredited, some programs hold additional, programmatic accreditation from the National Association of Special Education Teachers (NASET). These programs may be more expensive but the additional seal of quality can amp up your job prospects. Our rankings reveal that, in general, an online master's in special education costs just under $16,000, on average. However, the most affordable programs will cost under $13,000, with the cheapest running under $10,000!
Found
0
Accredited Online Education Degree Programs
"Oops! No results here. Try a broader search!"