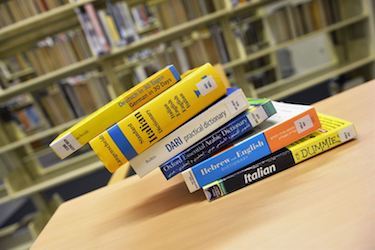 With the advancement of technology, the borders between countries and cultures have started to blur. Our communities are becoming increasingly multicultural, multiracial, and multilingual. Now more than ever, knowledge of multiple languages is beneficial to practically any professional.
Professionals that specialize in foreign languages understand that our global network is closer than ever. Some professionals choose to make foreign language the centerpiece of their career, while other professionals may use foreign language to broaden the scope of their passions. Either way, acquiring bilingual skills can result in a diverse career with many lucrative opportunities. If you're intrigued by the idea of communicating across boundaries and connecting cultures across borders, then read on about how a career in foreign language could work out for you.
Professionals can apply their knowledge of any foreign language to almost any industry, from healthcare to international development. In today's world, being bilingual can pay handsomely. As globalization continues, an escalating demand across all sectors will occur for translators and communicators. Trade businesses, media companies and nonprofits all hire bilingual staff. Focus on your other strengths—technical writing, interpersonal interactions, finance, etc.—to help narrow your career options. Increasingly the government, both federal agencies and state agencies that deal with mass immigrant work populations, are offering premium pay and career placement for bilingual professionals in law and health. There are some careers that are specific to experts in foreign languages, which the Bureau of Labor Statistics describes:
Interpreters and translators convert information from one language into another language; Interpreters work in spoken language while translators work in written language. Interpretation and translation are needed in practically all fields. Many professionals may specialize in one or more type of interpretation or translation. Some examples of specific types of professionals include Health or medical interpreters and translators, Legal or judicial interpreters and translators or Community interpreters. As globalization increases, so does the demand for interpreters and translators by nearly 20% in the coming decade. On average, these professionals make more than $45,000 each year.

Teachers of English as a Second Language (ESL) teach students of various backgrounds and languages to read, write, and speak English. They may work in public schools or with adults, domestically or abroad. They are often responsible for integrating students into the United States from a variety of different cultural backgrounds, so they often must foster a strong sense of classroom community. Studying a foreign language can prepare professionals to teach, but often teachers of ESL will encounter students that speak many different languages in the classroom, making this job especially challenging for a teacher's creative communication skills. ESL teachers make more than $50,000 on average, annually, although the field is highly competitive, and job positions are expected to decline in the coming years.
WHO IS THE IDEAL CANDIDATE?
Careers in foreign language can be blended with each professional's unique passion—whether it is for journalism, childhood development, or science, to create the perfect path. Professionals that specialize in foreign language must be expert communicators: they must be able to listen, read, write, and speak with confidence. Further, they must have the cultural sensitivity to work with individuals from a variety of backgrounds and lifestyles. Successful professionals in the foreign languages are resourceful and able to think on their feet when confronted with challenges, as well as patient enough to balance the interpersonal needs of their career.
Many interpreters and translators must have at least a bachelor's degree, but the knowledge of language is applicable across all fields, and the most important thing is that professionals are fluent in more than one language. Individuals that may be interested in using their knowledge to teach ESL should be prepared to take classes that specialize in theories of learning second languages. Competitive foreign language degree programs will prepare students for the skills necessary to perform their job duties through classes that cover the foundation of information about their language or geographic region of choice, including:
Literature
History
Culture
Grammar
Linguistics
Pronunciation
Writing
The best programs will offer students the opportunity to immerse themselves in learning by studying abroad in another country. Other programs will prepare students to become certified as bilingual, or certified by the American Council on the Teaching of Foreign Languages (ACTFL).
Our cost rankings reveal that accredited online programs cost between $30,000 and $50,000 on average, so it's critical for developing professionals to explore the options that offer the best bang for their buck. Look for programs that offer specialized courses that prepare you to be professionally competitive through internships, certifications, study abroad, and other opportunities.
Found
73
Accredited Online Art & Liberal Arts Degree Programs
"Oops! No results here. Try a broader search!"