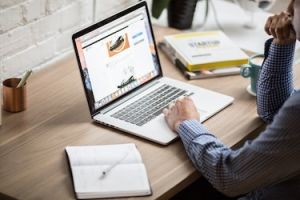 Are you interested in USA online degrees for international students? Earning your degree online from wherever you live is a great way to do that. Getting an international degree from a top tier online university in the United States is not only possible, but can be the perfect step to set you apart from job competition.
International online degree programs are everywhere. The internet is bringing education to the farthest corners of the earth, and you can be part of this trend. No matter where you live, if you can access the internet, you can earn a degree or certificate in any one of hundreds of subjects from excellent schools in another country—or around the corner. All from your computer, often without ever setting foot in a classroom.
It is important to do the research to make sure to find the BEST online program for your educational goals, from a school that offers a solid online educational experience, and has the reputation for excellence that will make your degree valuable. There are many legitimate and wonderful programs available, but there are still a few scams to avoid. Getting the information to choose the right program can be hard, so read on to learn about the many search tools and articles to help you find the best USA online degrees for international students.
International students are accessing the great teachers and curriculum available at the top schools in the world, learning everything from aerospace engineering to political science, from veterinary assisting to financial analysis, from philosophy to law. Even if you don't yet know what you want to study, you can find undergraduate degrees that will let you explore the options while getting a solid foundation of knowledge to get you the career of your dreams.
If you want a USA online degree, but you live in another country, how do you do this? Many of those great schools are physically located in the United States, but if you get an online degree with these schools, you often get the very same faculty that are teaching in lecture halls on campus. Add to this that your degree may be less expensive and you can keep your current life while you study, and online international degrees can be a great option for many students around the world.
FAQ: USA Online Degrees for International Students
If I am not in the United States, can I earn an online degree from a USA-based university?
Yes, there are many universities that offer degrees to international students, and many of them are located in the United States. For many degree programs, there is no requirement to attend on-campus classes, so you can often complete your degree from wherever you live.
How do I start my search for USA online degrees?
There are many resources you can use to help you find, apply and get into a USA university for an online degree. GetEducated has partnered with Plexuss to provide specific resources for international students who want to study in the US. Once you have found a few possible schools, read their information carefully to find out costs for international students, schedules, what classes you would take, and more details. Compare, and see what qualities you find most appealing about different programs.
What types of USA online degrees are available to online international students?
There are certificates and degrees of many, many types available online. There are more general undergraduate degrees, like Bachelor of Arts or Bachelor of Science programs, and there are more specialized majors like an Associate of Science in Computer Science or a Bachelor of Fine Arts in Landscape Architecture. There are numerous graduate degrees you can study for online, including the popular MBA (Master of Business Administration), and even including Doctoral degrees in many subjects. To explore your international options for a particular major, look at the Plexuss Find Your Major tool.
Some subject require hands-on practice, and online schools may allow you to perform an internship in your home country to fulfill this requirement. Other subjects require licensure or certification to practice the profession, and there may be additional or differing requirements for these types of fields. Fields that often require licensure include medical professionals, legal professions, and education. Often, a degree or credential from an international school will qualify for the profession in your home country, but it is important to check with your region's licensing authority.
What are the BEST online universities in the United States?
There is really no single best international online university, but the quality of the school you choose does make a big difference. With so many schools offering online degrees for international students, you can use some help in sorting through your options. Using the search feature to narrow down your options for the concentration and degree you are looking for can help you to see what is out there. Additionally, make sure you consult the rankings of the best universities in the United States.
How do USA online degrees work for foreign students?
You will need to have your educational transcripts evaluated by an outside organization, take English language proficiency tests like TOEFL or IELTS, and follow the other application guidelines for the school you wish to enroll in. If the program you are enrolling in is a full time online degree program, you will not be eligible to apply for a student visa to be in the United States during your classes, but if there is a short on-campus portion to your course of study, you may qualify for a shorter student visa. Since online programs allow you to study from where you live currently, traveling is usually not required.
Once you have applied and been accepted into an online learning program, you will have information from your school on how to enroll in classes, what is required, and what you will need to do. Generally, most classes are asynchronous, where you may watch or read the class material at any time, responding to questions in online forums or completing required assignments for each class, but at any time of day or night. Some programs have synchronous class sessions where you will need to log in at a specific time to meet with your instructors and fellow students. When classes are asynchronous, that does not mean that you can necessarily study at your own pace; most programs will have weekly or more frequent due dates for assignments and course interaction, keeping all the students progressing together through the curriculum.
You may be required to take additional classes if your previous education did not cover some of the topics students are expected to know before the program. In addition, if your skills in the English language aren't up to par, the school may want you to also take additional English language classes to bring you up to speed. With students from many backgrounds enrolled, schools will often have programs to help boost English language proficiency, which can be a great resource for international students.
What do I need to apply to an online degree in USA?
Transcripts—You will need to have transcripts from your previous education evaluated by an outside agency, and this evaluation will assess the equivalence of your training to the standards followed by your institution. Your school may be able to recommend an agency, or you can check with the National Association of Credential Evaluation Services for US-based members. Some schools require minimum grades from previous education, and this evaluation can help them assess not only subjects but the grade achieved in a class or equivalent training.
Test Scores—Most US schools will require foreign nationals to complete an English language test like the Test of English as a Foreign Language (TOEFL) or the International English Language Testing System (IELTS) exams. In addition, schools may require test scores on the Scholastic Aptitude Test (SAT) or the American College Testing (ACT) exam for undergraduate admissions. For graduate students, the Graduate Record Examination (GRE) or one of the more specialized graduate tests: the Graduate Management Admission Test (GMAT), the Law School Admission Test (LSAT), the Medical College Admission Test (MCAT), or other exam. Depending on your scores, you may choose to apply to a different program; different programs have very different cut-offs for test scores or previous grades, so you will want to choose programs with standards in line with your results.
Written Materials—Many programs will want you to write a short essay about your goals and why you want to pursue the degree. Many will also request that you get letters of recommendation from teachers, employers, or others to attest to your character and suitability for a degree program.
Application Fees—Some schools will require you to pay an application fee, but some have stopped requiring the fee. Usually, this is not a huge expense anyway. You may pay nothing, or $50, but a few schools will still charge a bit more for application fees.
How does accreditation work in the United States?
Choosing an accredited school will increase the chances that your degree will help you when you go to find a job, but there is more to it than just accreditation. Accrediting organizations take a very careful look at the programs and schools, investigating them in more detail than you could ever do. Therefore, if the school has been accredited by a recognized organization, you have a much better chance of getting a good educational program that will be respected by employers or other educational institutions.
In the United States, there are two overall types of accreditation: institutional and programmatic. Institutional accreditation looks at the school as a whole to make sure it is sounds. Within institutional accreditation, some schools are accredited by regional organizations, and some by national organizations. Generally, regionally accredited schools tend to be a bit more expensive, but their credits are more accepted at other institutions. Nationally accredited programs are also good and have the advantage of often costing a lot less. As a baseline, any online program that you look at should be from a school with institutional accreditation.
Programmatic accreditation is done by special organizations for each different type of subject matter. For instance, business school programs can be accredited by any one of three different groups who accredit only business programs. This way, the evaluations look at what content is needed in the business professions. Likewise, it would be a completely different organization that accredits veterinary medicine programs. You wouldn't want a group of computer programming educators looking at what is appropriate coursework for a degree in psychology, or vice versa. Each broad subject area will have one or more programmatic accrediting agencies that can evaluate and approve their programs.
How do I avoid scam schools and degree mills?
Because you will not be visiting a school yourself, you are likely a bit worried about whether the school you choose will just take your money and give you a useless piece of paper. These days, there are many legitimate online schools that accept international students, but you should be wary to avoid scams. Some schools are just there to sell you a fake degree, while others will make up fake accrediting agencies that seem like the real ones. Here are the best ways to spot a diploma mill so you can avoid them. And here is a list of un-accredited schools you should avoid, but this list is not exhaustive as new diploma mills pop up every day. If you're unsure whether the school is legit or not, air on the side of caution, and do not make a monetary commitment.
FAQ: Online Degrees for International Students
Who earns their degree online?
All kinds of people are now using the internet for their college education, from students just finishing their high school education to career-changers who want to learn a new profession. People from all walks of life, from high-level business executives looking to add a graduate degree to their resume or someone who has taken a GED exam and wants to get an Associates (2-year) degree to start in an entry level job. Some people are finishing a degree that they did not complete when they were younger.
Online degrees are great for people who don't have a university near them, or one that offers the major they wish to study, but many people living in cities worldwide can also be found at their computers, studying around their busy lives. Many online programs are designed for working people who have other obligations in addition to school, and who appreciate the flexibility to study for their degree at any time of the day or week that they can manage it. Others may just want to take a full time degree program from where they live, without the added costs of living at school. Online learning comes in many flavors for all types of people, and that can be one of the great benefits—you meet lots of different people in your classes online, from all over, who come with different life experiences and open minds to study alongside you.
The most common reasons international students opt for distance education is because they have family or work responsibilities that keep them in their home country, it is cheaper and easier to complete the degree online, or it is not feasible to travel to the country because of political, cultural, or economic concerns. Whether you are just starting out, want to advance your educational qualifications and career, or have the time to study something you have always been curious about, you will find an online international degree program to suit your needs.
How expensive is an international online degree?
The price range for good online degrees can vary widely, which is why it pays to shop around. The same degree from two different well-respected universities can vary by tens of thousands of dollars. That said, many online degrees are quite affordable. Plus, since your travel and room and board expenses aren't a factor, you can save a lot of money by choosing an online degree. Compare costs for the different programs in your chosen major—there are many options that cost less than the average while still providing a solid education.
The total cost of your education is not just the tuition cost for all of your courses. In addition, there are student fees, online learning fees, and you may need to purchase textbooks or other materials. Some programs include digital textbooks in their tuition, while others do not, so looking at the total cost of a program to compare prices can require a bit of work. To look at prices for international schools, the Plexuss tool allows you to compare prices easily of the programs you are considering.
What countries offer online university programs?
There are online schools on every continent in the world, including Europe, Asia, Africa, North and South America, and Oceania. There are great programs in many locations for all different types of degrees, but the majority are concentrated in North America and Europe, with rising numbers in Asia. But you may find a university that offers the EXACT program you want in a place that you are not expecting it. You can search beyond the US on Plexuss, where there are tools to help you find the best schools for your particular major by the country of your choice. The focus of the program, along with the quality of the institution are more important than the physical location of the university. It's online, after all.
How do I find an international degree program?
Many of the top-of-the-line schools offer global education, with degree programs open to students from all over the world, but sometimes, lesser known but still well-respected universities may have a program that is a better fit for your needs. Don't choose just based on ads that you see online, as that will limit your choices. Figure out what you would like to study, and then start searching for degree programs. Searching degrees worldwide is easy at Plexuss, the student opportunity network. There is even a map tool, so you can choose to compare all your options for schools in a specific area or country. Maybe you have always wanted to study in Japan, or France, or South Africa—this is the tool to help you find the right school in the place you may want to visit, at least virtually, for your online degree program.
What should I look for in a program as an international student?
Along with solid curriculum and accreditation from a reputable agency, international students will want to check out the program to make sure it has all the features that will help them succeed. For instance, how much interaction will you have with instructors? How you will your questions be answered when they arise? Most programs have good online interaction between students and instructors and a student community that will hold discussions, whether live or in a text-based forum. To get a sense of the classes, schools will often let you "sit in" on a class to see how you like the format.
In addition to instruction, many schools have other services that you may find handy. Will you be able to access online library resources? How about tutoring or help if you are having trouble? Is there computer support in the event that you are having trouble accessing or uploading course materials? How about career services for international students when you have finished? Another extra that can be useful is a lively alumni association online that can give you community, helping you with networking and camaraderie once you have graduated.
Before you invest your money and time in an online degree program, take the time to find out all you can about it. Compare costs and requirements. You may be able to talk to school administrators, faculty from the program, or graduates. These are useful ways to understand more about how the school works and if this will be the right community for you to succeed and complete your degree or certificate program.
What programs are not available for international distance learners?
Not every program is available for students from abroad to study, even if the course is completely online. The main reason for this would be that the licensure requirements vary from country to country for the profession, and education for that profession will normally need to be pursued at an educational institution in the country you plan to work in. Accreditation of universities in the United States is overseen by the US Department of Education, and in other countries, the accreditation will similarly be done by that country's government. In many cases, this is fine. There are also international education accreditation bodies, like those that oversee business degrees, so these subject-specific accrediting organizations may be the main requirement for your profession.
Checklist for International Students
Here are the steps to consider when evaluating online degrees for international students:
Check out schools that offer the type of program you are interested in. Find out the basics of costs, fully online or some on-campus attendance necessary, application requirements and deadlines, and check the accreditation of the school.
Compare your options. Research further to compare what each program that you like might entail. Talk to school personnel and students in the program.
Apply to the school(s) of your choice. Have your transcripts evaluated by a service that will be accepted by the school, gather your test scores and letter of recommendation, and turn in your application.
Once accepted, you can start your classes! Get ready for success and plan to work hard to achieve your dreams of a college degree from a school that will put your career on the map!
If your program has any short on-campus visits required, apply for a student visa to travel to meet your instructors and fellow students in person.
Related Resources
How to Compare Top European Online MBA Programs