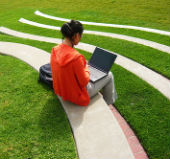 Students love accelerated bachelor's degree, and for good reason.
Accelerated programs consist of short online classes. A traditional college course lasts 16 weeks, but an accelerated bachelor's program compresses courses into shorter five-, eight- or 10-week sessions.
You literally earn your degree faster by studying faster.
You take just as many courses to complete an accelerated bachelor's program as a traditional degree, but you learn faster in an effort to accelerate degree completion.
Accelerated Bachelor's Degree Online
The following schools all offer accelerated programs.
Western Governors University offers a method of learning that allows students to fast forward through work where they are already proficient.
Capella University has a revolutionary program called FlexPath; that allows students to quickly get through classes where they have experience. Strayer University offers challenge exams and credit for corporate and military experience through portfolio review.
Jennifer Menges of Philadelphia chose to earn an accelerated online bachelor degree at Columbia College of Missouri. She says short, intense eight-week online courses are "just right" for her.
"Going the accelerated online degree route allows you to focus intensely on your education," says Menges.
If you take two eight-week accelerated online courses five times a year, you've equaled a typical year of courses taken in a traditional year (10 courses), while only having to concentrate on two subjects at a time.
"When I was investigating online schools, I knew I wanted something accelerated," says Menges. "I'm 36—I kinda need to get a move-on."
Menges is not alone in feeling that faster is better when it comes to getting a college degree online.
Before jumping into the starting block, however, take a moment to consider whether this type of online education suits your learning style, career timetable and study habits.
To help you decide if accelerated online degree programs are right for you, we've compiled a checklist of advice and warnings gathered from online students and research.
Accelerated Bachelor's Degree — Cons
Accelerated bachelor programs are not for everyone. They require a significantly larger investment of time and energy than traditionally-paced courses. While the promise of earning a degree fast is enticing, fast can quickly become frantic and frantic can lead to high degree drop-out rates.
Consider these factors:
Interaction with your fellow students may be limited. In an accelerated online course, it will be even harder to learn from your peers and make new friends.

Some subjects can be more difficult to learn on a compressed timetable. Math and computer skills in particular benefit from a longer learning period, some experts warn.
Research suggests long-term recall of topics may not be as good if the material is learned in compressed sessions. If you plan on building upon the subject matter you are studying, this may be a major concern.
Accelerated online learning can be jarring, especially if you are an adult learner with a job and family. If you don't have the time or attention span to focus, focus and focus some more, an accelerated online degree program may not work for you.
That doesn't mean condensing a semester's worth of material in two months is impossible; in fact, many people prefer the faster paced courses.
Jennifer Menges' husband Jon experimented with both short online courses and traditional 16-weeklong courses. In the end, he hands down preferred faster, accelerated courses.
"I feel like the shorter semester keeps you more focused because it's kind of a more rapid-fire delivery method and learning platform. And it's always in the forefront of your mind," he says. "With the traditional semester and slower pace, it's easier to not focus on it as much."
Not everyone went the fast route and loved it. Eric Swilley, 41, had been out of school since 1991. He chose a nine-week online business law class at Troy University Online. That short course turned out to be more grueling than he had anticipated.
"The homework was absolutely ridiculous," he says. He estimates reading and quizzes about the material took two to four hours per day. "If you're an adult learner, that's not a good option."
Accelerated Online Degree Tips
If you're uncertain whether an accelerated bachelor's degree online is right for you, consider these tips:
Evaluate homework requirements, such as reading load per week. Expect assignments to take two to three times more time per week than in a 16-week semester course.
Consider what else is going on in your life. Getting married? New baby on the way? Starting a job? If so, it's probably not a good time to commit yourself to a fast-paced online course.
Research your professor. Is the professor available for questions? Will he respond to an email within 24 hours? Are there regular hours when you can contact him? How fast will assignments be returned?
Prepare to excel. Students in accelerated online degree courses perform significantly better in tests than their peers in semester-long courses.
To Find Accelerated Online Bachelor Degrees
To find accelerated online degree programs, start with our degree browser.
Related Resources
Campus Residency May Improve Online Student Retention and Satisfaction
Online Masters Degree No GRE
Image Credit: danisabella//Flickr