Douglas Blatt wanted to go to law school 20 years ago, but life got in the way. Today, the 43-year-old Texas computer programmer dreams again of becoming an attorney—by studying at an 
online law school
, so he can continue to work and support his family.
However, Texas—like most other states—allows only ABA-accredited law school graduates to take its bar exam and become licensed attorneys. And the ABA (American Bar Association) does not accredit any 100 percent online law school or master's degree.
The ABA is in the middle of a review of its accreditation standards, including "Standard 306," which applies to distance education. This standard allows law schools to offer some online courses in their degree programs—but only 12 credits total. Of these, only four credits can be taken in a semester and students can't take them in their first year of law school.
These restrictions effectively eliminate online law schools from accreditation.
"Unless the ABA approves of an online program within the next year or two, I seriously doubt I will be able to attend and still have time to graduate and practice," says Blatt. "I am in my mid-40s. I thought of this as sort of a last-ditch effort to attend law school while I was working for a living, before I wouldn't have enough years left before retirement to actually make good use of the degree."
Blatt sent an email to the ABA in June, calling the organization's accreditation standards and stance against online law schools as "incredibly behind the technological times."
Among Blatt's points: "People in other professions are able to earn a degree entirely online…Why is it others who attended school online can manage your money, teach your children, take care of your mental and physical health—but can't practice law?"
ABA Predicted to Modify Online Law School Standards
Bucky Askew, the ABA's staff consultant on legal education, predicts that the ABA will, indeed, broaden its standards for 
online law degrees
 when it addresses the issue next year.
"In the case of distance education, I think there is interest in reviewing it more comprehensively," says Askew. "My guess is it will probably result in the standard permitting more [distance education credits] in the future, based on what I've observed and heard."
However, says Barry Currier, dean of Concord Law School in California (an online law school that is not accredited by the ABA), simply increasing the number of allowable credits is not enough.
Currier, a former ABA deputy staff consultant on legal education, says allowing only a limited number of units of distance education instruction would mean "it's going to be a long time before Concord could be qualified for ABA approval."
The ABA reviews its standards every five years. Up until 2000, it did not allow any distance learning credits to be part of a law degree, says Askew. Then the ABA began allowing traditional law schools to offer a few online courses.
"My guess is they decided to start slowly to permit schools to do this on a fairly limited basis and see how it goes," says Askew.
Reasons ABA Reluctant to Accredit Online Law Schools
Currier says the legal profession has traditionally been conservative and slow to adapt to change. Also, he points out, there is no pressure on the ABA to approve online law schools, since bricks-and-mortar schools are having no problem attracting applicants to pay hefty tuition bills.
He notes that 100,000 people apply annually to 45,000 open seats at ABA-accredited law schools. Average cost in 2008, according to the ABA: approximately $50,000 to $100,000 for a degree, depending whether a school is public or private.
"It's not like they are suffering from a dearth of applicants," says Currier. "If they felt like they had to scramble to fill the seats, they might say, 'What about all those great students who can't come physically to campus?' But they don't feel that pressure."
The ABA's rules also may reflect the belief that classroom interaction is an important part of a legal education—which ABA standards-setters may not realize is achievable through online classes, says Currier. "There is a lack of awareness about how interactive, rigorous and substantial a good online legal program can be."
Also, says Currier, the ABA has a "lack of appreciation for what distance learning can do in terms of opening access, making legal education more affordable and engaging."
Many Concord students, says Currier, are mid-career professionals who need the flexibility online schools provide to manage their jobs and family obligations. In addition, Concord's tuition of about $40,000 is less than the average for public law schools (though some are cheaper).
California, where Concord is based, allows non-ABA-accredited law school grads to sit for its bar exam—the only state that does so. A few other states, including Wisconsin and Vermont, have policies allowing lawyers licensed in other states to sit for bar exams, even if those lawyers earned degrees from online schools.
Online Law Grad Wins Right to Practice in Massachusetts
Ross Mitchell is a Massachusetts resident and a Concord grad, who made news earlier this year by convincing the Massachusetts Board of Bar Examiners to let him sit for its bar exam. He then passed the bar and was admitted to practice as an attorney in Massachusetts in June.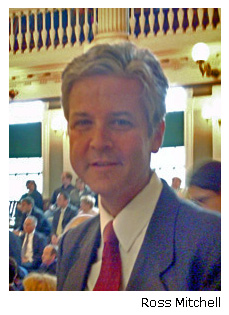 made news earlier this year by convincing the Massachusetts Board of Bar Examiners to let him sit for its bar exam. He then passed the bar and was admitted to practice as an attorney in Massachusetts in June.

Mitchell, 57, says he chose Concord Law knowing he would have to persuade the Massachusetts bar to let him take the exam—and that he might not have been successful.

Mitchell chose the unaccredited Concord anyway, because he wanted flexibility to continue in his career as a computer consultant, which involved heavy traveling, and because he is used to working online.

The decision by the board of bar examiners in Massachusetts to allow Mitchell to practice was written to cover only Mitchell and does not set a precedent in the state for other aspiring attorneys.

Still, says Currier, the ruling "is another step along the path to greater opportunities for graduates of online and other non-ABA-approved law schools."

Mitchell says since the publicity over his case, he has been contacted by others seeking advice about following a similar path—which has given him the belief that "there are lots of people out there who are in the same situation, who want to get a high quality legal education and want to go back to their own state and practice law."

Mitchell is an ABA member and supporter. However, he says, "the ABA has always trailed the market, if you will, in terms of its accreditation standards over the years. It always has had to be pushed before it would make a change. It takes them awhile, but they eventually come around… I would be happy to provide input to them if they would find it useful."

The ABA is accepting comments and suggestions about its distance education standard on an ongoing basis and Blatt and Mitchell encourage people to speak up on the issue of online law school accreditation.

You can follow the ABA standards process and see other documents related to distance learning for legal education (such as Douglas Blatt's email) on the ABA website.