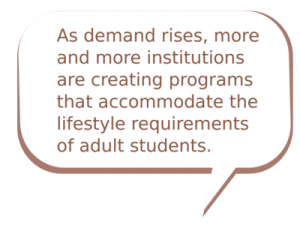 Our national economy has taken a beating in the past half decade leaving many adults re-evaluating their job skills and career path. Although the economy is recovering, many people are still concerned about stagnant salaries and a lack of well paying jobs and many adults are tackling a career change to take advantage of better opportunities. Fast track, flexible programs, which allow working adults to quickly acquire new skills, are often the key to quick career advancements and lay the groundwork for a better future.
Almost 40% of postsecondary students are adult learners. Of all adult learners, 54% between the ages of 25 and 29, and 34% over the age of 39 are full-time students. Therefore, a significant number are also completing their education taking part-time courses allowed in flexible online degree programs.
As demand rises, more and more institutions are creating flexible programs that accommodate the lifestyle requirements of adult students.
---
How to Earn an Online Degree Fast
Adult degrees, designed as flexible programs, are often at an accelerated pace, allowing adult learners to study during times convenient for them and finish their online degree fast. Here are a few learning models specifically developed for adult students.
Accelerated Degree Programs
Accelerated programs usually allow you to complete a degree faster, but they have more stringent application prerequisites. For instance, many undergraduate accelerated programs require you to have 60 completed college credits or an associate's degree. An accelerated graduate degree program will almost always require a bachelor's degree for enrollment. The strict entry requirements allow a postsecondary institution to award you credit for previous studies allowing you to graduate with your new degree faster. Make sure you weigh the pros and cons of accelerated programs before enrolling.
Accelerated Courses
Another way to earn an online degree faster is through accelerated courses within your degree program. You're still required to complete the traditional number of credits, but you complete them in a shorter period of time. Accelerated courses take the content covered in a 15-week 3 or 4-credit course and condense it into a shorter timeframe, sometimes letting you complete the workload of two semesters in the 15-week block. Accelerated courses are generally between five and eight weeks long depending on the material density of each subject.
Condensed Courses
Condensed courses are similar to accelerated courses, but they allow adult students who need more flexibility to complete one condensed course at a time. This option allows for more personal responsibilities, but since the course is condensed you can still complete an average number of classes per semester. A condensed course is an excellent option if you find it hard to balance school, home, and work responsibilities or if you feel you can learn better when you can concentrate your energy on one subject.
Self-Paced Programs
Self-paced or an individualized programs offer the greatest amount of flexibility, and allow you to move through your program at your own pace, speeding up or slowing down as you deem necessary. For instance, an accountant may be extremely busy in the spring tax season and may need to greatly slow his or her studies. After this busy period, the accountant can then speed up his pace of studies again.
Credit for Life and Work Experience
Many university programs require practical experience to earn a degree and for adult students this may be a difficult condition to fulfill because they already have a job from which it might not be possible to take a leave. Certain flexible programs, however, take into account your current and prior work experience to exempt you from these types of requirements. Some even grant credits for life or work experience.
Graduate programs are particularly likely to offer this option as many require real-life work experience. For instance, many accelerated MBA programs will ask you to have at least two years' relevant work experience.
---
Top Online Schools for Working Adults
While it's always important to choose a school that holds accreditation that meets your needs and to make sure your program is reputable, adult students must also consider other factors like cost, flexibility, and course pacing. The following online schools were handpicked by GetEducated editors and offer some of the most popular and innovative adult degree programs.
Capella's FlexPath offers some of the most flexible online degree programs available, making it an ideal choice for busy adults looking for fast-track programs. FlexPath does not have weekly deadlines or pre-scheduled classes. Instead, students follow their own rhythm within 12-week blocks, the period of time for a complete course. There are no weekly deadlines within these 12 weeks so you can speed up your learning or slow it down based on your personal circumstances. The 12-week deadline, though, is the final bell and you must have your work done by then.
To ensure you've learned the required material based, virtual final assessments are given for each course. The degree you earn at the end of this path will be the same degree earned by completing a traditional program at Capella University. FlexPath offers both undergraduate and graduate degrees in psychology, information technology and business.
Western Governors University and their trademark Competency-Based Learning programs are some of the best online degrees for adults. WGU built each degree for working adults with the understanding that many of them already possess various skills which they do not need to re-learn in time-consuming and costly courses.
Each term in a WGU competency-based degree program is six months long and students are required to complete at least a full course load (generally four classes). However, tuition fees are charged at a flat-rate per term, encouraging students to complete as many courses as they can to decrease overall tuition fees and obtain their degree quickly.
Students complete course assessments as soon as they decide they are ready. This means experienced students already knowledgeable about a subject can skip directly to assessments and move on to the next subject to complete extra courses each term, ultimately shortening the total time needed to complete your degree. Assessments can even be taken from the comfort of your home or office with online proctoring.
Southern New Hampshire (SNHU) offers a yearly flat-rate of less than $11,000, some of the lowest online degree tuition fees in the country. Additionally, SNHU created the Advantage Program granting students who successfully complete a liberal arts associate's degree at the Salem, NH campus automatic admission to the College of Online and Continuing Education. Almost all Advantage Program credits can be used towards an online bachelor's degree allowing you to earn your degree faster and more affordably.
SNHU's College of Online and Continuing Education is specifically designed as an online college for working adults. Dozens of online bachelor's and master's programs are offered with multiple start dates per year so you can begin almost as soon as you are ready. Credit transfers are also accepted and online classes are available 24/7 so you can learn according to your schedule.
Thomas Edison State College prides itself on being "exclusively for adults," boasting the most options for adult degree programs online. TESC's hallmark is the Thomas Edison Credit by Exam Program (TECEP) which allows students to receive credits by passing final exams rather than taking courses. Adults who have gained valuable work and life experience can take this route to earn credits quickly and cheaply.
Even students not enrolled at TESC can take advantage of this system by signing up for an exam, earning credits, and then transferring the credits to their chosen school. Remember, however, to check with your school to make sure they will accept the transfer credits before signing up.
TESC also offers a portfolio assessment option where experienced adults can take advantage of prior knowledge in exchange for credits. The university shows students how to analyze their work experience and match it up to course material. The final portfolio is reviewed and related undergraduate credits are awarded, allowing students to "skip" courses. TESC also runs the Graduate Prior Learning Assessment (PLA) program, which works similarly, but grants graduate credits.
Regent University is a Christian faith-based school with online adult degree programs that can be completed by students in any part of the world. Regent University is regularly ranked for affordability and GetEducated has named it a "Best Buy" for an online master's in Psychology and Leadership.
Online undergraduate courses are offered in 8-week asynchronous sessions allowing working adults to learn in short bursts as time allows.
Another highlight is that all online degrees are taught by the same acclaimed professors who teach on-campus classes. Therefore, you're getting the exact same education that earned Regent University national recognition as one of only 22 institutions in the US to obtain an "A grade" by the ACTA.
GWU offers a whole spectrum of online adult degree programs. The George Washington University's School of Education and Human Development is particularly renowned and offers five Master's of Arts graduate degrees:
Educational Leadership and Administration
Organizational Leadership and Learning
Special Education for Culturally and Linguistically Diverse Learners
Rehabilitation Counseling
Educational Technology Leadership
GWU does not make a distinction between an online or traditional degree, so when you receive your certificate, there is no indication that you completed an online degree. This can be a major advantage when looking for a job in a related field. An added benefit is small class sizes, with a student-to-instructor ratio that is actually lower than on-campus counterparts.
Antioch University makes it easy to join at any time of the year with six convenient start dates and no hard application deadlines.
AU recognizes that working adults often have to complete their schoolwork late at night so they offer 24/7 technical support to solve any pesky issues that arise.
Among other online options, New England College has two excellent MBA degrees that it offers to experienced individuals in the health industry:
Health Informatics
Healthcare Management
The programs offered completely online are developed for part-time and full-time working professionals. NEC has increased the educational level of each course to 4-credits allowing students to complete the degree more quickly by taking fewer courses, but earning the same number of credits. The MBAs can be completed within 20 months.
CCCK offers six online bachelor degrees. The institution understands that adult students require the flexibility to study on their own time and at a convenient location so the degrees can be fully completed online from anywhere in the world. Each program offers unique schedules. For instance, the Bachelor of Science in Business in Organizational Leadership requires students complete 40 courses, each six weeks in length, and offered one-at-a-time. This allows the student to earn a degree comfortably within five years. This institution makes everything accessible online, including the bookstore.
Known as eNSU, Northwestern State University of Louisiana offers 38 online adult degree programs. eNSU semesters are purposely designed to be short, lasting only eight weeks in the spring and fall and varying between three, five, and six-week sessions during the summer. This format allows busy adult learners to concentrate on one or two courses at a time and provides greater convenience and flexibility.
eNSU also offers flat rate online tuition so the more classes you take per semester, the cheaper your education will be. Their new pricing policy is quite different from any other institution. The first 12 hours will cost you $325 per credit in a bachelor's degree ($425 in a graduate degree), but thereafter the fee falls to an extremely low rate of $100 per credit for both bachelor's and master's programs. Additionally, eNSU has collected a host of national awards proving you will receive a high-quality education.
---
Sorting Through Flexible Programs
There are many online flexible programs available in the US, but adult students should pay particular attention to tuition rates and degree pacing when looking for a degree they can complete without completely rearranging their lives. More and more online schools are answering the challenges adult learners face with flexible and fast online degree programs.