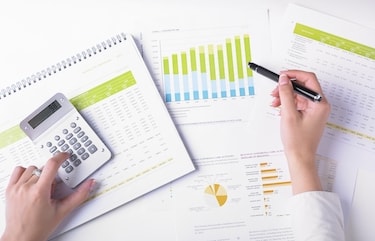 If you have a strong knack for numbers, you may be a good candidate for a finance major. However, your options post-graduation may not be what you expect. Yes, it's true that a lot of finance degree grads end up on Wall Street. However, there are many other high quality positions delivering a stable job as well as an outstanding salary that mesh well with the finance skill-set.
---
Summary of Skills from a Finance Major
With a degree in finance, you will have many excellent skills that can apply to a wide range of positions, not just the top jobs for finance majors out of college. During your education, you will learn about personal finance, accounting, fundamentals of markets, and financial principles of business. You'll learn the mathematics related to money, and develop skills in statistics.
But you'll also learn theoretical principles, such as ethics in finance and organizational change. You'll learn communication, specifically how to communicate complex numbers, which make perfect sense to you, to people who have less understanding of the topic. You'll have stronger leadership and management skills, as well as an understanding of marketing and sales. This will help you become a strong contributor to many businesses, not just the ones that need someone to run their finances.

---
Most Lucrative Entry-Level Jobs for Finance Majors
Many jobs in the financial sector will require an advanced degree or some form of work-related experience and one-the-job training. However, these careers allow you to go straight from class to high-paying jobs for finance majors.

Methodology
To make this list, we used information from the Bureau of Labor Statistics, specifically information regarding median salary, median salary of the top 10%, expected job growth between 2016 and 2026, and the typical minimum education required to land the specific position.
#1 Financial Analyst
Avg. Salary: $84,0640
Job Growth: 11%
Required Education: Bachelor's
Working with individuals or businesses (or both), financial analysts provide valuable services by helping people make decisions with their finances. They may perform a wide range of services, including recommendations on investments, evaluating data, studying economic trends, and preparing written financial reports. Financial analysts often work with banks, security firms, and investment companies. According to the BLS, this career requires a bachelor's degree but no on-the-job training and no previous experience. The top 10% in this field enjoy salaries over $165,580, making this one of the best entry-level jobs for finance majors.
#2 Budget Analyst
Avg. Salary: $75,240
Job Growth: 7%
Required Education: Bachelor's
By preparing budget reports and monitoring spending, budget analysts help various organizations stay organized with their finances. Specific duties can include the development of budgets, reviewing manager plans, combining department budgets, and explaining recommendations for funding requests. They are employed in almost all industries, including government, education, tech services, and more. Budget analysts have an excellent median salary of $75,240, yet this profession generally only requires a bachelor's degree and no previous experience or specific training. With the top 10% earning over $113,740, it remains a lucrative entry-level job for finance majors.
#3 Accountant & Auditor
Avg. Salary: $30,830
Job Growth: 10%
Required Education: Bachelor's
Specializing in the preparation and examination of financial records, accountants and auditors ensure that these documents are accurate and honest. They will often work to verify that taxes are paid on time, and will be hired to assess the financial operations of a business. With financial expertise, they could also be tasked with insuring the business runs efficiently from a spending perspective. Accountants and auditors hold an excellent median salary, but if you work your way into the top 10% of this field, you can expect earnings over $122,220. This gives you a tremendous salary in a field that has an expected growth of over 10%.
GetEducated's Pick
Southern New Hampshire University
---
Highest Paying Jobs for Finance Majors
---
Selling Your Skills as a Finance Major
So what happens if you choose a career outside of the typical jobs for finance majors? Fortunately, a finance major teaches you so many valuable skills that easily convert into non-typical positions. But you need to sell yourself to the employers. To do this, you need to sell your skills, not your degree.
Many of the skills you learn in finance, including communication and (especially) organization, will make you attractive to many employers. Focus less on what you can do, and instead emphasize how your skills will benefit the company.

---
Continuing Education for Finance Majors
The financial world is constantly shifting, so even if you have landed your dream job, you need to stay educated in current trends, new principles, and future changes. You can attend seminars or become certified through professional organizations to maintain a high level of knowledge in finance.
If you choose to pursue a master's or doctorate, be sure that it relates specifically to your career goals. The more advanced your education becomes, generally speaking, the more focused and specialized your education should be. For example, a bachelor's degree in finance is a great start, and a master's in financial business issues is a more detailed education.

---
Start Your Path to a Finance Major!
GetEducated has been providing online students trusted information about online degrees and online education for over 20 years. Each and every degree in our database has been screened for proper accreditation by our experts. Click on any program to view accreditation, tuition, and school information!
Related Resources
The 11 Most Affordable Online Bachelor's in Finance
19 Highest Paying Business Degree Jobs