Licensed practical nurses (LPNs) seeking to further their career path have a viable option in the form of nursing bridge programs. Online LPN to RN bridge programs allow LPNs to further their education to become registered nurses (RNs) by qualifying them to sit for the NCLEX-RN licensing exam. LPN to BSN bridge programs provide nurses with a four-year degree, and added opportunities to advance their career. This guide helps LPNs who are interested in becoming RNs choose the right nursing bridge program, and explore accelerated options for becoming a BSN.
---
LPNs, RNs, BSNs: Similarities & Differences
On the surface, there appears to be little difference between RNs and LPNs, given the fact that they are both referred to as nurses. However, the jobs have little in common. There are significant distinctions in terms of qualifications, pay scale, educational requirements, and opportunities for career growth.
What's an LPN?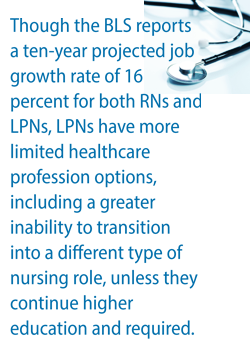 Licensed practical nurses, or licensed vocational nurses (LVNs), are considered an entry level position into the nursing profession. A step above the certified nursing assistant, LPNs complete vocational education, often
offered in a vocational or diploma program, and must pass the National Council Licensure Exam (NCLEX-PN), and gain state licensure.
What's an RN?
Registered nurses are a step above LPNs. RNs must complete one of three options to practice: a diploma from an accredited nursing program, an associate's degree in nursing, or a four-year Bachelor of Science Nursing degree, becoming a BSN. RNs must also pass a National Council Licensure Exam, the NCLEX-RN, in order to obtain state licensure to practice.
Many RNs begin as LPNs, and complete LPN to RN online programs or other programs at community colleges, to advance their careers.
What's a BSN?
Though a BSN is still a registered nurse, they carry the BSN designation because they have completed a bachelor's degree (four-year program), further advancing their status and preparing them for the next level—a master's degree (MSN). BSNs have the opportunity to specialize in specific fields, further increasing their level of expertise.
LPNs can advance their careers, earning an associate's and becoming an RN through a bridge program, and then continue to pursue a bachelor's degree gaining BSN status.
---
LPN vs RN
Salary
With the definitions laid out, let's compare the distinct professions of an LPN and an RN, beginning with salary.
The Bureau of Labor Statistics (BLS) reports that in 2014, RNs averaged an annual salary of $66,640, or to break that down, about $32 per hour. This is significantly higher than earnings of LPNs, which averaged $42,490 annually, or about $20 per hour.

Job Environment
Most nurses often work shift work, weekends, and holidays. The largest difference between RNs and LPNs is in their hierarchy of the medical staff, their weighted responsibilities, and individual job duties.
More advanced career opportunities and a significant higher level of autonomy are available to RNs than LPNs. They require less supervision, and in fact, RNs with a BSN often oversee the performance of LPNs and other lower-ranked staff performing administrative roles. At the same time, they are under pressure as well as they are required to make decisions regarding treatment and even diagnosis.
Registered nurses handle more advanced tasks, including performing diagnostic tests and then evaluating the results, helping the doctors decide on the best course of treatment. RNs also administer medication, coordinate treatment plans, and also provide recommendations to their patients on how to manage their treatment.
The BLS reports that an estimated 61% of all RNs work in hospitals.
In comparison, LPNs provide basic care and often are the first point-of-contact with the patient, recording vitals and documenting health issues which include checking temperature and blood pressure. LPNs discuss basic healthcare with patients, including emotional duress of the patient. It is their responsibility to relay information to doctors and registered nurses. LPNs must also provide physical assistance, helping patients stand and walk, and bathe and dress. It is also common for LPNs to face work-related stress and a high-pressure job environment.
The BLS reports that a larger number of LPNs work in residential care facilities, followed by hospitals, and private practices.
---
Should I Consider an LPN to RN Bridge Program?
Though the BLS reports a ten-year projected job growth rate of 16 percent for both RNs and LPNs, LPNs have more limited healthcare profession options, including a greater inability to transition into a different type of nursing role, unless they continue higher education and required certifications.
For instance, RNs and BSNs can specialize in fields like diabetic care or oncology. Moreover, they also have the option to work in a particular workplace, such as ERs. Becoming a BSN sets a nurse up to follow the next logical step and earn an MSN; becoming nurse educators or nurse practitioners.
With the growing need for nurses, many accredited institutions are working in conjunction with state and national certification agencies, developing flexible educational paths that cater to the needs of working nurses allowing for increased mobility. Enter bridge programs – specifically online nursing bridge programs.
What Are LPN to RN Bridge Programs?
LPN to RN online bridge programs are designed to allow LPNs to utilize their on-the-job experience with added higher education coursework to obtain an RN license and earn an ASN (associate's degree), and then potentially a BSN nursing degree. These nursing programs complete the 'bridge', as they cover the gaps between the LPN and RN career levels, preparing students to sit and pass the national certification exam.
Are Online LPN to RN Programs Accepted?
Online LPN to RN bridge programs carry the same qualifications of a traditional, brick and mortar RN or BSN program. Upon completion of the program, LPNs can sit for the National Council Licensure Exam for Registered Nurses (NCLEX-RN). Students also have the option to complete either the Associate of Science in Nursing degree (ADN) or a Bachelor's of Science in Nursing (BSN) when enrolling in a bridge program.
There is some variance in RN bridge programs from state to state because of the difference in RN licensure requirements. Schools tailor their programs to meet the requirements of the state licensure.
Tip: When searching for an LPN or LVN to RN online program, or a BSN degree, always ensure the school is accredited and carries nursing-specific accreditation. The U.S. Department of Education nationally recognizes the Accreditation Commission for Education in Nursing (ACEN) and the Commission on Collegiate Nursing Education (CCNE), in addition to a number of individual state nursing agencies. Program-specific accreditation is often tied to state certification requirements and therefore not all schools may provide your state residency accreditation needs.
LPN to RN: How Long Does it Take?
Students in online bridge programs can opt to utilize a credit-by-examination program to advance the completion time, and receive credits in general education courses; courses typically required to earn an associate's or bachelor's degree, but less critical to necessary nursing skill sets. Most accredited colleges promote and approve of test out options.
Nursing bridge programs with test out options can include a number of different options, including:
Steps for Completing a Bridge Program with Test-Out Options
Step 1.
Enroll in an accredited nursing program with a school that awards credit-by-exam options for general education courses.
Step 2.
Determine credits earned versus credits still needed. Organizations, like Achieve Test Prep, work with accredited colleges to provide evaluations, award applicable transfer credits, and determine coursework to meet degree requirements.
Step 3.
Complete accelerated test preparation courses that prepare you for credit-by-examinations.
Step 4.
Successfully pass approved credit-by-examinations and earn general education college credits.
Step 5.
Complete required nursing coursework, clinical assessment credits and/or participate in clinical externships.
Step 6.
Gain RN status by graduating with an accredited degree, and passing the

NCLEX-RN exam.
Are Bridge Programs Supported By Federal Financial Aid?
Yes. Online LPN to RN programs, along with other nursing bridge options, are supported by federal financial aid, but the option is limited to schools which are accredited.
Advantages of LPN to RN Bridge Programs
If you are already an LPN, there are a number of advantages of RN bridge programs, especially programs that offer test-out credits:
It's quicker. You can advance to RN, or even a BSN status, without having to sacrifice three to fours years of your life to devote to a traditional nursing program. By earning credits through test-out options, you bypass general education classes that repeat what you already know, and may not be directly related to nursing skill sets.

It's cheaper. By earning prior learning experience and completing test-out options, you only pay for courses that you need to complete, in order to obtain certification. Test-prep courses to pass credit-by-exams are less costly than full-term college tuition, though remember, it is dependent on your ability to pass the exam.

Provides added opportunity. LPNs don't have to stop working. For many nurses, sacrificing your paycheck to go to school is not an option, but the LPN to RN online bridge program gives you a chance to further your education without compromising earnings.

It's more efficient. Bridge programs offer all the advantages of online learning, which include no commute, flexibility of schedule, and access to coursework around the clock.
---
How to Choose an Online Nursing Bridge Program
Online nursing bridge programs are available across the country, in each state, but not all of them are made equal. There are some factors students have to consider when selecting one.

Qualifications Offered
The school should offer, at a minimum, Bachelor of Science in Nursing (BSN) and/or an Associate of Science in Nursing (ASN). These are the most sought-after qualifications for nurses, and prepare you for further upward mobility should you eventually decide to pursue graduate specializations. Look for programs tailored specifically for the LPN to RN or RN to BSN transition.
Accreditation
Accreditation cannot be overstated, and as mentioned, is a must when selecting a school, regardless of whether you are opting for an online LPN to RN bridge program, other nursing bridge programs, or planning to attend on-campus.
The two accrediting bodies are the Commission on Collegiate Nursing (CCNE) and the Accreditation Commission for Education in Nursing (ACEN). The school should be accredited by at least one of the two bodies.
Accreditation is:
A seal of approval that the school provides effective education;
Determines whether or not the school offers financial aid;
Provides credentials needed for NCLEX certification exams.

State Licensure
The licensing requirements for registered nurses vary from state to state. The standard certification exam for registered nurses is the NCLEX-RN, which is approved nationwide.
Regarding individual state licensure requirements, students need to check prerequisites and requirements specific for the state in which they plan to work. All requirements must be met for students to receive their nursing licenses, whether it is an LPN, RN, or BSN.

Available Programs
Achieve Test Prep offers a viable credit-by-exam to accelerate online LPN to RN bridge programs. The program features virtual, instructor-led classes and provides the necessary resources for students to learn and prepare for their exams. Through credit-by-exams, students can advance the time required for completion, also saving money in the process. The program meets the criteria highlighted here, as it is accredited, fulfills the qualifications, and students who complete it are eligible for state licensure.
---
When to Opt for the BSN
Upon completing the LPN to RN bridge program, students have to sit and pass the NCLEX-RN exam before they receive license to practice as an RN. But is RN licensure enough? Should students consider the option to further their education and obtain a BSN?
Though the added qualification does not necessarily mean a change in job title, there are some differences, especially with regards to the learning and training involved. BSNs receive additional training in different fields, including leadership and administration. This helps them perform their role better, and may provide an added means for advancement. Furthermore, the American Association of Colleges of Nursing (AACN) reports evidence that nurses with BSNs are more prepared, deliver expert care, and are highly valued by their employers.
Going for a BSN after becoming an RN can prove a wise career move. However, it will require added time and money in college.

Higher Salary
The superior education and training received by BSNs entitles them to higher wages as they are qualified to take on more roles. According to Payscale, BSNs working as a nursing manager or a clinical nurse manager can make around $80,000, which is significantly more than the average wage for RNs.

More Career Opportunities
Increased demand for BSNs and nurses with advanced skills: RNs with a BSN typically have access to greater job opportunities. According to the AACN, as of 2012, around 60% of BSNs graduated with job offers. Moreover, the job placement rate 4 to 6 months after graduation was close to 90%.
Also, BSNs can study further and specialize, becoming nurse practitioners, which along with a significant bump in pay, entitles them to a position of authority over RNs and other BSNs.
In addition, BSNs may be less susceptible to burnout because these RNs can transition into educational and administrative roles, not often options for LPNs.
Some states are also mandating that hospitals and medical facilities employ a certain number of bachelor's degree holders. This means the demand for BSNs will increase, leading to further job opportunities.
Do your homework. Look at your state's licensing requirements. Compare these to the job opportunities in your locality, and the pay difference.
Remember, committing to a bachelor's degree will require added cost and time investments. It may seem like a great opportunity on paper, but if your family and work commitments hinder your ability to complete a BSN program, then completing an initial LPN to RN bridge program might be the best option for you.
Related Resources
Can I Become a Nurse with an Online Accelerated BSN Program?
Online BSN Affordability Rankings
Online MSN Affordability Rankings