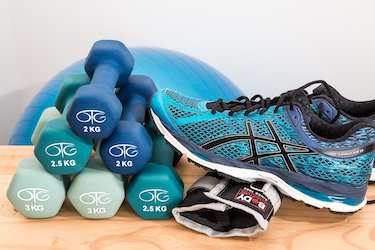 Employment of physical therapists is expected to grow much faster than average—up 22 percent through 2022, more than four times the expected growth for all occupations. For physical therapy assistants, the job outlook is even better, projected to grow 26% during the same period.
Salaries are likewise robust. Physical therapy assistants, who typically hold only an associate earn average salaries of $58,720. Experienced pros net about $77,000 a year. Physical therapists average $86,520 per year, while the top PTs can earn over $117,000 per year. The job of physical therapy assistant is a great way to enter a well-paying field with just two years of training.
The downside? This great-paying career suffers from deceptive advertising by online schools that are not properly accredited. Not all online physical therapy programs meet state licensing standards. Many advertise by using search engine terms that imply their online training programs might meet licensing standards.
Want to become a physical therapist? Get educated about physical therapy school accreditation and learn how to become a PTA with an excellent online PTA program.
Quick Facts About Working In Physical Therapy
Physical therapy is a type of allied health that uses therapeutic exercise, hands-on care, and patient education to help people who have medical conditions or injuries that limit their ability to move and function. Settings where physical therapy services are available include hospitals, rehabilitation facilities, nursing homes, outpatient clinics, athletic facilities, and job sites.
There are three major job types in physical therapy. Physical therapists (PTs) diagnose and prepare treatment plans as well as working with patients. Physical therapy assistants (PTAs) work with PTs to implement treatment plans, and also work hands-on with patients. Physical therapy aides (sometimes also called physical therapy technicians) help PTs and PTAs around the treatment facility, but are not licensed to provide hands-on care with patients.
Becoming a physical therapist requires a doctoral level of education, including many hours of clinical experience. Physical therapy assistants are required to attend an accredited associate degree program which includes clinical training before working in the profession. Physical therapy aides are usually only required to have a high school diploma or GED and will receive most training on the job.
The average salary for each of these positions reflects the amount of training and responsibility of the jobs. For PTs, the median salary is $87,930 per year. Physical therapy assistants make a median of $58,040 per year, while aides and technicians make a median of $26,240.
DO Online Physical Therapy Assistant Programs EXIST?
Yes they do exist, but be cautious. Make sure the online PTA degree you're considering is accredited by the Commission on Accreditation in Physical Therapy Education (CAPTE). It is nationally recognized by the U.S. Department of Education and the Council for Higher Education Accreditation (CHEA) as the accreditor for licensing degree programs in this field. The CAPTE accredits 250 PT programs and 371 different PTA training programs, including many that offer distance education or evening/weekend schedules.
CAPTE accredits both entry-level education programs for physical therapist assistants (PTAs) and physical therapists (PTs). PTA training is much shorter than training to become a PT, and there are some "bridge" programs for PTAs who later decide they would like to become full-fledged PTs.
Be wary of any school that markets itself as offering an online "physical therapy assistant program" only to switch terms later and refer to the program as "aide training."
Some for-profit schools use the marketing phrase "physical therapy assistant" only to provide a lesser type of training for physical therapy "aide" positions. "Aide" training is not the same as "assistant" training. "Aide" programs will not, in most cases, meet the accreditation standards of CAPTE or state standards for licensure later as a professional PT or PTA.
Online PTA Programs — Hybrid Options
Most states require physical therapist assistants to complete at least an associate's degree. Such degree programs include both academic and theoretical study in subjects such as anatomy, biology and chemistry, as well as hands-on experience in patient care.
Many physical therapy associate degree programs require applicants to demonstrate a minimum of 50-150 hours of actual work in assisting the physically challenged prior to taking any courses.
Licensing or certification is required by 50 states, Puerto Rico, Guam, and the US Virgin Islands post-degree to work a physical therapy assistant. Each state mandates specific educational and exam criteria. Additional requirements may include certification in CPR and first aid. Some states also require a criminal background check. A minimum number of hours of supervised hands-on clinical experience will be required. Check with your state licensing board to see what is required to work as a licensed or certified PT in your region.
Many community colleges offer physical therapy assistant associate degree programs that require classroom attendance for clinical care and lab courses. These same programs then allow theory courses in areas such as anatomy or English to be completed online.
The curriculum for a physical therapy assistant associate's degree includes topics like anatomy and physiology, biomechanics, exercise physiology, kinesiology, behavioral sciences, ethics, and communication. Approximately 75% of the curriculum is in classroom and laboratory coursework, while 25% is hands-on clinical experience. Students can expect to spend approximately 16 weeks fulfilling their full time clinical residency requirement.
There currently are no 100 percent online PTA degrees as this degree requires clinical supervision as well as lab courses that cannot be completed online. Check with your local community or state college for hybrid—part online and part on campus—physical therapy assistant degrees.
What Is A Licensed Physical Therapy Assistant?
Physical therapy assistants (PTAs) provide physical therapy services to people of all ages with medical problems that limit their mobility or their ability to perform everyday tasks. PTAs always work under the direct supervision of physical therapists (PTs), who are required to have extensive advanced training.
The workday for a PTA may include assisting patients in performing therapeutic exercises, performing massage or ultrasound on patients, providing patient education, and even doing some of the administrative tasks of the facility. PTAs work in many settings: hospitals, long-term care facilities, outpatient clinics, industrial worksites, fitness centers, and schools, just to name a few.
To become a physical therapist assistant, you will need to take an accredited associate degree program, pass an exam, and any other requirements of your state. PTAs are licensed or certified in all 50 states. You cannot become a PTA without the state license or certificate to practice.
The confusion from online schools can be from those who offer training to become a physical therapy aide or technician, which has no requirement for anything but a high school diploma or GED. Physical therapy aides and technicians cannot perform hands-on physical therapy and earn less than half of the salary of a licensed or certified PTA. Don't let yourself be duped into paying for a course to become an aide or a technician—you may not even need any training to become employed as an aide.
Advanced Training for Physical Therapy Assistants
While the entry-level educational requirement for physical therapy assistants is still the associate degree, there has been a need for PTAs with more advanced skills. The American Physical Therapy Association (APTA) has met this need by establishing the Advanced Proficiency Pathways Program (APP) for licensed PTAs to gain skill, knowledge, and experience in working in defined areas of physical practice. Areas of focus include geriatric, pediatric, wound management, and others. For this program, students take some prerequisite courses through the APTA and then work with a mentor physical therapist in the area of practice to complete a minimum of 2,000 hours of clinical experience.
Another way to get more advanced training as a physical therapy assistant is to enroll in a bachelor's degree program in physical therapy assisting. Some people may decide to skip the associate degree and go straight into a bachelor's program before they seek to enter the profession. Others may complete their associate, then work as a PTA for a year or more before continuing on to get the bachelor's degree. If you think you may be interested in more education beyond the associate in physical therapy assisting, make sure that the associate degree program you take will allow you to transfer all or most of your credits when you wish to continue your undergraduate education.
Best Physical Therapy Schools for an Online DPT
According to the American Physical Therapy Association, all students who graduate from CAPTE accredited programs after 2015 will have the Doctor of Physical Therapy degree. This is the requirement for anyone who wishes to sit for the licensure exam to be a physical therapist and enter this professional field.
The median wage for a physical therapist is about $80,000 with variances based on place of employment and years of practice. To earn the highest wages in this growing field as well as the right to call yourself a physical therapist in most states, you'll need to complete at least an online doctorate in physical therapy and have a record of clinical work as a PT assistant in a licensed medical facility.
Accredited DPT programs will include 80% didactic or classroom learning, along with 20% clinical training. This means that the majority of the degree program can be completed in an online format, which is very convenient for people who want to continue working while they study. All programs will have mandatory clinical practice experience, which sometimes can be completed in a facility near the student's home. Some programs will also require on-campus visits, usually a few weekends or summer immersion sessions, to add to the hands-on learning.
Three years is the standard completion time for a DPT degree, provided you have all the prerequisites completed. Called a direct entry DPT, most are full-time programs, though some programs may allow students to progress more slowly through the didactic portion to accommodate busy schedules. The cohort model, where a group of students progresses through the courses together, is the more common format for this and other healthcare degrees. A cohort structure allows students to work together over the course of the program, getting to know each other and benefit from peer experiences. Many online programs will combine some scheduled (synchronous) sessions with classwork that can be done on the student's own time schedule (asynchronous.)
Courses for an online DPT will cover subjects including anatomy and physiology, diagnostic imaging, pharmacology, movement science, neuroscience, kinesiology, pathophysiology, evidence based practice, and psychosocial issues in physical therapy practice.
After completing an accredited physical therapist program, you'll still need to pass a national licensure exam.
The doctor of physical therapy (DPT) degree is now the professional standard, although PTs who have been in practice before the new requirement kicked in in 2015 may still practice with the bachelor's or master's degree. However, many practicing PTs choose to get the DPT degree to stay current with the industry.
Most online physical therapy doctorate programs require you to start with a bachelor's degree already in hand. There are a few that will allow students to enter right from high school and complete both their undergraduate and graduate education in the same program. Other entry requirements are a high undergraduate GPA, especially one with a pre-med or science focus, letters of reference, evidence of volunteer or physical therapy work, and completion of all prerequisite courses. Some programs require the GRE, while others do not. Language proficiency in English will be required of those for whom English is not their first language.
Transitional DPT Online
There have been changes over the last couple of decades to the occupational requirements for physical therapists. Previously, only a bachelor's degree or master's degree was required for licensure as a physical therapist. The current entry level education is the Doctorate of Physical Therapy, but there are licensed physical therapists out there with just the MPT or BPT. There is no current requirement for these experienced professionals to gain more education to keep their licensure, but many PTs have chosen to update their credentials to a doctoral level of education.
Thus, a new type of professional degree for licensed PT practitioners is now available in an online format. The transitional doctor of physical therapy (tDPT) degree is geared to practicing clinicians. This accelerated doctorate degree is appropriate for PTs who have already earned a MPT degree.
The tDPT is a post-professional clinical doctorate that can be earned through a combination of online coursework, clinical practice in a local setting and very brief campus residencies.  It is usually much quicker than earning a regular DPT, as experienced practitioners already have many of the skills and competencies that are taught to those just entering the field.
Advanced Education in Physical Therapy
For physical therapists to further their education, there is an option to enter a clinical residency or clinical fellowship where they will work with a mentor in a particular area of physical therapy practice.
Physical therapists who wish to add a specialty certificate to their license can do so by practicing a minimum of 2,000 hours in the specialty area and then passing an exam administered by the American Board of Physical Therapy Specialties (ABPTS). Certification is available in the following specialties:
Cardiovascular & Pulmonary
Clinical Electrophysiology
Geriatrics
Neurology
Oncology
Orthopedics
Pediatrics
Sports
Women's Health
Finding the Right Online Physical Therapy Program
The process of choosing a physical therapy assistant or physical therapist degree program has never been easier. With online search tools you can find the right program to fit your schedule and your budget so you can start on a pathway to a well-paid position in a physical therapy setting. Here are the steps to get you there:
Decide whether to pursue a physical therapy assistant associate or bachelor's degree, or head straight to a doctoral program in physical therapy.
Find a CAPTE accredited program.
Compare costs, curricula, schedules, and location between your top choice schools.
Check to see if you need to take any prerequisite courses before applying.
Factor in the convenience of the school to your location and the requirements for hands-on learning.
Look at class sizes and licensure pass rates for each school.
Apply for admission.
Don't forget to apply for financial aid.
Start your training.
Physical therapy is a great career, no matter what level you plan to enter. The work of helping people to regain movement and function after an illness or accident can be very rewarding. As the population in the US ages, more and more elderly patients will need physical therapy services to stay mobile and active. Physical therapists are in demand in all settings, so no matter whether you want to work with kids, athletes, or factory workers, there are positions out there for newly minted physical therapy assistants and physical therapists. With extraordinarily fair compensation and satisfying work, getting trained for the physical therapy profession makes smart sense.